The 19th Hole: Matthew Wharton
CGCS // Carolina Golf Club, Charlotte, N.C.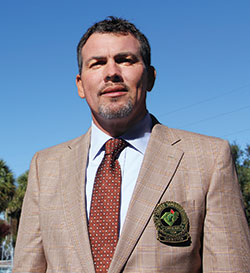 What are you drinking?
This time of year I like a Newcastle Brown Ale.
You mentioned you recently celebrated your 18th anniversary? Do you have kids?
Yes, Darless and I celebrated two weeks ago. She has two grown sons, and our life outside golf revolves around our 11-year-old granddaughter Haley.
Tell me, what is the Carolina Golf Club known for locally?
I'll get in trouble with my peers for saying this, but we're known for having the best greens in town. We have A1/A4 bentgrass greens. We're an old Donald Ross course, built in 1929, restored in 2008 by Kris Spence.
I always love playing Ross courses.
The thing about Ross courses is how they challenge the highly skilled players, yet are fun and easily playable to the beginners. I've played over a dozen here in North Carolina, and the thing that always amazes me is that even with all the technological advances in the game today, you can go to these little 6,500-yard Ross designs, and the resistance to scoring is mind-boggling. He really was a master.
Do you have a favorite piece of equipment in the shop?
I've got two of them: my (Toro) ProCore 648s.
Do you do anything special for your staff around the holidays?
I do. My wife and I take the senior staff and their wives out to dinner. And the last Friday before Christmas, we'll get pizza and wings for the whole crew, play some cornhole, and I hand out gifts.
Any gifts you're hopeful to see under the tree this Christmas?
The new Titleist 915 driver would be nice.
How was 2014 for you guys?
2014 has been one of the best years ever; a lot happened for me both personally and professionally. We hosted the 54th North Carolina Amateur, that's the single most prestigious event our club has hosted. I also completed the requirements to achieve the designation of Certified Golf Course Superintendent earlier this year. It was a big year.
Tell me one thing that's changed about the industry since you got in it?
I've been in the business since 1988. I'm going to say it's a combination of the golfer's expectations and the demands on our time.
Explain to me the demands on your time.
When I started in this industry, it was not uncommon for me to be mowing a fairway and have my boss drive his truck out on to the fairway and yell at me, 'What are you doing? Finish that tomorrow… we're waiting for you on the first tee!' Those days are long gone.
Photo: As interviewed by Seth Jones, Nov. 24th, 2014.