The 19th Hole: Lukus Harvey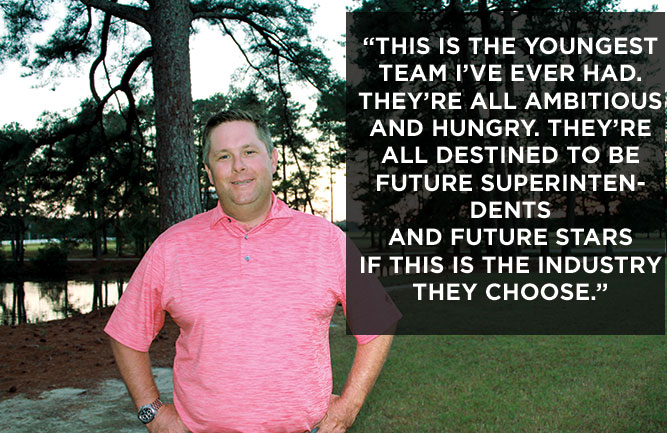 Lukus Harvey
Director of Agronomy // Atlanta Athletic Club
What can I get you? I'll have an Arctic Blitz Gatorade.
Tell me about your family. I've been married to my wife, Natalia, for 10 years. Jacob is 8, Andrew is 6 — they're my baseball stars. And Sofia is 3 months old.
Wow, congratulations! Thanks. Having a girl in the family is a very big deal for my wife — she's been surrounded by boys for the last several years. She already went out and got her
a Halloween costume — a unicorn.
What teams do you root for? The Buckeyes, the Indians and the Cavs.
What was on the radio this morning on the drive to work? Lynyrd Skynyrd, "Simple Man."
How long was the drive? Only eight minutes. I live about two miles from the course. It's eight minutes in the morning, but in the afternoons with Atlanta traffic, it can be 20 minutes.
How do you like living in Atlanta? Being from Ohio, and after 15 years in south Florida, it's nice to have the four seasons back. The airport is great, the outdoors opportunities are fun and they have an amazing youth baseball program here. But the best thing is southern hospitality.
What's your favorite tool in the shop? Is it OK if I say my phone? I can run irrigation from it, I can manage my labor with it from OnGolf, even our TDR moisture meters are Bluetooth and upload to my phone.
What's the strangest or most useless thing you keep in your office? They're one and the same. I have an old sand hourglass on my desk, it takes 10 minutes for the sand to run out. I tell sales reps when they come in that they have that much time, but somehow they always manage to ignore it.
Have you read any good books lately? Yes! Relentless: From Good to Great to Unstoppable by Tim S. Grover. It's written by this trainer who has worked with a bunch of athletes — LeBron James is one — and he talks about what makes them relentless. It's a sports-based book, but to me, in our jobs, that word 'relentless' is what we have to be. The book is a bit blunt, it's not for the politically correct crowd.
When you spoke at the Green Start Academy, you told the group that it's important to have fun. Are you still able to have fun at a high-pressure place like Atlanta Athletic Club? Absolutely. Life is what you make of it. Stress is self-created. Now, the parentheses to that statement is that sometimes you have to find your fun away from work… but you have to have fun one way or another.
Photo: Golfdom
Seth Jones, a 18-year veteran of the golf industry media, is Editor-in-Chief of
Golfdom
magazine and
Athletic Turf
. A graduate of the University of Kansas School of Journalism and Mass Communications, Jones began working for
Golf Course Management
in 1999 as an intern. In his professional career he has won numerous awards, including a Turf and Ornamental Communicators Association (TOCA) first place general feature writing award for his profile of World Golf Hall of Famer Greg Norman and a TOCA first place photography award for his work covering the aftermath of Hurricane Katrina. In his career, Jones has accumulated an impressive list of interviews, including such names as George H.W. Bush, Samuel L. Jackson, Lance Armstrong and Charles Barkley. Jones has also done in-depth interviews with such golfing luminaries as Norman, Gary Player, Nick Price and Lorena Ochoa, to name only a few. Jones is a member of both the Golf Writers Association of America and the Turf and Ornamental Communicators Association. Jones can be reached at
sjones@northcoastmedia.net
.