The 19th Hole: Jared Brewster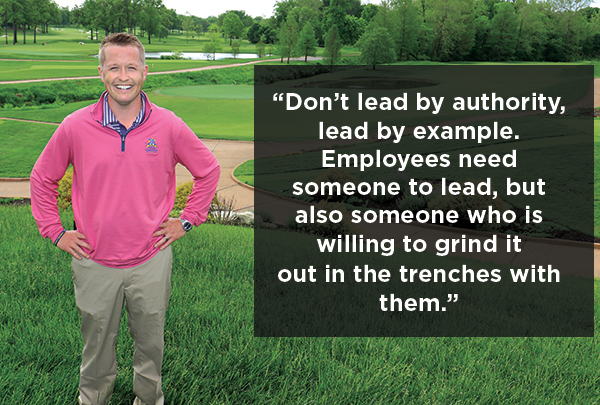 Jared Brewster
Assistant superintendent // Bellerive CC, St Louis, Mo.
What can I get you to drink? I'll have a Bud Select or a Mich Ultra — just a light beer.
So, Avery is two months old… how was your first Father's Day? I don't know if she knew it was Father's Day because she kept me up all night, all morning and into Monday! I had a great Father's Day, my wife (Jessica) got me a nice gift, but Avery didn't like me very much that evening.
What's your favorite tool in the shop? I love the sawzall, there's always a use. Sun-up to sundown I'm doing something with it, whether it's irrigation, drainage, you name it.
Tell me somewhere I need to check out when I'm back for the PGA Championship. There's a ton of places, but my favorite for a cold beer and good food is Syberg's. Try their wings — they have these "trashed wings," they're double-fried, they're great.
Any unexpected challenges with the build for the PGA Championship? We've had this extreme heat. You get all these carts, generators, forklifts out here… we've had to ask them to cover their mufflers because they were burning fescue. We thought it might be a gas leak or an oil leak. It's the mufflers and the extreme heat.
How hot is it there? The heat here is unlike anywhere else I've ever been. I worked in south Naples and I thought that was hot… then I came here. We set a record in May, every day was above average, and June came firing right out of the gate.
Who do you like to win the PGA Championship? Jordan Spieth, because I want him to get the career grand slam at the course where I'm working. And my other pick is Tiger. Eldrick needs another major! He's the whole reason I do what I do; he's the player who got me into this great game.
What's the best prank you've seen on the course? Our old director of grounds, John Cunningham, was the prank master. I lived in the intern house when I first got here. I got to my room and there's a bunch of stuffed animals in my closet. One day he comes over and gets all the stuffed animals and he stuffs them in the project manager's truck, stuffed full. Another time, we had an event for the members here, and we put all these rubber duckies on the pond on No. 3. The next day I came to work, every inch of my desk was covered with rubber duckies, even the drawers were stuffed full.
As interviewed by Seth Jones, June 20, 2018.
Photo: Seth Jones