The 19th hole: Greg Rounds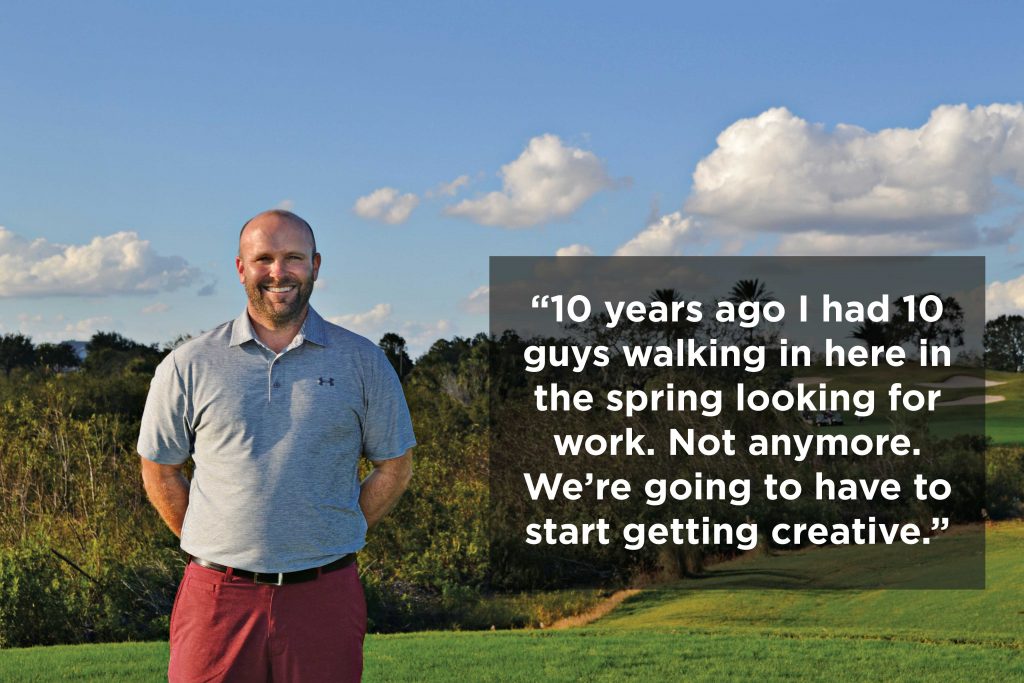 Greg Rounds
Superintendent // Sunset Ridge CC, Northfield, Ill.
What can I get you? Tito's, rocks, two limes and a splash of water.
Tell me about your family. I have a beautiful, loving wife of 10 years, Brenna, and we have two kids, daughter Riley is 8, son Parker is 4 and a half.
Have the kids done anything to surprise you lately? I have cautious kids, which is a good thing. My son, in T-ball, for whatever reason, when it's his turn to go up to bat, he likes to walk backwards up to the plate, while looking at the crowd. I'm like you, I just laughed when I saw it.
What are your sports teams? It all starts with my alma mater, Illinois, the Fighting Illini. After that, everything Chicago: Bears, Cubs, Blackhawks, Bulls.
Tell me about Sunset Ridge. It's a little under the radar. It's a 1923 William Diddel design. Diddel was one of the charter members of the American Society of Golf Course Architects. Sunset Ridge is one of three Chicago designs he did. I came here 15 years ago for a major renovation. We regrassed greens, tees, bunkers. I'm only the fifth superintendent in the club's 95-year history. It's a great place to work. It's a nice family club and it's an active club, too.
How big is your crew? I've got a crew of 23. Well, that's the number I want. I'm at 19 right now and still searching for the other four. It's extremely tough, it just gets harder and harder.
What's your favorite tool in the shop? The job board. We use Google Chrome and Google Sheets to write our job boards, we project it upstairs and have it on a few TVs downstairs. It helps efficiency in getting the message out to the crew.
Look into your crystal ball. What do you think the big story will be in our industry in five, 10 years? Back to what we were just talking about… it's labor, and autonomous equipment. It's expensive, but the cost of minimum wage, health insurance, liability, workers' compensation… it's going to get easier and easier to sell. When I went into my capital budget meeting, one of the first things a board member asked me is, "How long do you think it'll be until we have autonomous equipment?" That shocked me that these guys are aware of it and somewhat expect it. Hopefully it's closer to five years away than 10.
This summer you host the Western Amateur. If a genie granted you one wish during tournament week, what would you wish for? 50-degree nights and no rain.
Is that possible in Chicago? Anything is possible in Chicago.
As interviewed by Seth Jones, May 14, 2018.
Photo: Abby Hart