The 19th Hole: Chuck Calhoun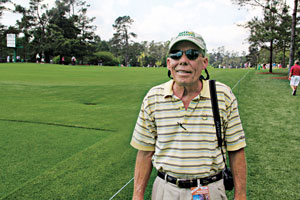 After 18 holes, what's your drink of choice?
A Bud Light bottle.
Tell me about your crew at Sandridge.
We've got 36 holes and a small staff — eight guys on each side. But a really solid, long-term staff. I run the Lakes course, I've got a younger guy running the Dunes course, Ryan Duffell. He'll go far, he's going to take over. I've had a good run, but I'm looking forward to hanging up my hat in a few years.
A small crew, but good enough you can get away for a few days to enjoy the Masters, right?
It's on my calendar every year. I go for the tournament days. It's pretty special. Each year we run into a lot of the same people in the same areas. Even the security guards, some of them I've known for 20 years.
What do you think is the most dangerous part of working on a golf maintenance crew?
The golfer's inattention to us being out there. We spend a lot of training and safety meetings making sure our employees are aware of the golfers, because (the golfers) don't care, they don't think about us. They think we were supposed to get everything done at 3 a.m., and make no noise in the process.
What's your team?
Eagles.
How did they do in the draft?
They got a good receiver in the first round. I think the (Marcus) Mariota hype was more the press than Chip Kelly mortgaging the farm to get him. (Kelly's) a pretty smart guy. I've got my expectations for this year. But I've been living and dying with them for a long time.
Who is your favorite golfer of all time?
I was always a Jack man. I had no choice, back in the day you had one black-and-white TV in your house, and on the weekends my dad had it on golf. My father was an Arnie fan. So when Jack came along, father/son rivalry, right away I was a Jack guy. I have had the privilege to meet Mr. Nicklaus a couple times off the course and I was very impressed with him, so I'm still a big Jack fan. I don't think anyone will ever accomplish what he did.
Tell me about your family.
I've got a wife and a 33-year-old daughter and I just got my first grandbaby about 14 months ago. His name's London, he's quite the lad, always has a smile on his face. You can't ask for much more than that.
Photo: As interviewed by Seth Jones, May 1st, 2015.