The 19th Hole: Chris Harriman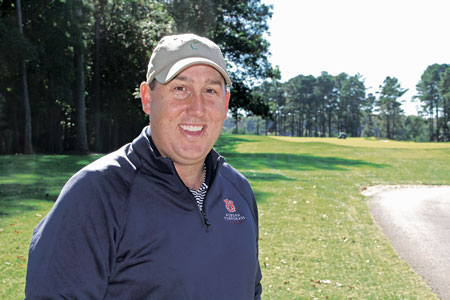 Superintendent // Cattail Creek Country Club, Glenwood, Md.
What are you drinking?
Something dark off the tap… an IPA.
You went to both Auburn and Penn State?
I got my undergrad from Auburn, Masters from Penn State online. I was an assistant at Chevy Chase Club when I got my Masters; it was real continuing education. It was like, we should be reading this stuff anyway… I just had to pay for it and I got a degree for doing it. It was very worthwhile.
What made you choose Auburn?
The weather was perfect and there were eight courses in town we could rotate around and play, and the No. 1 intramural sports program in the NCAA.
So you're an Auburn fan?
I enjoy watching Auburn at all sports. And whomever I was in college with — Jason Campbell, Karlos Dansby — wherever those guys end up, I like seeing their teams win.
Did you ever end up at the same keg party as Jason Campbell?
Sometimes you'd see them around. It wasn't like they were in class very much. They weren't exactly in the ag building.
Tell me something unique about Cattail Creek.
We've got bentgrass fairways, but only 18 acres of it. Four inches below the surface is solid rock, everywhere. I don't know how they built it. They had a huge rock trencher to put the irrigation in. We'll never be redoing the irrigation system.
Favorite TV show growing up?
We watched Seinfeld all the time; we were just quoting it yesterday, when Kramer is hitting golf balls into the ocean and one gets stuck in the whale's blowhole. "Well, is that a Titleist?"
You're the president of the Mid-Atlantic GCSA. How active is the group, and what's the hot topic among the guys?
It's very busy; we've got a good group of core guys. It's hard to get everybody out because the hot topic is how to keep your golf course alive. Cool-season grass in the Mid-Atlantic; it's a tough go-around, no matter what the weather is.
Where is your Thanksgiving dinner?
At our house because I like to cook everything. We do a nice juicy turkey, and the best thing is cooking the stuffing in the crockpot. Do it all beforehand and put it in the crockpot, you get to smell it all day, and you don't have to worry about it when things are coming to a head at the end.
Fill in the blank: It's a good day at the golf course when ________?
When I have more golf balls in my bag when I end than what I started with. And not having my driver snapped in half — I've snapped a number of them.
From swinging too hard or out of frustration?
Both.
Photos: Golfdom