Survey: Golfdom Report 2016 needs your feedback
Golfdom readers: It's time for the annual Golfdom Report, our cover story that measures the mood of the industry.
To enhance that story, we have a short survey we're asking our readers to complete. It should only take a few minutes, and as an incentive we're offering two randomly selected respondents a $100 gift card — just in time for the holidays!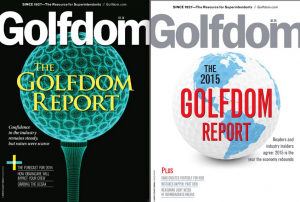 Some of the questions include, "Is WOTUS a valid concern," and "What are your expectations for the golf economy in 2016?" There are also a few lighthearted questions like, "What is the biggest annoyance on the golf course?"
And as always, we also give you the opportunity to tell us what we should be covering in 2016.
Thank you in advance for your help… you can find the survey by clicking here: https://www.surveymonkey.com/r/M66T5LP
About the Author: Seth Jones
Seth Jones, a 18-year veteran of the golf industry media, is Editor-in-Chief of
Golfdom
magazine and
Athletic Turf
. A graduate of the University of Kansas School of Journalism and Mass Communications, Jones began working for
Golf Course Management
in 1999 as an intern. In his professional career he has won numerous awards, including a Turf and Ornamental Communicators Association (TOCA) first place general feature writing award for his profile of World Golf Hall of Famer Greg Norman and a TOCA first place photography award for his work covering the aftermath of Hurricane Katrina. In his career, Jones has accumulated an impressive list of interviews, including such names as George H.W. Bush, Samuel L. Jackson, Lance Armstrong and Charles Barkley. Jones has also done in-depth interviews with such golfing luminaries as Norman, Gary Player, Nick Price and Lorena Ochoa, to name only a few. Jones is a member of both the Golf Writers Association of America and the Turf and Ornamental Communicators Association. Jones can be reached at
sjones@northcoastmedia.net
.