Superintendent starts charity for special needs children, adults
A superintendent for Traditional Golf Properties has established a non-profit charity that works for children and adults with special needs, and their families by turning the desire to accomplish endurance type adventures into fund raising platforms.
Brian Peters, GCSAA, started Adventurers for Special Needs (AFSN) to help fund schools like the Frankie Lemmon School in Raleigh, N.C., where his son, Cameron Peters, was a student.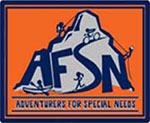 Cameron, now ten years old, was born prematurely at 24 weeks. The premature birth left him with impaired vision, weakened motor skills and developmental delays. That didn't stop him from progressing at the Frankie Lemmon School & Developmental Center's preschool early intervention program, however.
"I am so proud of what Cameron accomplished at Frankie Lemmon," Peters said. "Founding a charity like AFSN gives me the opportunity to know that other children with special needs will receive proper education to be able to progress like my son has. That means a lot to my family and me."
Sponsors and donations are needed, however there are other ways to help, including by participating in an AFSN fund raising event. The organization also is interested in hearing from those who may be willing to turn their adventures into an AFSN fund raising event.
AFSN's first adventure will be a climb of Mt. Rainier in September. The climb will start at 5,600 feet, then will ascend to 10,200 feet, and finally to 14,411 feet–the summit of the mountain. After making their way down the mountain, the adventurers will have covered 18 miles round trip.
Peters says all donations raised for the climb will go directly to the cause; the goal is $20,000. Sponsors for this event include Green Resource, Precision Laboratories, The Maintenance Excellence Institute and Carolina Stage Strategies.