SOI 2017: Fairway rolling gains traction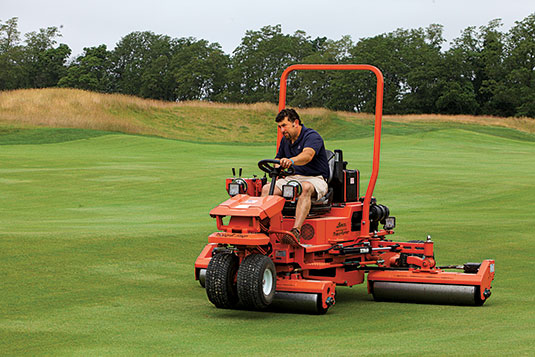 Rolling fairways is still an alternative practice, but is gaining momentum in the industry.
When the membership at the Wykagyl Country Club, New Rochelle, N.Y., demanded firmer playing surfaces, Superintendent Dan Rogers decided to roll out a new idea.
"The whole fairway rolling thing came up around the time the U.S. Open was at Merion in 2013," says Rogers. "I came up to Smithco's booth at the next Golf Industry Show and eventually eased into it by using their smaller roller at first. (After) about a month, I started to notice a difference agronomically."
Rogers noticed the turf was tighter, disease pressure had reduced, and he was able to save on labor by reducing his fairway mowing from five days a week to three, depending on the season. He was so happy with the results that he purchased the first Smithco 15-foot roller off the production line.
"We can roll 27 acres of fairways in 3.5 hours. So, instead of having three or four guys mow fairways on a Sunday morning, I can transfer that labor to another project," says Rogers. "What really sold me on the fairway rolling was when I started to get comments from the membership that the course was playing firmer or faster, and 'We don't know what you're doing, but we like it.'"
While fairway rolling has been a hit at Wykagyl CC, Superintendent Scott Anderson at Huntingdon Valley (Pa.) Country Club says that he doesn't think the newer practice fits in at his course.
He has discussed fairway rolling with Merion Golf Club's Matt Shaffer. While he acknowledges it probably has a place in the industry, he hasn't researched it enough to weigh the cost benefits.
"We have a lot of straggly ryegrass on our fairway, and it never struck me," says Anderson. "I assume you could get away with it with pure stands of bentgrass, but the hodgepodge that we have, it wouldn't work."
If Anderson eventually wants to learn more about fairway rolling, he can call recent adopter Ken Benoit, CGCS at Bedford Hills, N.Y.'s GlenArbor Golf Club.
Benoit purchased a pair of rollers and started using them last May. He admits he doesn't have a lot of data on their effect yet because he used them sporadically throughout the season as he developed a program around them.
At first, GlenArbor's fairways were mowed three times a week, with dew sitting on them the other four days — not a great look for the morning golfers.
Now Benoit sends out the rollers to knock off the morning dew, and according to him, "No one has a better-looking golf course for those early-morning golfers."
While it's nice to have the course looking great for the membership, Benoit's investment in fairway rolling has had environmental advantages, as well.
"I think it dovetails with the best management practice of reducing the amount of fungicides we're using on the fairways, and by rolling them, at least scientifically, we can reduce dollar spot," adds Benoit.
"If I can reduce the incidents of dollar spot, I can reduce the amount of fungicide I'm putting on the fairway, which means I'm benefiting the environment."
To read other articles included in the 2018 State of the Industry Report, click here.
Photo: Epic Creative