Scientists at the University of Minnesota study the potential of prairie junegrass
Eric Watkins, Ph.D., turfgrass scientist at the University of Minnesota, shows a group of scientists his prairie junegrass evaluation plots on the campus at the University of Minnesota. Prairie junegrass is a perennial, cool-season grass native to much of the United States.
Watkins believes prairie junegrass has the potential for use as a low maintenance turf species. So far, Watkins has collected and evaluated a number of prairie junegrass plants to determine their characteristics and potential as a turf species. His next step is to begin breeding the most promising plants to try to improve their turf qualities.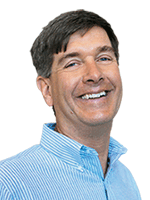 About the Author: Clark Throssell, Ph.D.
Clark Throssell, Ph.D., is the former director of the Purdue University turf program as well as the former director of research for GCSAA. Throssell is the research editor for Golfdom, focusing on managing the Super Science section of the magazine and website. He also contributes his "Clark Talks Turf" column to Golfdom every month.