Monday afternoon of the 2016 PGA Championship at Baltusrol was sunny, hot and humid. There weren't enough seats in the grounds hospitality tent for everyone to hang out after eating. So some went outdoors and looked for areas with shade. A couple hours later when the clouds started to roll in there was a buzz around the maintenance facility but no one wanted to say the word "rain."
Numerous crew members were looking at their various smartphone weather apps. Around 4 p.m. when things started to get really dark it was undeniable that a storm was going to hit. The next question was how much precipitation was going to fall?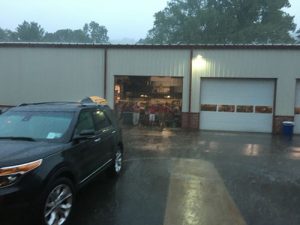 The storm hit at about 5:30 p.m. and it did not take long for the intensity to pick up.
I stood under the awning of the Golf Club Grounds Administrative building with a group of crew members to admire the natural electric light show going on above us. Other members of the crew were across the way in the equipment storage building reacting as well with each flash of lightning and boom of thunder.
At one point a brave crew member jogged across the divide between the equipment and administrative buildings. All he could say was, "Oh, it's that big fat rain." After 45 minutes of this downpour the Lower Course Superintendent Dan Kilpatrick came out to tell those on the crew that they were not going out that night for maintenance.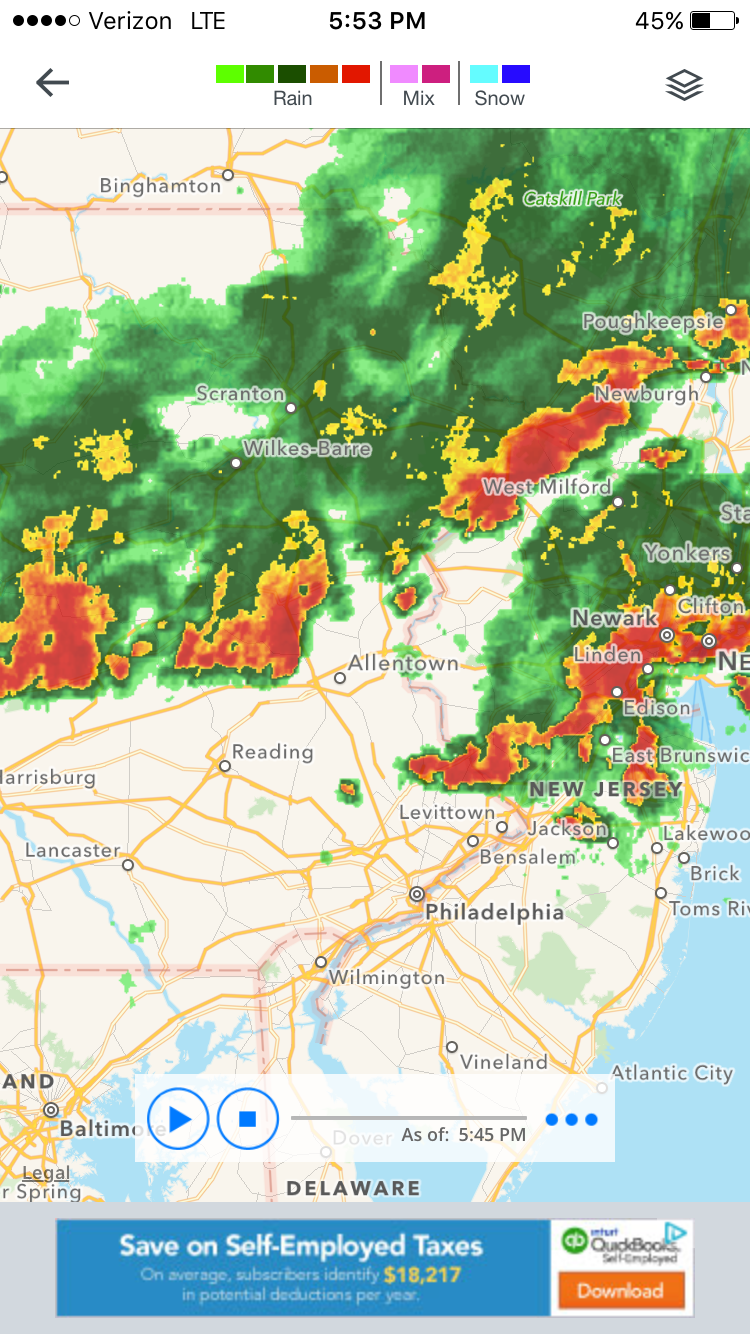 Kilpatrick and Superintendent Mark Kuhns came to this decision after looking at the radar and seeing a train of two more strong storms following behind.
Seeing those two following systems started conversations about all the rain that Oakmont (Pa.) CC had during the U.S. Open last month and if that would happen here. At 6:30 p.m. the initial storm had passed and I should've probably been back in my hotel room but my college journalism classes taught me to always stay late. (Following that lesson was how I learned about the lightning strike that messed up Oakmont's irrigation system during the U.S. Open.)
My patience eventually paid off.
A couple of Baltustrol's grounds staff members and interns that either live in the administrative building or are staying in one of the RVs on the course decided to get some work in on the driving range tees. I asked if I could come to take some pics and they let me tag along.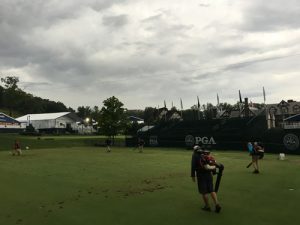 While driving out there I saw some of the standing water but none of the crew seemed too concerned. (After seeing the course this morning I now understand why.) Once we were at the driving range I took photos of them blowing loose turf together and laying sand down in the divots.
The party ended very quickly when a bolt of lightning streaked across the sky and we quickly packed everything up to get back to the maintenance facility. I took that moment as my sign for an exit and went back to my hotel to fight another day.

Photos: Golfdom