Propane to the people:
When will the golf industry adopt propane-powered mowers?
Like dad used to say, "It's not bragging if it's a fact."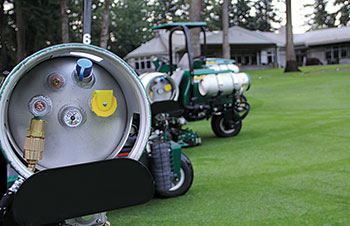 So the people at the Propane Education & Research Council (PERC) aren't bragging when they say that the United States recently became the No. 1 oil and gas producer in the world (take a backseat, Russia), or that mowers running on propane emit less carbon monoxide than mowers burning diesel or gas. And they're not bragging when they say propane is about 30 percent cheaper than gasoline and 50 percent cheaper than diesel.
So forgive them if they brag a little when they say it's not a matter of if the golf course maintenance industry adopts propane-powered mowers, but when. After all, they have history on their side.
"We're looking at this as a five- to seven-year market development phase," says Jeremy Wishart, PERC's deputy director of business development, while sitting over a plate of biscuits and gravy at a golf course restaurant in Tacoma, Wash. "We have previous experience with this in the commercial mowing market. Ten years ago there was really only one manufacturer (making propane-powered mowers); now we have 17 of the top 20 manufacturers with propane models, with 4,600 units sold last year… and that number is growing exponentially."
That sounds like some good gravy.

Environmental and economical
This journey for propane in the golf market began a year ago when PERC formed a partnership with Audubon International, Marriott Golf, Billy Casper Golf, and included R&R Products Inc. as the principal contractor.
Propane Fast Facts
⦁ Propane is an approved, clean fuel listed in the 1990 Clean Air Act
⦁ If propane leaks, it doesn't puddle, but instead vaporizes and dissipates into the air
⦁ Propane is nontoxic, so it's not harmful to soil or water
⦁ Because propane does not endanger the environment, propane storage facilities are not regulated by the EPA
Source: Propane Education & Research Council
Golfdom was the first to report that PERC, a non-profit that invests in research and development of new propane-powered technologies, had approved a $900,000 investment with its new partners to place propane-powered golf equipment at eight golf courses around the country (see sidebar below). Those participating courses currently are recording performance data such as fuel savings throughout this trial period.
Expect site-specific data in the coming months. In the meantime, at least one course already has decided that it is pro-propane, and that the non-toxic, colorless and virtually odorless gas is good for more than just heating delicious sausage gravy.
Eagles Pride Golf Course, located on Joint Base Lewis-McChord in Tacoma, Wash., was the second Army golf course in the world to achieve Audubon International's Cooperative Sanctuary certification. It also was one of the first eight golf courses to receive PERC's propane-powered R&R mowers, acquiring them on a year-long loan shortly after the conclusion of the 2015 Golf Industry Show in February.
John Ford has been the superintendent there for 25 years. He says the propane-powered mowers fit right in with what they're doing at the 27-hole course.
"They're much better for the environment, and the cost of operations is largely reduced," Ford says. "Gas is $2.60 a gallon here, propane is $1.88, and they run on pretty much the same miles per gallon. The R&R equipment is comparable to (other mower brands) in terms of quality of cut and durability. I can't see why folks wouldn't change (to propane)."
Those comments are echoed by Dave Wienecke, Eagles Pride's sustainability manager. Wienecke, a former USGA Greens Section agronomist for the Southwest Region as well as the original superintendent at nearby U.S. Open host Chambers Bay, is especially excited about the environmental benefits of the mowers, but doesn't ignore the economic upside.
"(The propane-powered mowers) are really exciting for me because of the environmental push and the stewardship the Army focuses on. Joint Base Lewis-McChord is one of the leaders in all of the Department of Defense," he says. "(The propane mowers) use less energy, create less air pollution, are quieter and cheaper."

Courses Researching Propane-Fueled Mowers
Stone Mountain (Ga.) Golf Club
Fernandina Beach (Fla.) Golf Club
Marriott Desert Springs, Palm Desert, Calif.
Renaissance Vinoy, St. Petersburg, Fla.
Columbus (Ohio) Municipal Golf Course
Reston (Va.) National Golf Course
George W. Dunne National, Oak Forest, Ill.
Eagles Pride Golf Course, Tacoma, Wash.
Wienecke already is thinking about how the course could go all-in on propane.
"The engineering quality has been quite good. The support we're getting from R&R has been good," he says. "If it was possible to do, it would be worth switching all of our equipment over to propane."
Ford agrees that he'd like to see a complete switch to propane mowers. The proud Oregon State alumnus first heard of the program from his local R&R dealer. He knew his course would be a great fit for the program because it is Audubon certified, and was told that PERC was looking to put the equipment on a military course.
He met with R&R Products at the GIS and convinced them to ship their mowers to his course rather than the then-snowy Northeast so they could get started right away. Ford knew he wanted to give the equipment a chance because of his forklift.
"We have a propane-powered forklift. That forklift lifts thousands and thousands of pounds," Ford says. "I thought, 'If that forklift can run on propane, a greens mower or fairway mower isn't as stressed as that.'"

Power of propane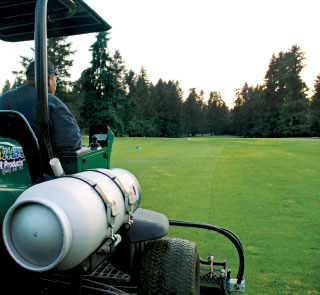 Ford's equipment technician, Al Slayter, had a concern, though, regarding the power of the machines. Eagles Pride is in the rugged mountains of Washington, where it's not uncommon to see black bears.
His concerns were assuaged once the equipment was onsite in February of this year.
"The power level is equal to that of the diesels," Slayter says. "If we can get the same amount of power using propane, it's a win/win. I can run the thing in my shop and still breathe."
Slayter's favorite thing about the mowers, he's quick to point out, is that there's one less chemical on his greens. "As a mechanic, I'm meticulous about my greens, because if the greens are no good, the mechanic's no good," he says.
Specifically Slayter has a fear of gas spills. It's happened to him before and he's hopeful that maybe someday it will never happen again — an operator forgetting to put a gas cap back on, allowing gas to splash out.
"Diesel splatters and spills and it kills grass as fast as you can," Slayter says. "With propane, you can't. You can't leave the cap off."

Added bonus
Additionally, operators can't mix up propane with another fuel, a common concern for courses running gas and diesel equipment. Propane doesn't go bad and is "virtually" spill-proof, Wishart says. And the tanks, made of aluminum or steel, are 20 times more crash resistant than plastic gas tanks.
And as Kevin Cobb, national accounts and sales manager for Suburban Propane, points out, it also can't easily be stolen.
"It's unspoken, but there are a lot of opportunities for gasoline and diesel to… well, your crew member is a little short on gas, and you're not around," he says. "That's a big economic factor."
Suburban Propane is based in New Jersey and has been in business for 85 years. Most of their business is residential heating, but Cobb says golf course operations are attractive dollars to his company.
"For us, so much of the business is driven by the weather," he says. "Golf courses could be year-round because they're always mowing. Golf is attractive because it's not seasonal gallons."

All-American fuel
As mentioned earlier, according to Bloomberg Business, the U.S. became the leader in oil and natural gas production in the world this year. This is because of what energy experts call America's "shale revolution."
More than 97 percent of the propane used in the United States comes from U.S. soil.
"There's various projections out there, but we have somewhere in the neighborhood of 75 to 100 years of a constant supply of propane," Wishart says. "This has really driven the price down. Now we just have to find something to do with it."
It's Jim Coker's hope that the "something" is fueling R&R Products' Reel Max 331LP finish cut reel mower, Reel Max 744LP 5-gang fairway mower, Versa Green 2200 riding greens mower and Sand Max 521LP utility vehicle at golf courses across America. As director of propane applications for R&R Products, it means good business. A third-generation Tennessean (his two grandfathers fought on opposite sides of the Civil War), it's also good for the country he loves.
"This is a passionate thing for me. We need to use what we have in this country," Coker says. "We're producing so much propane that we're shipping 50 percent of it out of the country, and yet we're still bringing in foreign oil. Why not use what we have here?"
Coker, who recently attained his commercial driver's license so he could personally deliver R&R mowers around the country, is an expert on propane applications and converting equipment to the fuel. The complaint he hears most often about propane is that courses don't want to add a third fuel. He tells them that he doesn't want that at all — he wants to get them down to one fuel, an American-made one.
"We can replace all their diesel, and really we could replace all their gasoline, because the two-cycles are the only thing we aren't looking at, and battery technology can replace the two-cycles," he says. "T. Boone Pickens says we send a billion dollars a day overseas to people who hate our guts. So ultimately, yes, you could turn over to one fuel; propane."

PERC's commitment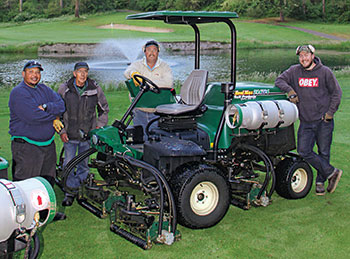 As the year-long demo winds down, next steps for the Propane Education & Research Council loom. Wishart says discussions have begun, and while the answer isn't clear, it probably won't be in another eight-course demo. It will most likely be in incentives, he says, or simply sharing the results of the courses already using the mowers.
"We put together a program where we worked with eight different golf courses throughout the United States that, for lack of a better word, 'got it,'" Wishart says. "They understood that this is a new product, a new tool… let's see what it means to your business as a whole."
The program is in its infancy, he says, but the groundswell has already started. Superintendents talk to other superintendents. Word spreads quickly.
"The environmental message we can bring, that means a lot to guys trying to meet sustainability requirements," he says. "But we're also hitting them with an economic message. They can take that money and move it to another area in the budget — a seasonal employee, maybe. It's a one-two punch. I guess it depends on the superintendent and the owner, what makes more sense… the environmental message or the economic message? But we're hitting them with both.
"We'll see what the future holds. I think it's a 5- to 7-year investment," Wishart continues. "We're in for just over $1 million by the time we do this demo program, the marketing and the business case development. We're not in this for cheap, and we're not going anywhere soon."
Photos by: Seth Jones