Plant Health Part 2: Victoria National is ready for play
With the Big 10 Championship one week, the Web.com Tour visiting the next, Indiana's Victoria National maximizes plant health to get the course dialed-in and ready.
A-one, a-two, a-three. Just how many licks does it take to get to the bottom of a practice bunker? The Big 10 men seem determined to find out.
It's late April in Southern Indiana and golfers are milling about the practice range like ants. Every one of them is dressed in his school colors (Penn State, Ohio State, Michigan State, Nebraska, Rutgers, Minnesota, Purdue, Wisconsin — is this the Big 10 Championship or a GCSAA Turf Bowl?) Shot after shot on the range, putt after putt on the practice green, it's the definition of a busy golf course.
Victoria National Superintendent Kyle Callahan drives by on his Gator and admires all the activity. A four-leaf clover on his hat, he's not above hoping Lady Luck is on his side these next two weeks. Immediately following the Big 10 Championship (eventually won by Illinois) is the Web.com Tour's United Leasing Championship.
Back-to-back tournaments are no easy feat; just ask the crew at Pinehurst No. 2. While this comparison lacks the mammoth crowds, stadium seating and TV towers of a U.S. Open, it does offer its own unique challenges in its early season timing, cool season turf and unpredictable weather.
But with a determined team and the right program, Callahan believes anything is possible.

Top 100
Victoria National Golf Club, located in Newburgh, Ind., was built in 1998 by Tom Fazio and the late Terry Friedman. Friedman, the owner, and Fazio, the architect, had as their canvas an old coal strip mine, abandoned in 1977. Friedman wanted to make something special in his hometown. Special it is. Upon opening in 1999 it was named America's best new private course by Golf Digest.
"If we were located outside Chicago, we'd be a top-20 club without a doubt," says Nate Herman, senior assistant superintendent. With a résumé that includes Pine Valley, Baltusrol, Oakland Hills and Crooked Stick, he's seen enough great golf to make broad, bold statements. "Fazio had a great vision with this property. He didn't force anything. The topography and the layout of the course are spectacular."
Some of the course's luster did wear off since it was named Golf Digest's No. 21 course in America in 2005. Falling to No. 45 is nothing to be ashamed of, but it was the desire of the new owners (Friedman passed in 2004) to get the course back to its top-25 ranking — or maybe even better.
"This course has always been well-kept, whomever the superintendent was," says Callahan, who came to the course in February of 2014. "My main goal is to take all those fundamentals from the previous superintendents and work on the details, especially the native (areas). The native looks untouched, maybe unkempt. The raters see that."
The challenge of getting a course back to its best is what appealed to Callahan. A graduate of Oklahoma State University, Callahan has been determined to be a top-100 superintendent at a top-100 course since reading an online article by Paul B. Latshaw who wrote, "If you don't want to be a top-100 superintendent, don't come here."
He did want to be a top-100 superintendent — so he went there. In fact, he moved wherever he thought he should to get the best experience, including three moves in 10 months when he went from spray technician under Latshaw at Muirfield Village GC in Dublin, Ohio, to assistant superintendent at the Club at Carlton Woods in The Woodlands, Texas, to first assistant at Crooked Stick GC in Carmel, Ind.
That's a lot of packing and unpacking. There's a key to doing that, Callahan says, especially if you're a family man. "You have to have a wife who lets you follow your dreams and goals," he says. "My wife is super-supportive. She gets what I'm trying to do."
And so, apparently, does his staff. Callahan, 32, has been at the course for a little more than a year, but he's hired seven staffers since arriving — all kids younger than him and cut from the same cloth.
"These guys are all young, but the common denominator is they all want to be top-100 superintendents," Callahan says proudly. "We're (currently) No. 47 but we want to be top-25. If we achieve that, that's something you can't take off their résumés. I tell them, 'Let's get the course back to the top 25… then let's get you a job (like mine.)'"
The saying Callahan uses is 'Different roles, similar goals.' Ask any of the crew what the goal is, and they all know it by heart — it's getting the course back into the top 25.
And, oh, yeah… surviving these two stressful weeks in spring of 2015.

Stay cool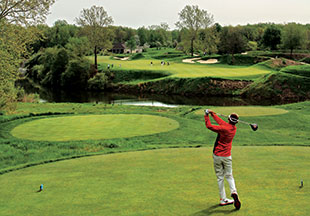 "If you can grow grass here in southern Indiana, you can about grow grass anywhere," Callahan says.
Victoria National's greens, fairways and tees are bentgrass. The rough is a mix of Kentucky bluegrass and fescue. Many of the courses in the area have switched to zoysia. Victoria National's cool-season turf in its transition zone locale makes things interesting for Callahan and his crew.
"We're further south than St. Louis and Louisville, yet we still have the bent," Callahan says. "I like the challenge (but) there's a reason everyone out here has converted to zoysia fairways and minimized how much bent they're managing. When we're managing 40-plus acres of bentgrass and everyone else is managing 4 acres — that gives us 10 times the disease pressure."
The different challenges offered at "The Vic" also appeal to the crew, eager to learn anything and everything about maintaining turf at its highest level.
"You learn from this course because of its location and the cool-season grass," says Mike Nowicki, assistant in training. "If you're interested in becoming a top-100 superintendent, this is among the best places in the country to be."
"The learning experience here is awesome," says Casey Underwood, a 24-year-old assistant in training. "I told (Callahan) I wanted irrigation experience; he threw me right into it. You give him your set of goals, and he throws you right into it."

Plant health protection
Not that the team at Victoria National doesn't appreciate the Big 10 Championship, but they realize what that means for their course: More than 70 kids — guys even younger than the crew — hitting three shots into every green.
Then follow that up with more than 150 Web.com players getting practice in Monday through Wednesday before their tournament starts. Callahan and Assistant Superintendent Gerald Smith say they couldn't get through it all without plant health.
"The big thing with Lexicon, Honor and Insignia — you do see plant health," Callahan says. "We've done several checks out here; you see a difference in color. You see a difference in turgidity. But you don't see growth. That's huge to me, to make sure I'm not getting growth. I just see the plant respond. It turns a little bit greener, a little bit healthier looking."
Smith credits the tournament being moved up in the year, from June to May, especially considering the bentgrass. But he agrees that plant health is key.
"We try to keep a healthy plant. Going into tournament, we didn't stress it out or push it as much as we might with normal member play," Smith says. "We wanted to make sure it was healthy as possible with 10 days of tournament golf."
"It gets difficult here in July and August," Callahan continues. "Having two tourneys back to back this early in the season, we have to make sure the turf is healthy and stays healthy after the tournaments."

Goal-driven
The two weeks went fast for the Victoria National team. After a stormy start to the Big 10 Championship, the weather dried out and it was all smiles for the United Leasing Championship (won by Smylie Kaufman at 10-under.)
"The tournament was a success, I felt like every player and coach said it was the best course they played all year, and were excited to play it again next year," Smith says. "We were tired by the end, but nothing unexpected. Having 20 volunteers come in gave us the energy to get us through the week."
Odds are that Callahan met some new disciples among those volunteers — young guys driven to make it to the top of the profession. For those who want to join him on this journey, be ready.
"As long as you're willing to put in the effort, he's going to give it back to you twofold," says Michigan State alumnus Aaron Deloof, spray technician. "He involves everyone, and he's all about teaching."
"Kyle is a passionate, goal-driven individual who wants to be the best," says Nate Herman, senior assistant superintendent. "He attracts guys who share that mentality and philosophy, and who will work just as hard (as him.) Everybody's extremely goal oriented, and that's crucial."
Callahan says he doesn't really care who the person is or where they came from. When they get to Victoria National, they just need to be ready to buy in to the program, be ready to learn and be ready to work.
"Paul B. Latshaw told me one time, 'I can pretty much teach anything, but I can't teach drive and passion,'" Callahan recalls. "It may take a little longer with some people, but as long as I know where their heart is, it's easy. It's not where they've been and what they've done. I'll pick up anyone off the street… if they have drive and passion."
Photos: Seth Jones
Seth Jones, a 18-year veteran of the golf industry media, is Editor-in-Chief of
Golfdom
magazine and
Athletic Turf
. A graduate of the University of Kansas School of Journalism and Mass Communications, Jones began working for
Golf Course Management
in 1999 as an intern. In his professional career he has won numerous awards, including a Turf and Ornamental Communicators Association (TOCA) first place general feature writing award for his profile of World Golf Hall of Famer Greg Norman and a TOCA first place photography award for his work covering the aftermath of Hurricane Katrina. In his career, Jones has accumulated an impressive list of interviews, including such names as George H.W. Bush, Samuel L. Jackson, Lance Armstrong and Charles Barkley. Jones has also done in-depth interviews with such golfing luminaries as Norman, Gary Player, Nick Price and Lorena Ochoa, to name only a few. Jones is a member of both the Golf Writers Association of America and the Turf and Ornamental Communicators Association. Jones can be reached at
sjones@northcoastmedia.net
.