Northern Exposure: The 2015 U.S. Open at Chambers Bay
Two Oregonians bring their fine fescue expertise to Chambers Bay and the 2015 U.S. Open — the first ever to be played in the Pacific Northwest.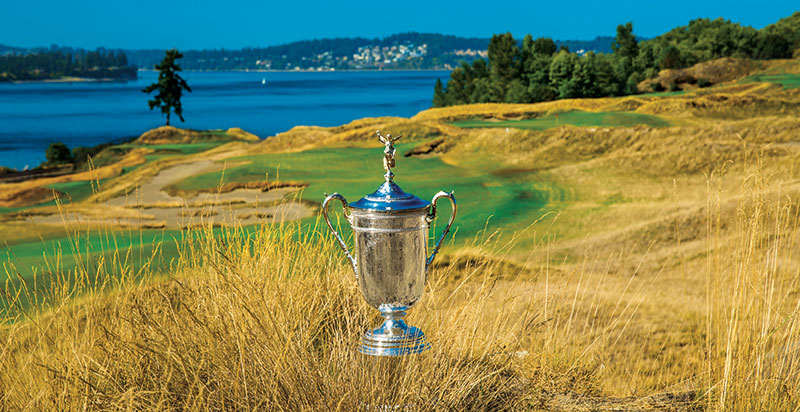 Mike Davis, USGA Executive Director, and Darin Bevard, USGA Director of Championship Agronomy, are a day behind schedule. As the names suggest, they had to travel far (Far Hills, N.J.) to get to this place (University Place, Wash.) But they're through the travel delays and ready to do a walk-through of all 18 holes with Chambers Bay Director of Agronomy Eric Johnson and Superintendent Josh Lewis.
Before they can get started, Davis asks a good question: "How are we getting down there?"
All that's visible from the Chambers Bay parking lot is a small clubhouse and the entrance of a walking path. Step over to the patio and look around, and the view is intoxicating: 18 holes of links-style golf inside a 975-acre property neatly tucked along the coast of the Puget Sound.
To get to No. 1 tee? Either grow wings or catch a shuttle ride down the steep, winding slope. (Then say goodbye to the free ride — Chambers Bay, a public course, is walking-only.)
The bowl makes for an interesting 250-acre golf amphitheater. From most holes on the course the other 17 holes are visible, including the lone fir tree on No. 15. The Puget Sound makes for a fun backdrop, but don't forget the Olympic Mountains in the distance. And sound — imagine the roar of a birdie putt on No. 18 on Sunday — travels fast.
Not bad for a former sand and gravel pit.

Oregon State Beavers
The duo responsible for the conditions of this Robert Trent Jones II-designed gem, Johnson and Lewis, are two Oregon natives who have known each other for 15 years.
Johnson wanted to manage baseball fields, but switched to golf courses back in the '90s because there were more jobs available. He went to Oregon State University and after graduation was hired as the assistant superintendent at Spyglass Hill GC in Pebble Beach, Calif.
They gave him a baptism by fire — he was notified on his first day that it was also the superintendent's last. After a month with no superintendent, he took over the position.
Five years later Johnson moved to Bandon Dunes in Bandon, Ore., taking the job of renovation superintendent. It was there he first met the young Josh Lewis, at the time fresh out of high school.
A golf nut, Lewis was working the courses at Bandon Dunes Golf Resort — including construction at Bandon Trails and grow-in at Old Macdonald — as a way to pay for his golf habit.
Lewis was compelled by his bosses to get his degree in turf. Like Johnson, he headed to Oregon State, and following that accepted the first assistant position at Pasatiempo GC in Santa Cruz, Calif.
Two years later, KemperSports, which manages both Bandon Dunes Resort and Chambers Bay, reunited Johnson and Lewis at Chambers Bay as the team to take on the 2015 U.S. Open. Now the two work in tandem, experts on fine fescue and maintaining turf in their home territory of the Pacific Northwest.
The two have divided responsibilities by having Johnson take on most of the paperwork and meetings, while Lewis puts in most of his hours on the golf course.
"Josh is out there (on the course) twice as much as I am, because I'm doing all this stuff," Lewis says, pointing to the spreadsheet on his computer screen. "I'll go out and see all 18 every couple days, but mostly I just look at the hot spots. Josh basically keeps a pulse on things. It's been that way since we hired him back in the old days."
Rob Golembiewski, Ph.D., at Bayer Environmental Science, ran the turf program at Oregon State from 2008 to 2012. Knowing both Johnson and Lewis well, he says the U.S. Open couldn't be in better hands.
"I got to know Eric when he was at Bandon, and Josh, in some ways, has grown up on courses out there," Golembiewski says. "They both have their strengths and they complement each other very well. I don't think you could have a better dual set-up for a U.S. Open."

Fun with fine fescue
This U.S. Open has several firsts, among them: first U.S. Open in the Pacific Northwest; first new U.S. Open venue since the 1970s; first U.S. Open on fine fescue turf.
Turf types are only mildly interesting to the layperson, but the look and feel of Chambers Bay's fine fescue could become a major storyline in June.
"It's a real different feel, a grass that can provide a superior putting surface when it's maintained right," says Golembiewski, who has played the course several times. "It's also a grass that can be susceptible to wear, and you're not going to see the recovery you want to if it gets beat up pretty good."
Another first, this one for the USGA: it's Darin Bevard's first U.S. Open as the USGA's Director of Championship Agronomy. Previously he was the director of the Mid-Atlantic Region for the USGA Green Section. He says he isn't worried about the fine fescue's performance, but agrees that it will be a different process prepping the course for the best players in the world.
"We're used to talking about cutting heights of 1/10th of an inch for a Poa or a bentgrass. Here we'll be looking at cutting heights of 3/16ths, which is different from what we're used to," he says. "There's a little bit of a learning curve there, but Eric and Josh probably know as much about it as anyone."
One thing Johnson and Lewis definitely don't know: What color this U.S. Open will be.
"Purely from a turf perspective the color of the golf course is going to be whatever the color of the golf course is," Lewis says. "We're not at all concerned about that. The weather is going to dictate how green we are or how brown we are. We are more concerned about the surface that we are providing. You don't play golf on a color. You play golf on a surface. Whatever the color that surface is, that's the color."
As fond of fine fescue as Lewis is, he hopes it doesn't take any of the spotlight.
"Hopefully when it's all said and done, we're having a conversation about the drama of the championship, and we're not talking a whole lot about grass," Lewis says. "We want to be the offensive linemen of the turf world."

The British U.S. Open?
There's been a lot of talk that this U.S. Open will play and look more like a British Open. Lewis, a 5-handicap, hopes that prediction holds true and the pros leave their 60-degree wedges at home.
"I would love to see somebody hit a putter from 50 yards off the green," Lewis says. "That would be the ultimate for me. That would tell me we have done our job."
Jay Blasi, the project architect for Chambers Bay, thinks this might be the widest U.S. Open ever. But that doesn't mean it's going to be easy.
"We've got fairways that are 50 yards wide. No. 13 is 103-yards wide in a certain spot. The unique aspect is, there are all these side boards/kicker slopes/undulations — they're there to be used," Blasi says. "To get your ball close to the hole, oftentimes the way to do that is to play away from the hole, and let the slope take you there."
Firm and fast is the key. If the wind gets involved, watch out. Blasi recalls the way Shinnecock played in 2004.
The British Open feel will be thanks to the sandy soil at the former sand and gravel mine. "We were so excited it was a sandy site," Blasi says. "Sand is like gold or oil to a golf architect."
The sandy soil is what allows Johnson and Lewis to keep the fine fescue firm with reasonable mowing heights. Currently they're mowing greens at .200 inches, and Lewis doesn't expect to have to go below .170 inches.
"The sandy soil is very free-draining, and it's a mild climate," Lewis says. "You have to have the right turf in the right spot. I tell the guys in the transition zone, or mid-Atlantic, wherever — those guys are my heroes. How they keep grass kicking in August in Tennessee, I don't know."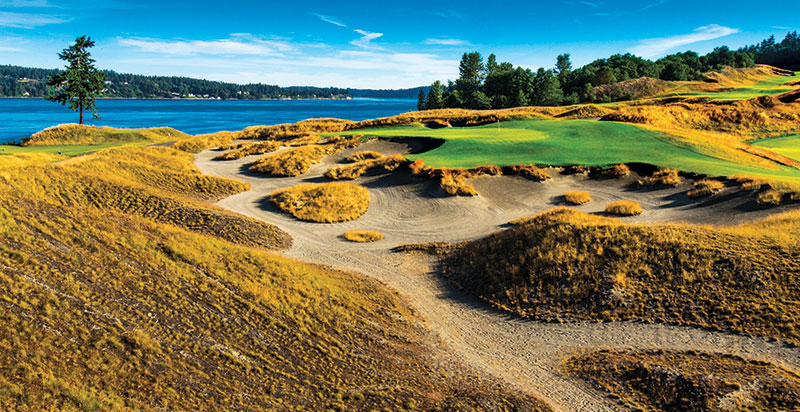 Everybody's U.S. Open
As the clock winds down and the U.S. Open nears, the area's excitement grows.
"You walk into any public area wearing a USGA golf shirt, and the people will stop you and tell you just how excited they are for the tournament to start," Bevard says.
Even eight weeks out it's not too soon to start bragging about the work of the superintendents involved. At the U.S. Open's media day in late April, Mike Davis did just that, mentioning Johnson and Lewis by name.
"I make this comment virtually every year: the most important person at the U.S. Open is indeed the superintendents," Davis told the assembled media. "They're the ones who make it happen on the golf course. And guys, you have been superb — you know your fescue grasses."
It helps to have a course so visually striking.
"(Chambers Bay) is unique. It offers a lot of different ways to set up the golf course to provide a challenge to the players," Bevard says. "But I also think the setting on the Puget Sound, as well as the dramatic appearance of the property… aesthetically, it's going to be spectacular."
Lewis says that hosting a major has always been on his "professional bucket list." But he also thinks this U.S. Open is just as important to his many colleagues in the area.
"I was up in Canada last week doing a talk, and the guys in Western Canada are so excited about this," he says. "It spans from Washington, Oregon, into Idaho, British Columbia, even the guys in Alberta. This is not just ours, it's everybody's up here."
Johnson, who has a quiet demeanor, allows that the 2015 U.S. Open is "exciting to a degree, especially for guys like me from the Pacific Northwest," but says he doesn't want to get carried away in the hyperbole.
"I want to keep it as low-key as possible and keep it in perspective," he says. "Let's get through this, get it done. The ultimate reward would be having it come back."
Photos: Seth Jones; ©USGA / John Mummert