My Second Office: Barry J. Kendall
After 14 years, Barry J. Kendall, superintendent at Green Valley Ranch Golf Club, says Colorado feels like home.
The Michigan native studied turf at Michigan State, then took an internship at Cherry Hills CC, Cherry Hills Village, Colo. He was on the crew when the course hosted the 2005 U.S. Women's Open. This year marks his 10th anniversary at Green Valley Ranch, two years as assistant and eight years as superintendent.
Green Valley Ranch, a Perry Dye design, opened in 2001. Every year the course hosts the Colorado Men's Open, the Colorado Women's Open and the Colorado Seniors' Open. That makes for 30 Colorado Opens that Kendall has experienced, plus one Division II national championship. The course also has a par three course.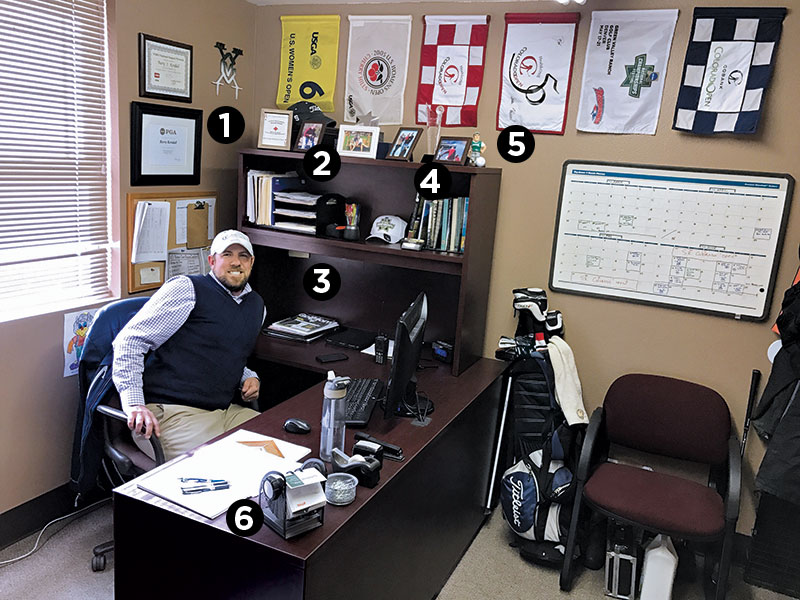 1. Go Sparty "That's our tee marker. Being a Michigan State alum and fan I took one and painted it half green, half white."
2. Family man "Those are family vacation photos; my wife, Jessica, of 10 years, my daughter (Raegan) is six and my son (Brayden) is four. We'll take trips up to the mountains, there's also a shot from a vacation to Petosky, Mich."
3. Loyal reader "The new (January Golfdom) came the same day we took this photo. I like Golfdom because it has a little bit of everything for everybody."
4. Book worm "I've got the GCSAA Membership Directory; "Who's Your Caddy?" by Rick Reilly, a priceless book; "The Fundamental of Soil Science" from college, Dr. Crum might like that; and more turf books."
5. Looks like a soccer player, but… "That's a Michigan State statue, right in front of it that golf ball is my first hole-in-one. Last August I tore my meniscus while installing lighting in the back yard. This was my first round of golf after surgery, at Highland Hills GC (Westminster, Colo.) I bought drinks for my group, but the chapter already had a keg so I got off easy."
6. Old school Rolodex "That's basically a dust-collector. I don't know that I've used it in five years."
photo: Mitch savage