Lunch with a legend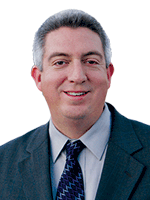 So there I am, having lunch with Tom Watson the Friday before the Masters. ¶ Wait, wait… let me back up. To quote Ron Burgundy, "that escalated quickly." ¶ I'm at my local driving range chatting with the owner, Jeff Burey. I told him I'm due for new clubs and I wanted to know where he wanted me to go to buy them. Because Jeff is the man, and he never leads me astray.
He told me I should go see his old friends at Kansas City-area golf course Wolf Creek, where he was the head pro for 20-plus years. He then did me one better and called and made me an appointment for the next day.
I walked out to the range and started hitting balls with my now on-borrowed-time clubs. I'm out there for a few minutes when Jeff reappears and says, "Seth, you know what would be neat? If you met the superintendent while you were there. He's a great guy, and they just did a really nice renovation on a few holes…"
Jeff is a fan of Golfdom, and like I said: he never leads me astray. Of course I'd like to meet the superintendent at Wolf Creek, I say. Jeff heads back in again and makes another phone call.
I've pushed, pulled, skulled and chunked a few more shots with these lousy, obsolete clubs when Jeff comes out again: "Seth, what would you think if, after meeting with the superintendent… you guys grabbed lunch with Tom Watson?"
"Jeff, you tell Mr. Watson that anytime he is available for lunch, I'm available."
I went back to hitting balls, why I don't know, because now my imagination is running wild about sharing a plate of cheesy fries with Kansas City's biggest golf hero. But there's no way this is going to work out, right?
I was driving home from lunch just two hours later when Todd Bohn, the superintendent at Wolf Creek, called to introduce himself and share the good news that, yes… after a tour of the course, Watson would be joining us for lunch.
Talk about 'escalating quickly.' Now I go into full-on panic mode and speed home. I disregard that afternoon's emails and phone calls and instead start brushing up on my Watson history. I grabbed my copy of "Caddy for Life: The Bruce Edwards Story" and started reading, as if I was going to reread the whole book over night.
Eventually I gave up on the book and decided sleep would be good. After all, it was going to be a big day: tour a golf course, fitting for clubs and lunch with a legend.
The details of the course tour are stashed away for now, but look for a story on what they did at Wolf Creek in a future issue (spoiler alert: Tom Watson will be quoted.)
The lunch with Watson and Bohn? A thrill and an honor. Watson was a normal guy, and it didn't take long for him to tell a few fun stories. There were no cheesy fries ordered, but he didn't seem rushed, and also took me to the new practice putting green to talk a little more business before heading on his way.
After I left Wolf Creek I called my friend Matt Neff, a regular columnist for the magazine, to give him the full story. Neff asked me what the experience was like. "Well, imagine grabbing lunch with a 65-year-old World Golf Hall of Famer a few days before he heads off to play in the Masters," I said. Neff shot back, "Yeah, because that's something anyone can just imagine!"
So, another fun story for my book.
Well, OK, the magazine. Because right now, the stories are coming so fast, the book is going to have to wait.