What switching to sales is really like
Golfdom EIC Seth Jones sits down with five friends of the magazine to ask them why they left their jobs as superintendents, and if you should, too.
---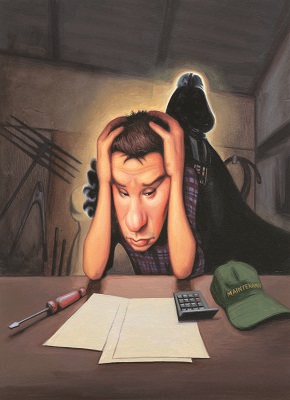 Gentlemen, thanks for taking the time. First, let me introduce everyone.
Ryan Bourne is from my home state, Kansas, and has worked at three great clubs in the Sunflower State: Wichita CC, Dodge City CC, and most recently, Terradyne CC, where he was superintendent for eight years. Last year he left his job to sell fertilizer for Pride Ag Resources (prideag.com), based in Dodge. He's also a K-State fan, but he roots for the Royals as well, so he's good by me.
You might recognize Jim Rattigan from the cover of Golfdom. He was our Herb Graffis Businessperson of the Year in 2014. Jim was named superintendent of his hometown course, Schuylkill CC, in Orwigsburg, Pa., in 2002, then promoted to general manager/superintendent in 2007. In 2015 he took the job of Southeast regional director for the Plant Food Co. (plantfoodco.com) and now is based in Florida.
I met Jim's co-worker Rich Sweeney, CGCS, recently at the 2016 Golf Industry Show, then got to hang out with him at the Masters this year. Rich has been in the golf industry almost 25 years as an assistant, a superintendent and a general manager, mostly in D.C. and Philadelphia, but I'm pretty sure he knows everyone in the Mid-Atlantic.
Chris Jennings is from Maryland and he's a U of M Terrapin, but he made the move across the country to California to take an assistant job at beautiful Pelican Hill Golf Club in Newport Beach. After almost four years he was promoted to superintendent over the two courses under Steve Thomas, the director of grounds there. After seven years in that position he made the leap to join Simplot Partners.
Finally, there's Anthony Williams, CGCS, who worked as a superintendent under the Marriott Golf umbrella for most of the last 30 years, most recently at Stone Mountain GC. He's won about every environmental award in the industry and was Georgia's superintendent of the year in 2014. He was named director of sales and marketing for Green Technologies (green-edge.com) three months ago.
Now that everyone's been introduced, my first question: How long were you considering moving over to sales – a.k.a "going to the Dark Side" – before you made the leap? And what inspired you to make the move?
Jennings: It was three years for me. My director (Thomas) and I had a good relationship, but my wife and I have four kids. Life gets more serious. I wanted a better work/life balance.
The internal struggle I had… during the 70 hours a week I was on the golf course, I felt like I needed to be back home. And then the time I was at home I was always worried about the golf course. There's a proverb: A double-minded man is unstable in all his ways.
Bourne: I never thought I'd be in sales; I always thought golf would be all I ever did. We took a trip to Branson, Mo. It was my 10-year-old's first hotel stay. He was more excited about the hotel than anything else.
I realized after I got home that my wife was married to a golf course. I wasn't giving my family enough time.
Williams: I only considered it on the day they told me they were eliminating my job and I could retire with 30 years of service. I never had one serious thought about leaving the profession until they sat me down and said, "Let's make a deal." That was the first moment I ever considered going to the Dark Side.
Rattigan: I never considered being a sales person. The Plant Food Co. had some really great things going on. Tom (Weinert, vice president of Plant Food Co.) had joked about it for a while. Through the year I started thinking about it, looking into the company. Then I put things on paper, the pros and cons, and it looked interesting.
Why did I consider it? There may have been that one long morning and night — when I'm the first one there in the morning and I'm there all night, then I was the first one back again the next morning.
Sweeney: I never thought about it either. I was very secure, very happy, when Tom (Weinert) approached me. I thought about it for three months. I discussed it with my family. It was the right move at the right time.
What was it like, that first day when you weren't a superintendent anymore but were in sales?
Sweeney: I had a nice transition, shadowing who I was replacing for a full year. He was retiring. And being a customer for many years made the transition even easier.
Jennings: It was a big weight off my shoulders. I wasn't responsible for a couple acres; I was just responsible for myself. It was liberating. I didn't have to tend to things constantly. I had weekends! That was nice.
Bourne: It was a somber day. I slept in until 7 a.m. My office is in my house. I don't remember the exact details of that first day, but I do remember it was quite a change.
Williams: You find yourself wanting to water something!
I made some calls, I had a checklist. Then, after lunch, was when it hit me. "I need to check my greens." Whoops. No, what I really need to do is go make another sale.
Sweeney: It took me a full year not to worry about syringing greens on a hot summer day. It's in your system. There definitely is a transition, and it's one I'm still getting used to. My biological clock still wakes me up at 5 a.m. every day.
Rattigan: I was nervous about my first day, but mostly excited. I wanted to grow and build something. I felt like at Schuylkill, the growth had started to slow down. I was more excited about Plant Health growing than about not being a superintendent anymore.
Now that you've been on the dark side, was it the right move? Do you enjoy it?
Rattigan: I do. I wake up in the morning and look forward to my day. I enjoy seeing other guys, sharing information and helping.
Williams: There are good things and bad things. I've seen more golf courses in the last three months than I did in the previous 10 years.
I don't like being gone (from home). All those years as a superintendent, I worked a lot of hours. But at the end of the day, I was back in my own bed at my house with my family.
Bourne: I'm happy with the lifestyle change. It being a newer company, it's still stressful at times and there's so much competition. I'm just trying to get my foot in the door. Now I'm trying to meet with lawn care companies and school districts. I'm a year in and I'm still learning.
Jennings: I feel the same way, I was a superintendent for 17 years, then at age 35 I was starting a new career. I was ignorant about sales and distributorships. I had a lot to learn and I felt like I was starting over.
But I definitely enjoy it, my time on the weekends with the kids, being able to take them to school… I still work quite a bit, it's just in our nature.
My success and my failure is all up to me now. In golf, Mother Nature doesn't always do what you need her to do, or you have some unhappy golfers. Knowing it's up to me whether I'm a success or a failure is what I like most, because I'll always be a hard worker.
How about regrets? What do you regret about leaving behind the lifestyle of a superintendent?
Bourne: I miss my crew. That's the biggest thing. And the self-gratification of walking away from the golf course when you know it looks great.
Rattigan: I miss riding around the course in the early morning with a cup of coffee. But now I do something similar with other people.
Jennings: I miss growing turf. I think I'll always have that desire to grow turf. I'm getting into sports fields and helping guys with their ball fields, even though it isn't my expertise.
Sweeney: The beautiful thing is you can still volunteer at LPGA events, PGA Tour events, majors. It's just different, the time your days starts, how it progresses, there's no greens committee meetings…
Thankfully I had a lot of friends who were superintendents and then went to the Dark Side. The Dark Side is a misperception — what's so dark about it? I'm still in the same business, I'm still seeing the same guys.
Jennings: I love the green industry; I didn't want to leave it and get into real estate. This is my passion. But I have a better balance of family and career now. I felt like, the way jobs were going — at least in our area — jobs and salaries were stagnant. And I knew I wanted to be a better help to my wife.
How did you know you were ready to make the change?
Sweeney: I got some good advice a long time ago from a friend who made the change. He simply told me, "You'll know when you're ready." It's when you don't have that fire in your belly.
About eight years ago I was offered something and I said no because I still had the fire.
Bourne: You just have to follow your heart. My family meant more to me than the golf course. I decided I was tired, I was done.
If there was a cloud building I'd stay up until 2 a.m. to turn off my irrigation system from my iPad if it rained. It was $3,800 for that one overnight cycle of irrigation in the Kansas wind on a hot day. I was just tired of that grind.
And Seth, I'm not saying I'm out forever. I love the turf industry and everybody in it. I still stay in tune with the industry. I still read every issue of your magazine. Once my kids get old enough and go to college, I might get back into it.
Jennings: My work situation was unique. I had a great relationship with (Thomas.) He wanted success for me. My work situation was so good it made it hard to leave.
Williams: You need to look around you. If the course is in financial trouble, or if the politics of the course is starting to spin out of control, or if the new general manager is younger than your work boots, you might need to consider it.
If you can do it on your own time, it's better than being reactionary.
Sweeney: The day you drive over a piece of trash on the golf course is the day you look for a different job. If you've lost that fire, open up to it. Either start looking for a new superintendent job or something else to do, a change of scenery.
Williams: And if you see something you think you can do and it interests you, keep in mind it might not be there in six months or two years. That's my spin. If you're 50/50 on your job, if you're having doubts, there's a reason for it.
Guys, I love the collective wisdom you're giving me and I appreciate your frankness. So last question: Give my readers advice on the Dark Side. One thing they should know or understand.
Rattigan: You have to believe in the product you're selling, believe in the company and believe in the people. I wouldn't do this unless I was 100 percent into it.
Williams: Finding that right fit can be complicated. If you don't want to be gone for long, find a small territory. If you like fertilizer, stick with fertilizer, or irrigation or iron.
Sweeney: Be a good listener. Be open minded. And purchase satellite radio for your truck (laughs.)
Bourne: Listening is so important. When I was a superintendent, a salesman would come see me, and if I was having a stressful day they were my sounding board. Now I go out with that guy on the course and he's spilling his guts to me. It's fine, I know where he's coming from.
Jennings: You know me, Seth, I'm spiritual. I prayed about it for a long time. You have to be level headed, don't just get frustrated and leave. Lay it all out on the table and look at the Xs and Os.
Illustration by James Bennett
photo: Ryan Bourne