I see a lot of golf courses in a given year. Sometimes I have the camera out, sometimes I'm focused on the experience and leave it in the rental car.
Looking through my photos for our December 2016 year-in-review cover story was a great review of the year. I stashed some of my favorites in a folder… I figured, what the heck, I'll share my "top 5" photos of 2016.
# 5 – Bathroom humor 
I'll start off in a low place, then try to slowly bring it back up. Hope you don't mind. Bathroom humor has just never been beneath me.
The first one is from a golf trip I made where the clubhouse was being torn down. Of course, my playing partner was eager to use the facilities when we arrived (too much coffee, apparently) and was dismayed when we pulled up to this sight.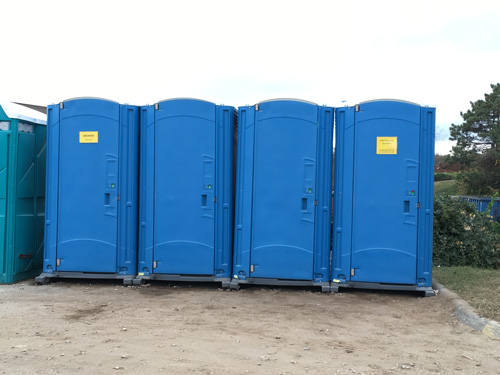 My favorite thing about the course's facilities was that the far left port-a-potty was reserved for women… while the far right one was reserved for construction workers. Leaving my pal the middle two to choose from… talk about a rough start to your golf round!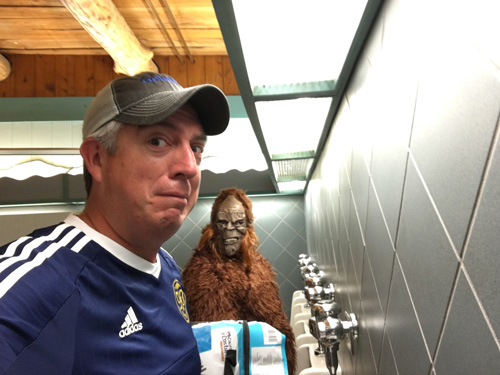 The other bathroom shot (seriously, I might have a problem) was at a resort in Pennsylvania. In walks Bigfoot himself. He was there as a practical joke for one of my co-workers… and now I have to wonder if Bigfoot at least $h*ts in the woods?
 # 4 – Phippsy photo-bombs 
I was invited to be a speaker for an Idaho GCSA chapter meeting way back in February. Great trip, bunch of good guys out there, and I piggy-backed the trip with a drive to Montana where I went fly fishing.
I get the impression that Kevin Hicks, superintendent at Coeur d'Alene Resort, is something of the Fonzie of the group. And when he tries to deny that, consider this: one of the events is an evening fireside chat moderated by Fonz — I mean, Hicks — where they wheel in a few tubs of ice cold microbrews and he just throws out a topic, the group chats, then he brings it back around at the end before moving on to the next topic.
So I arranged for Mr. Fireside to be the next month's 19th Hole interview, which you can read here. Normally I like getting shots of the subject out on the golf course for that feature, but since it was cold out and we were in Boise… I had to settle for a photo from inside their trade show.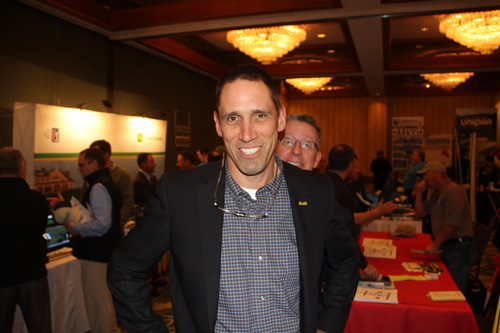 Hicks didn't want to smile at first, but when he finally did… David Phipps, GCSAA's regional field staff in the Northwest Region, perfectly timed this photo-bomb. And it looks like Hicks has two heads… I don't even know where Dave came from in this photo?
Clearly Phipps' photo-bomb game is strong.
# 3 – Punching holes at Oakmont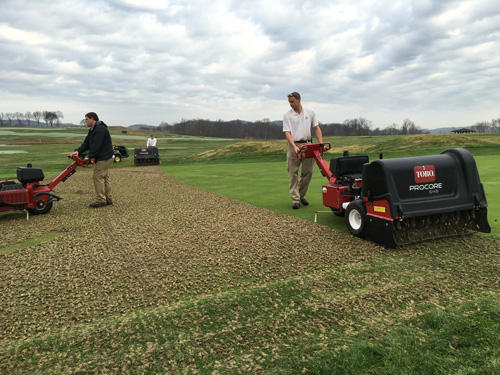 I didn't get the best weather when I arrived at Oakmont CC last spring, but it made for an interesting sky. It was cool and windy, a storm front was moving in.
Aerification was underway that day. The operation there was efficient. If I remember correctly they had four Toro ProCores going at once, and a bunch of muscle armed with shovels scooping in unison. I shot this with my iPhone.
Maybe a common sight to some, but the combination of the work in action, the cores, the sky… makes for a cool photo in my book.
# 2 – Pre-dawn work on No. 18 at Oakmont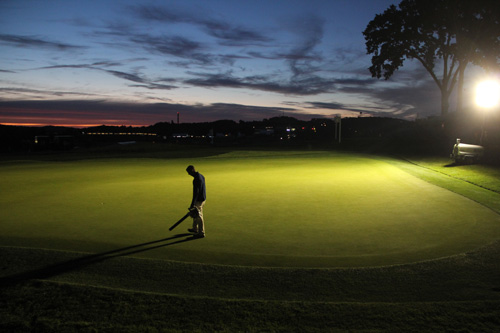 I look at this photo and I ask myself, "how was this not my best photo of 2016?" It's got a lot going for it, and I was thrilled when we found a use for it in the "Pay up or go home" (August 2016) cover story as the lead spread.
I was out early one morning the week of the U.S. Open (before the storms hit) and was doing my best to capture a few good pre-dawn photos. With my limited skills as a photographer, I was mostly failing. But then I came up over the hill and saw the generator and the mobile lighting unit, and I realized I had an opportunity.
By the time I got close enough to utilize their light, the greens mowers were already gone (DANG!) but there was a member of the crew left behind blowing off the green. I went into the stands to see what I could get… I took several shots, this is the only one that turned out well. And then the moment was gone.
A professional would have surely done better with the opportunity at hand, but I'm glad I got one good shot out of the moment. To me, this photo is not only dramatic in its colors, but it shows what hard work looks like. Not that toting a blower is the most physically taxing job on any crew… but the early hours, the attention to detail, the perfection of the green… it's all there.
# 1 – No. 18 at Erin Hills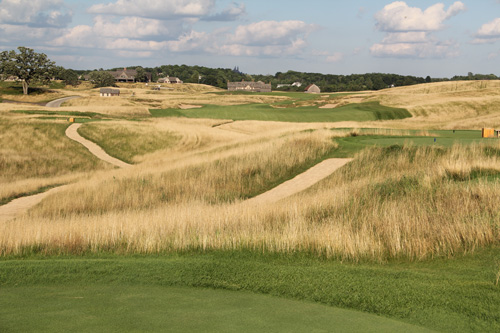 Ladies and gentlemen, your 2017 U.S. Open host, Erin Hills in Hartford, Wis. (I told you I was going to slowly class this up, remember?)
This was one of those times when I was smart enough to leave the camera in the rental car and just enjoy my round. But after my round? It was time to go to work.
The guys handed me the keys to a Gator and let me drive around the course on my own. I did my best to find my way to a few particular holes I wanted to photograph… and I left No. 18 for last.
The colors, the mounding, the clubhouse and off in the distance, Holy Hill… add in that this is one of the most treacherous closing holes I've ever played… it's a beauty and a beast.
I captured about a dozen of these shots, framed from different areas, different tees. It'll be fun next year when my designer and I sit down and take a look at what photos we want to use in the magazine. The course is so photogenic, there are plenty to choose from.
So there you have it, my top photos of 2016. Can't wait to see what the camera captures in 2017, despite my limited skills!
Photos: Golfdom