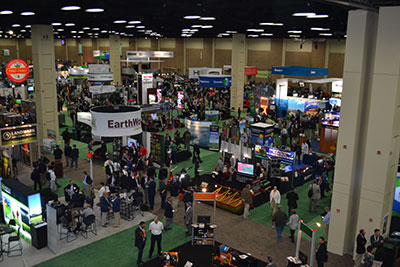 I took a ridiculous number of meetings at the 2018 Golf Industry Show, there wasn't a single block of time that wasn't accounted for in my schedule. I had a lot of highlights, virtually no lowlights, and even learned a few things at GIS 2018.
I've got a notebook packed with my scribbles and a cold cocktail on my desk. Let's see what I can decipher and share from all those meetings…
My most important observation is this: no one told me his or her business was shrinking. Everyone was bullish on how the industry is performing.
You might say, "OK Seth, nice thought, but no one is going to tell a journalist covering the industry that they're about to lose their job…"
Well, hold the phone. I have been told that in the past. And I've heard plenty of negative comments before from industry vendors who are frustrated with the golf economy, frustrated with their job, frustrated that the company across the aisle might be doing better than they are.
This year, I took more than 30 meetings… big companies, small companies, old associations, young associations. A few companies (about four of the 30+) were unhappy with the show (lack of booth traffic and/or position on the trade show floor) but no one was unhappy with how business was going. Most told me they thought golf really seems to be back… and a lot of people said they were surprised with how the "San Antonio show" was much busier than they expected it to be.
Now, ask a superintendent about business and the first thing they would say is, "I'm struggling with a lack of labor!" And somewhere a vendor quietly smiles, because that money they can't spend on labor… maybe they can spend it on a tool that makes their job more efficient.
Work smarter, not harder, right?
Oh, was the weather bad?
It was bad, but the show was packed, up until noon on Thursday, when the bottom dropped out and people either headed for the airport or to take meetings off-site.
Up until then the Golf Industry Show floor was jamming. The Toro booth? Packed. John Deere, Textron Golf, similar situations. Even the guys from GreenWorks Tools (battery powered equipment) who were in a far corner of the show, the half hour I spent in their booth saw steady traffic.
Yes, the San Antonio weather was bad, again. But I like San Antonio. Great city, great culture, great food. I can handle a cold walk from the convention center to my Uber. I can handle the cold walk from my Uber to Casa Rio or Durty Nelly's. I'm good!
I hope we go back to San Antonio. I am biased; I've got family there. I enjoy the culture (I'm half-Mexican.) I love to eat What-a-Burger. It's a fun change of pace from Orlando, which has all the culture of your average neon-lit aisle at Walmart.
Here's my list of favorite GIS locations from recent memory:
1. San Diego
2. San Diego
3. San Diego
4. Las Vegas
5. San Antonio
25. Orlando
I've got the GCSAA's survey in my inbox. Once I can come up for air I'll give them a thumb's up on this show and their choice of locations.
Photo: Golfdom