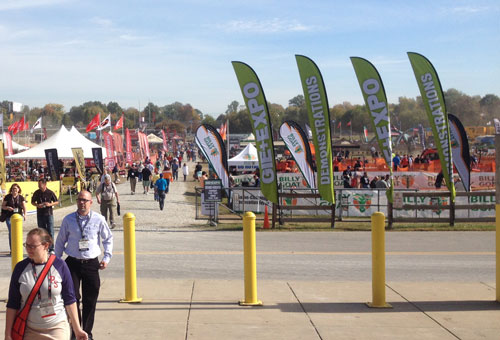 At last week's 2015 GIE+EXPO, Intelligro, a Suncor Energy business, introduced its new Civitas hybrid herbicide product WEEDfree BRAND Concentrate.
Intelligro was created to focus on sustainability and aims to create products for superintendents challenged to deliver results while minimizing their impact on the environment. WEEDfree is designed to deliver that to its users.
Reinie Drygala, global sales manager at Intelligro, lead the company's press conference and presented the benefits of the herbicide for the applicators and the customers. One attribute Drygala focused on is the microtechnology utilized in WEEDfree.
The patent-pending microtechnology minimizes the 3-way mix of active ingredients while maintaining its effectiveness through enhanced penetration of the product into the plant.
Drygala said that WEEDfree contains 75 percent to 80 percent less active ingredients but is still able to kill more than 60 listed broadleaf weeds with visible damage of weeds within 12 hours. With that decrease in active ingredients users will not see a warning label from the Environmental Protection Agency on the container and Drygala called it a "List 4" product.
He added that the enhanced plant penetration allows users to decrease downtime after a herbicide application because once WEEDfree dries that turf can be opened for play.
Another benefit of the product Drygala talked about is WEEDfree's scent — or lack thereof.
"This has virtually no smell. Other products have a heavy chemical or artificial smell but when we talk to people (about WEEDfree) there is no smell associated," said Drygala. Therefore crew members applying WEEDfree will not be exposed to the chemical odor for an extended period of time, likewise golfers won't smell it during their rounds.
In addition, the white emulsion produced when sprayed identifies areas that have been treated, eliminating duplication of efforts. These combined features help superintendents deliver on increasing customer expectations.