How big was 2016?
Donald Trump may have made the most headlines, but he was just one part of a strange yet fascinating golf year.
Additional commentary by Seth Jones and Matt Neff in italics
Strange weather, strange rulings and a strange election… 2016 had it all. From the highest of highs (the United States wins the Ryder Cup, finally) to the lowest lows (when Mr. Arnold Palmer died just a few days before the Ryder Cup began), 2016 was an absolute roller coaster. We had our favorite moments, like the fan in the crowd at Hazeltine who showed Rory how to knock down a tough putt. And we had moments that drove us crazy, like the new overtime labor rule that (we think) goes into effect this month. What's that? A federal judge in Texas granted a preliminary injunction against the FLSA overtime rule? Yes, this is a roller coaster crazy year…
January
Combining the expertise of ASGCA member architects and USGA agronomists, scientists and researchers, a new program provides pro bono consulting services to facilities that need assistance to make their layouts more enjoyable and reduce their maintenance costs. Canal Shores GC, a community-owned and operated facility in Evanston, Ill., is the first golf course to receive the service.
Judy Bell, the first female to serve as president of the USGA, is named recipient of the 2016 Bob Jones Award.
After only one year of his Fox TV deal, Greg Norman is replaced by Paul Azinger on USGA broadcasts.
The Shark is sunk yet Johnny Miller still swims? No justice.
February
The PGA Tour promises to contribute $250,000 over five years to GCSAA to help implement Best Management Practices models for golf courses, with a focus on localities and states in which PGA Tour events are held.
We hope some of that money has been earmarked to cover mental health assessments for local superintendents who spend the week listening to members compare their course to the local Tour course.
Roger McStravick's book, "St. Andrews: In the Footsteps of Old Tom Morris," is honored by the USGA as the winner of the 2015 Herbert Warren Wind Book Award.
It's ironic that golfers find the words of a superintendent from 150 years ago so interesting, yet the words of today's superintendents — like "carts on path only" — so easily ignored.
After several second-place finishes, Shawn Westacott , superintendent at Maridoe GC in Carrollton, Texas, has a GCSAA National Championship. Playing Aviara GC and the South Course at Torrey Pines, Westacott cards a two-day total of 5-over-par 149, four shots better than fellow Texan and defending champ Matt Cowan.
The bunker, divot, and ball mark crews literally had nothing to do the next morning.
Mark Condos, superintendent at Las Positas GC in Livermore, Calif., is named Overall and National Public recipient of the 2015 Environmental Leaders in Golf Awards, presented by GCSAA and Golf Digest in a partnership with Syngenta and the Rain Bird Golf Division.
March
Lydia Ko, the 19-year-old phenomenon from New Zealand, begins the year with a major win at the ANA Inspiration, becoming the youngest woman to win two majors. Later in the year, she would win the Olympic silver medal in Rio.
#IRememberWhenIWas19
Flooding happens early and often around the country, and golf courses in a variety of locations are severely hit. It starts in Louisiana with a multi-day heavy rain event that dumps just shy of 27 inches south-southeast of Monroe. The flooding also sweeps through Arkansas, Mississippi, Tennessee, Texas and other states.
April
Just when it looks like Jordan Spieth is on his way to back-to-back Masters wins, he starts his Sunday second nine bogey, bogey, quadruple bogey to fall a shot behind Englishman Danny Willett. Willett birdies 13, 14 and 16 to cruise to a three-shot victory over Spieth and countryman Lee Westwood.
#SonofaNutcracker!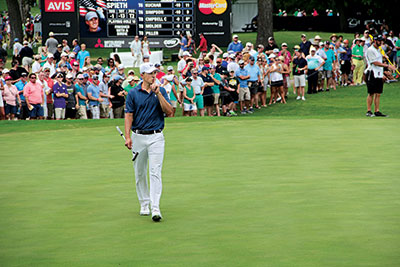 Speaking of the Masters, there were a record nine holes-in-one in the Masters Par 3 Tournament, including back-to-back aces on the same hole by Justin Thomas and Rickie Fowler.
Golf snobs decry the ANGC par 3 course's feeble defense of par.
South Texas again sees flooding when 10 to 20 inches of rain falls over the north and west sides of the Houston metro. Houston has back-to-back spring rainfall totals of 26.61 inches in spring 2015, followed by 24.84 inches in spring 2016.
May
National Golf Day is celebrated May 18.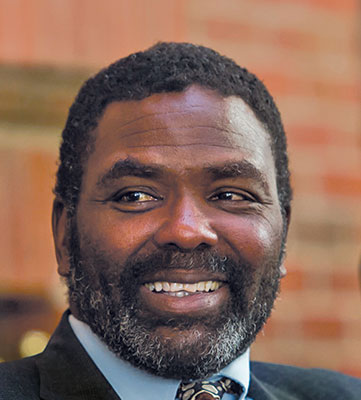 Baby Boomers celebrated by playing. Gen Xers celebrated by working but wishing they were playing. Millennials celebrated by gazing at their phones all day.
Larry Powell, the 64-year-old superintendent who spent his life tending to the dream of his father, Bill Powell, at Clearview GC in Ohio, is one of four inductees into the National Black Golf Hall of Fame.
June
A couple whose work has had an impact many superintendents over the last 32 years, Jim Moore, USGA director of Green Section Education, and his wife, Kay, an administrative assistant for the Mid-Continent Region, officially retire. Jim was instrumental in the 2004 revision of "USGA Recommendations For a Method of Putting Green Construction."
Dustin Johnson wins the U.S Open at Oakmont in one of the most bizarre and controversial occurrences in golf. His ball moved on the putting green, he told a walking official, who asked him if he caused it to move. Johnson said no, and the official said there was no penalty and told him to replace the ball before continuing. But after looking at video evidence, the USGA believed Johnson's action caused the ball to move. They told him about it several holes later, and despite the uncertainty of his score, Johnson goes on to win.
Say what you will about the USGA's handling of this situation, but all we know is that DJ's approach to 5 feet on 18 was absolutely gangster.
Indemnify, Nimitz, and soon, and Divanem — the aresnal against nematodes is reloaded.
Millions of nematodes immediately join the "If this happens, I'm moving to Canada," bandwagon.
Flooding in West Virginia kills 26 and ravages the Greenbrier Resort. The extensive damage to the Old White course forces the cancellation of the PGA Tour's Greenbrier Classic.
July
In the final round of The Open Championship at Royal Troon, Phil Mickelson and Henrik Stenson play inspired golf, with Stenson making 10 birdies on the way to a closing 63 and a three-stroke win. Mickelson finishes 11 strokes clear of third. Amazingly, Mickelson's 17-under total would have won all but four of the preceding 144 Open Championships.
What are the odds? Let's ask Phil.
A joint statement issued by the USGA, PGA Tour, LPGA and PGA of America says that golf does not share presidential canidate Donald Trump's views on Mexican immigrants and that the game has an "inclusive and welcoming environment."
This will all blow over once Trump loses in November… right?
Only a month after the rules "situation" at Oakmont, yet another controversy arises at the U.S. Women's Open. Anna Nordqvist and Brittany Lang tie through 72 holes at CordeValle GC in San Martin, Calif. They head out for a three-hole playoff, but after playing the third hole of the playoff the USGA determines that Nordqvist touched the sand in a fairway bunker. Nordqvist is penalized, and Lang wins her first LPGA major by three shots in the playoff.
Jimmy Walker survives Jason Day's closing eagle at Baltusrol to win the PGA Championship, his first major.
Wait, no controversy? Can we get a ruling on this?
August
For the first time since 1904, golf is an Olympic sport. Superintendent Neil Cleverly and staff overcome mountains of red tape to grow-in and prep the Gil Hanse-designed Olympic Golf Course for the best players in the world. Great Britain's Justin Rose and South Korea's Inbee Park both win gold.
Nike announces it is leaving the golf club/ball market.
Tiger Woods now in talks with Spalding.
Longtime superintendent Paul R. Latshaw is named the recipient of GCSAA's 2017 Old Tom Morris Award. He is the fourth superintendent to win the award and the first living superintendent to win since 2002 (Walter Woods).
And the Palmer Maples supporters suddenly have hope again.
Toro launches the "Every Day. Everywhere. Every Drop Counts." grant program to further awareness of water-use efficiency and to support nonprofits' efforts in water conservation.
September
Stanford University senior Maverick McNealy, a member of the 2015 USA Walker Cup Team, wins the 2016 Mark H. McCormack Medal for being the leading amateur in the World Amateur Golf Ranking.
Because having a cool name, serious game and a degree from Stanford just isn't enough.
The preview for the 30 for 30 ESPN film "Hit it Hard," about the life of John Daly includes video of Daly mowing fairways.
Big John would fit right in on a couple crews we know.
In Gee Chun wins the Evian Championship, the fifth and final LPGA major of the year at the Evian Resort Golf Club.
She will never need to pay for bottled water again.
GCSAA, which was formed Sept. 13, 1926 by Englishman John Morley to further greenkeeping ideas among middle America golf courses, celebrates 90 years as one of the most important organizations in the game.
September 25, a sad day for golf: Arnold Palmer passes away at age 87. It seems everyone in the golf business has a personal story or memory of this great man.
All hail the King!
October
Textron Specialized Vehicles and Jacobsen, both Textron companies, confirm they will combine their operations at facilities in Augusta, Ga., by the end of 2017, closing Jacobsen's operations in Charlotte, N.C.
Hurricane Matthew hits the southeastern U.S. hard, wreaking havoc in Florida, Georgia, South Carolina and North Carolina. Winds gusts upward of 90 mph are reported in Florida and 15-inches-plus rainfall totals are reported in North Carolina.
The Turfgrass Information Center of the Michigan State University Libraries receives a major donation of turfgrass industry materials from the family of the late James R. Watson, Ph.D.
Turf nerds can now honestly say they "have plans" on Saturday night.
In the lead-up to the Ryder Cup, Pete Willett, brother of Masters Champion and European team member Danny Willett, writes a scathing blog post that pokes fun at American golf fans.
If "baying mob of imbeciles" means "crazed supporters of the winning team," then guilty as charged, old chap.
Hazeltine superintendent Chris Tritabaugh and his crew receive acclaim for exceptional course conditions at the Ryder Cup. Tritabaugh also gains attention (and followers) for his comprehensive Twitter feed.
November
Multi-golf course owner Donald Trump wins the presidential election over Hillary Clinton, who was considered the favorite by many pundits.
Speculation of what a Trump presidency could mean for golf runs rampant. How many courses will add waterfalls?
Rick Olson officially becomes the CEO of Toro. He was promoted from president/chief operating officer and succeeds Michael Hoffman, who will remain as chairman of the board.
In honor of the University of Georgia-Tifton campus celebrating its 100-year anniversary in 2018, an ongoing effort begins to find all golf courses that are using or have used Tifton-released grasses. (Contact Duncan McClusky, mcclusky@uga.edu.) Some of the varieties developed at Tifton include Tiflawn, Tiffine, Tifgreen, Tifway, Tifdwarf, Tifton 10 and TifEagle.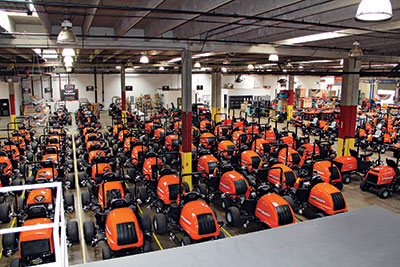 The FLSA overtime rule that would increase the exemption threshold of salaried workers to $47,476 is put on a preliminary injunction by a federal judge in Texas.
What's that noise? Oh, it's the sound of money being sucked out of the payroll budget and back in the chemical budget.
December
Josh Heptig, director of golf course operations with San Luis Obispo County Parks in central California, is named winner of the 2017 President's Award for Environmental Stewardship. A proponent of zero-waste management, Heptig's efforts kept 65,000 pounds of food waste out of local landfills over a three-year period.
The 2016 Golfdom Summit goes off without a snag until Golfdom Associate Publisher Craig MacGregor is handed a set of virtual reality glasses, then goes missing for three days before eventually being found wandering around a Florida swamp.
This is actually a prediction — we went to press before the Summit. But there's a good chance it could happen.
Photos: Trump: robert beck/sports illustrated/getty images, Seth Jones