What started as a weekend job at High Point (N.C.) Country Club raking bunkers, weed eating creek banks and mowing greens at 15 years old has led Quail Hollow Assistant Superintendent Brandon Hicks to the 2017 PGA Championship.
That is an extreme simplification of his career so far, but what Hicks says originally drew him to golf was that he had one uncle that is a superintendent, another uncle on the sales side of the golf industry and his dad was an avid golfer.
His journey to Quail Hollow included stops as a Division 1 collegiate soccer player at Elon (N.C.) University, a general management internship with the Greensboro, N.C.'s Forest Oaks Country Club and an eventual degree in sports management from Elon in hopes of pursuing a career as a golf course GM.
After all that, "the long and short of it" according to Hicks, he missed the outdoors and worked a turf maintenance job at Northridge Country Club, Raleigh, N.C., while he earned a turf management associate's degree from North Carolina State University. He was able to earn the degree in three semesters and graduated December 2008. A month after graduation, Hicks moved to Florida for a job at Seminole Golf Club, Juno Beach, Fla., before landing his current position with Quail Hollow in 2012.
In the lead up to the tournament he was focused on the locations and the building of the grandstands, bleachers and any kind of tent structure on the golf course.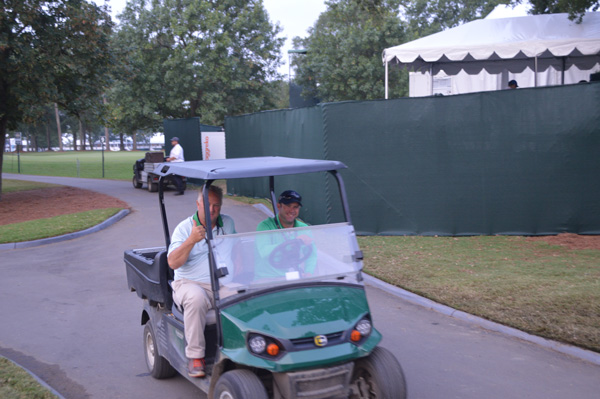 "I was really acting as the liaison between our department and the PGA of America to make sure everything is running smoothly with as little disruption to our membership as possible," says Hicks.
Hicks has been at Quail Hollow to prepare and maintain the course for four Wells Fargo Championships. When we asked what the difference going to be between the Wells Fargo hosted in May and the PGA Championship in August, he says, "It's definitely going to be an adjustment."
"One thing is that we have light for a lot longer. So our evening shifts we are going to be working in the daylight and not that dusk hour," adds Hicks. "Probably the obvious thing is that we're playing tournament golf on a different turf. Typically the course is overseeded with ryegrass. This time this is going to a bermudagrass course. So it will look a lot different to the naked eye."
The time of year and the turf isn't the only difference at Quail Hollow, according to Hicks.
"This is unlike any other crew I have ever been a part of," says Hicks. "There are a lot of guys that have a real practical understanding and knowledge of what we're trying to do. It's neat that I can have a guy 10 to 15 years younger than me open my eyes to a different way of doing something."
https://www.youtube.com/watch?v=av8WBBRcl9E
https://www.youtube.com/watch?v=av8WBBRcl9E