He's got a ticket to drive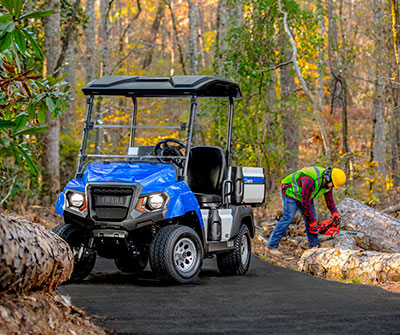 I love cars. Whenever I get a chance, I like to sneak a little Car and Driver-like content into this magazine.
Name one turf magazine that has had a classic car on its cover. Yep, in 2014 we put a superintendent (Mike Combs, CGCS) and his 1970 Camaro on the cover. I snuck my 2002 Z28 Camaro (which I sold a few years ago) into the magazine a few times (most recently last month). I also did a promotion a few months ago where I proudly posed with my 1964 Chevy Impala (alongside a keg of beer that we're giving away to the Rocky Mountain GCSA).
So, it's no surprise that I get excited to test drive cars… and yes, even golf utility vehicles. Sometimes a manufacturer calls and says, "Seth, want to take our new utility vehicle for a drive, and tour the factory where we make it?" It's not the same as leaning into turns at 100 mph, but it's enough to get me out of my garage and on an airplane.
I recently had the chance to visit two utility vehicle manufacturing plants, Yamaha in Georgia and Hustler in Kansas. Here's a recap of what I saw.
Just last month, I got a sneak preview of the new Yamaha UMAX at the Yamaha plant outside Atlanta. Along with taking a test drive at a local golf course, I also got a tour of the factory where these vehicles are assembled.
Tom McDonald, president of Yamaha Golf-Car Co., talked to me about their interest in the superintendent market. Yamaha's business in the front of the house (golf cars for golfers) is doing quite well, he told me. It's the back of the house (superintendents) who have been unimpressed with their products, because previously, in his words, "We just put a box on the back of a golf car and tried calling it a utility vehicle."
The Yamaha UMAX is a totally new design using feedback from superintendents.
"We went to the courses. We obviously have a lot of customers already. We went to who we thought were the most influential (superintendents) with the best backgrounds, and we gave them a clean slate of paper and said, 'What would you do differently? What are you looking for?'" McDonald told me. "What came back was durability. They wanted to have a car that would be able to ride on the course and absorb bumps whether it's loaded or unloaded."
McDonald says the utility vehicle has gotten a great reception from superintendents so far. The vehicle goes into full production in April, with its official unveiling coming at the PGA Merchandise Show and the Golf Industry Show. While we were together, McDonald insisted I take the vehicle for a ride over tree roots in the rough to experience the UMAX's suspension.
"When the superintendents saw it, they said, 'Finally, you made a utility car that doesn't look like a golf car with a box on it!'" McDonald said. "The second comment the guys said was, 'I cannot believe your suspension is that good.' One of the gentlemen said, 'I've had a back injury for years. When I'm done on my current product, my back hurts. I really don't think I'll have that issue with this car.'"
Some of the other features of the Yamaha UMAX include:
A larger cargo bed (33 inches long by 46 inches wide) bearing loads up to 1,000 pounds
A side-filled fuel tank, a first for a Yamaha utility vehicle
The gas-powered 402cc engine is 12 percent larger, and features noise suppression with Yamaha's Drive2 system
A lockable under-hood storage area safe for keeping laptops or tablets
Bucket seats borrowed from Yamaha's Viking off-road vehicles
"The rest of the details they're not going to notice much until they drive it for two weeks, a month," McDonald said, "but before long they'll notice there are a lot of the creature comforts on this vehicle."
It was a much shorter trip for me to visit the folks at Hustler — their factory is located a few hours south of me in Hesston, Kan.
The MDV is Hustler's first ride into the utility vehicle market. Paul Mullet, the recently retired former CEO of Excel Industries (which manufactures both Hustler and BigDog Mowers), told me it wasn't that they were eyeing any one market (superintendents, landscapers, sports groundskeepers), but that they found a problem and built a solution to fix that problem.
In this case, the problem is a shortage of labor. What do people do when they have that heavy load but no one around to help them unload it? Hustler's answer: Their LevelLift cargo box, which can lower all the way flat to the ground with the flip of a switch.
"It really started not that we were looking to get into more markets, but we identified a need," Mullet said. "We started looking at the utility vehicle and the way they're designed… most of the focus is on the vehicle. We wanted to put the focus on the bed. So, we designed it around the bed, instead of the other way around. We think there's a need there."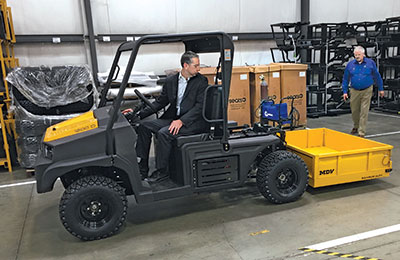 For easy loading and unloading, the Hustler MDV features "LeverLift," allowing the driver to maneuver the box to flat on the ground.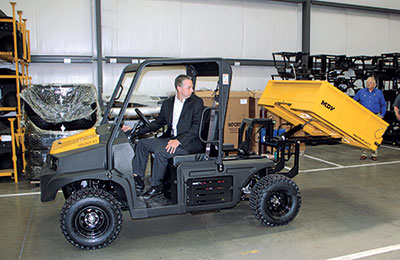 Some of the other features of the Hustler MDV include:
A top speed of 37 miles per hour and a load capacity of 1,685 pounds
A 1028cc Kohler diesel engine, fed by a 14-gallon fuel tank
Floating rear axle maintains a constant ground clearance, even at maximum load
A front storage area with removable tool box
Brad Unruh, director of product strategies for Hustler, talked to me about his experience showing the vehicle — which went into full production just a few months ago — to superintendents.
"What our customers told us is, as their day goes on they can think of more and more ways to use this bed," Unruh said. "This vehicle can prevent damage by getting into tight areas… one application is dumping material, say sand, into bunkers. You don't have to get right up next to the edge of the bunker, you can back up, extend it before you dump the sand. You can drop this bed to the ground, roll a tree ball in there. When equipment is down, they can bring this and get equipment (back to the shop)."
---
My favorite cool car moments
While I like driving utility vehicles, I prefer Chevys with big engines. Here's a rundown of some of my career car highlights.
July 1984 After moving to a small town in Kansas, my dad can't hide his excitement that legendary car designer Darryl Starbird keeps a garage in our new town. We walk in unannounced and get a brief tour from Mr. Starbird himself.
August 1995 After saving up enough money from a summer job waiting tables in Wichita, I plunk down the down payment and drive away in a new 1996 Chevy Camaro at the youthful age of 17. (Yes, I eventually would total this car.)
July 2002 On the verge of paying off my second Camaro, I get the bug again and trade it in for a new 2002 Z28. Insurance was a nightmare.
April 2005 On my birthday, my dad calls and tells me, "If you can take care of it, come get it, it's yours." He hands me the keys to the 1964 Chevy Impala he bought in the mid-80s.
December 2011 On assignment for Golfdom in San Jose, Calif., the car rental desk gives me a free upgrade… to a brand-new Corvette.
July 2012 As a gift, I'm given a ticket to drive on the Kansas Speedway. My friend Eric and I get on the big track in the Z28 for a real adrenaline rush.
---
Photos: Yamaha (1,2), Hustler (4,5), Seth Jones (3)