GreenJacket becomes TarpDevil distributor in U.S. and Europe
Turf cover company GreenJacket will be the main distributor of TarpDevil throughout the United States as well as Sweden, Norway, Finland, Iceland, Russia and Australia.
Since TarpDevil's August 2017 debut, the company aimed to reduce the burden of collecting and deploying covers on the golf course and in the sport turf and equestrian industries. The tractor-mounted, hydraulically controlled cover management system exponentially reduces the labor required to manage tarps, according to the company.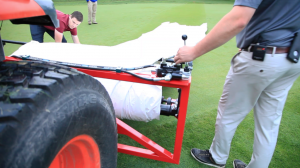 "GreenJacket and (parent company) Sto-Cote have a track record of bringing leading solutions to our current and future cover customer base," said Jim Stoller, president of sales and marketing for GreenJacket. "This latest innovation is particularly exciting and we are proud to be affiliated with and represent TarpDevil across the USA and around the world."
President of TarpDevil Jordan Kitchen added, "We are thrilled to have forged an agreement with progressive industry-leaders like Jim and Garry (Sullivan, vice president of sales) at GreenJacket. They have a long-standing reputation of serving their clients with best in class cover solutions and we couldn't think of a better partner to help us serve end users as well as dealers and distributors in the U.S. and international markets."
Photos: TarpDevil