Golf's day on the Hill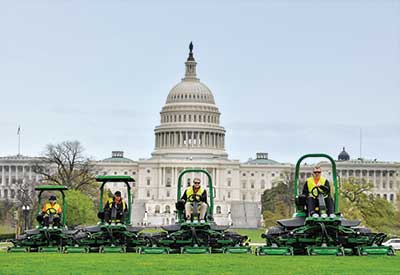 "The importance of you all collectively making your voices heard in the halls of Washington cannot be overstated." —Congressman Mark Sanford (R), South Carolina
My Golfdom press pass just took me somewhere I never imagined I'd go: as a journalist working in D.C., going as far as the National Press Building, the Rayburn House Office Building and a reception at the U.S. Capitol.
It's hard for me to believe it was so easy to attend National Golf Day with such an impressive group of industry people. Being among the group going to Washington, D.C., gave me a Wayne's World "I'm not worthy!" feeling. But all I had to do was pass a background check (hope you're not surprised I passed) attend a one-hour webinar (I nervously paid attention) and book a flight and room (finding a hotel room was the only hard part) and I was in.
Reporting on Washington, D.C. never interested me. Being in the press room at the White House shouting, "Mr. President!" while waving my hands furiously? No thanks.
But now that I've had a taste of working in Washington, D.C., I'm most definitely going back.
I joined some 275 golf industry professionals for two days of politicking at the recent National Golf Day, organized by the folks at the We Are Golf coalition. While I spent most of my time holding a pen, a voice recorder and a camera, most of the group went to various meetings, talking to government officials, and also took the time to help beautify the National Mall.
I hope this report on the meetings inspires some of you to join us there in D.C. for National Golf Day 2019, because now that I've attended one, I will be back.
A day that's really two
"Thank you for doing what you do. There are a lot of people on the Hill who are avid golfers but also understand the value of golf to the economy and society. You have a lot of allies here." —Congressman John Yarmuth (R), Kentucky
National Golf Day really was two days, and it kicked off with a project in which the many superintendent attendees could put their talents to work: beautifying the National Mall.
The National Mall needed the help. Surprisingly for such a famous piece of land, it looked a little ragged.
The group got to work armed with mowers, rakes, fertilizers, blowers and sod. People I'm used to seeing in suits — GCSAA CEO Rhett Evans, Yamaha Golf-Car President Tom McDonald, Bayer CropScience's Frank Wong — were in work clothes showing the mall some love. It was only the second time for this charitable project, and it was cool seeing Darren Davis, CGCS, current president of GCSAA, mowing grass with the nation's capitol as one backdrop, the Washington Monument as the other (that's Davis on the far right on this month's cover).
The volunteer effort lasted all morning, but I could stay for only a short time because I had been invited to the National Press Club for a press conference (if I had a dollar for every time I've said that, I'd have exactly one dollar). Steve Mona, CEO of the World Golf Foundation, and Jay Karen, CEO of the National Golf Course Owners Association, had a special announcement to share with the world in honor of the 11th annual National Golf Day.
Turns out 2016 was golf's best year ever. According to the new U.S. Golf Economy Report, golf generated $84 billion (yes, billion with a B) in 2016. This figure comes from anything golf touches — real estate, sticks and balls, greens fees — and is an increase of 22 percent from the figures in the 2011 report, in which the figure was $68 billion.
"In the 16 years we've been measuring the economic impact of golf, no year was more profitable in terms of what golf did for the U.S. economy," Mona stated to a handful of reporters. (Click here to view a PDF of the complete 30-page report.)
Spreading golf's message
"Supporting superintendents for advocacy efforts is critical. In the realm of advocacy and bringing issues and solutions up for the golf industry, GCSAA leads the charge on this." —Frank Wong, Bayer CropScience
Day two of National Golf Day kicked off at the Rayburn House Office Building in the heart of Washington, D.C. The group slowly filed in through metal detectors, then prepared for the most vital part of the event — breaking off into groups by state and meeting with each state's elected officials.
To me this was the most intimidating moment of the event. Attendees were prepared via a mandatory webinar, but speaking about Waters of the U.S. or immigration to an elected politician? Seems daunting.
Erin Stevens, CGCS, MG, Emerald Dunes Club, Palm Beach Gardens, Fla., considers himself a fan of politics and likes to stay up on the issues. But he admitted that his first time walking into a congressional office made him sweat a little.
"I wouldn't call it intimidation, but you're nervous going in there," Stevens told me. "You get grouped up with a team of guys and you all know what the issues are, everybody hits their points, everyone has their sweet spot. You pick your topic, you present it, and it goes a whole lot better than you'd think. You walk out of there and you're like, 'Great, we got our message across.'"
Scott Ramsay, CGCS at the Course at Yale, New Haven, Conn., was attending his fourth National Golf Day. He and his group were there to meet with every congressional official from Connecticut. Pesticide restrictions were top of mind for Ramsay, but he said no single issue was as important as the idea of presenting himself and his group as experts on what happens on a golf course.
"We pretty much just ask to be left alone," Ramsay told me. "Our goal is to come in and say, we're the experts, we're your constituents and we simply want to explain the impact of the business in Connecticut and around the country."
A way to give back
"I feel like it's important for me to give back to the industry. The industry has been very good to me for many years, and I feel like for us to continue to promote our business and what we do, it's important for us to be here." —Alfred Steppich, superintendent, Rock Manor GC, Wilmington, Del.
It was not easy for Alfred Steppich, superintendent at Rock Manor GC, Wilmington, Del., to attend National Golf Day. He recently injured his knee in a fall and had to undergo surgery, but here he was in a walking cast, the sole representative of the state of Delaware.
"It's a tough time (getting around)," Steppich told me, "But this year it's just me, so I'm glad I sucked it up and got here. Last year was my first year, it went pretty well. We presented our case. Who knows what they did with it after we left? But looking at the legislation now, some of the things we proposed last year — the PHIT Act, H-2B reform — all three of our Delaware senators are on board with that. They're not quite on board with WOTUS yet, and they probably won't be, but we're trying to get them there."
A common theme among attendees at National Golf Day was that it was a way to give back to the industry. Joe Gardner, superintendent at Fresh Meadow CC, Lake Success, N.Y., told me he finds this trip so important that he's been back each of the last three years.
"Coming and seeing all the work being done behind the scenes that we don't get to see every day, it's a special thing that I can be a part of," he said. "And it's something I can take home with me to the guys on Long Island, and hopefully we can mimic what we're doing here back home.
"We talk about the impact we have globally, and we talk about how we're working to make the environment better, not worse," Gardner continued. "To come here and network with people who have handled these issues is important. Golf is important to so many communities. We just need to spread that word."
Something that is worthy of mention is the fact that a majority of the attendees at National Golf Day are superintendents and GCSAA members. While other industry partners were there, they were not nearly as in force as the superintendent attendees.
"It's important for superintendents, that's why you see an overwhelming amount of superintendents here," Ramsay said. "This is a way we can advance our profession within the industry and with our industry partners. (National Golf Day) is one thing we have willingly accepted. We're willing to practice and we're willing to make an effect on the game of golf."
Superintendents overcome uphill battles everyday. It only makes sense that they wouldn't shy away from taking on battles on golf's biggest hill.
Photos: Kevin Dietsch
Seth Jones, a 18-year veteran of the golf industry media, is Editor-in-Chief of
Golfdom
magazine and
Athletic Turf
. A graduate of the University of Kansas School of Journalism and Mass Communications, Jones began working for
Golf Course Management
in 1999 as an intern. In his professional career he has won numerous awards, including a Turf and Ornamental Communicators Association (TOCA) first place general feature writing award for his profile of World Golf Hall of Famer Greg Norman and a TOCA first place photography award for his work covering the aftermath of Hurricane Katrina. In his career, Jones has accumulated an impressive list of interviews, including such names as George H.W. Bush, Samuel L. Jackson, Lance Armstrong and Charles Barkley. Jones has also done in-depth interviews with such golfing luminaries as Norman, Gary Player, Nick Price and Lorena Ochoa, to name only a few. Jones is a member of both the Golf Writers Association of America and the Turf and Ornamental Communicators Association. Jones can be reached at
sjones@northcoastmedia.net
.