Golfdom Gallery: 2018 Masters edition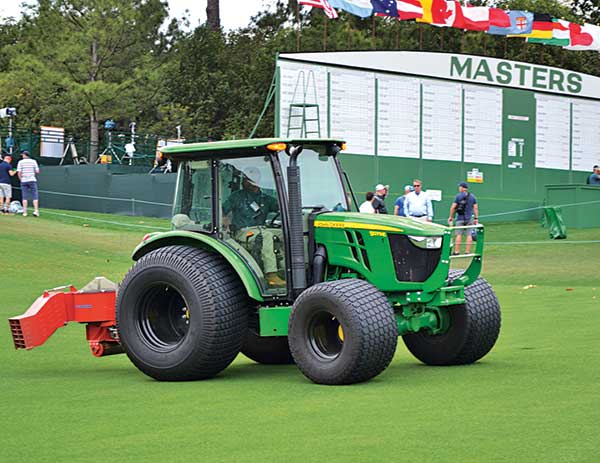 1. Blowing off Tea Olive No. 1 fairway at Augusta National gets the blow-by following the final practice round of the 2018 Masters.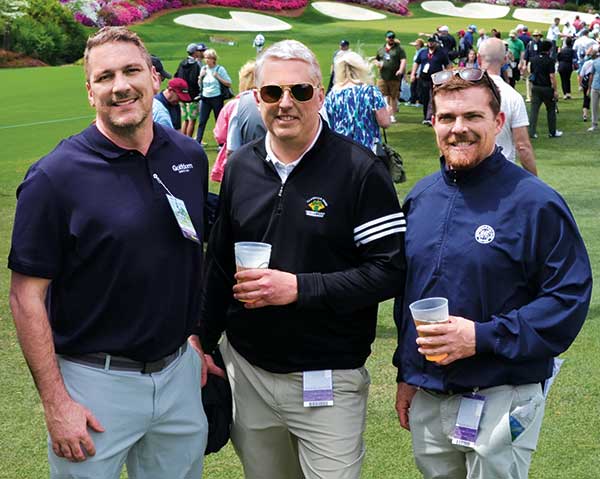 2. Lucky No. 13 It was pure luck that Golfdom Publisher Craig MacGregor (left) grabbed a table with Mike Poch, Foxborough CC, Foxboro, Mass., (center) and Michael Hughes, Whitinsville GC, Northbridge, Mass. We now have a magazine photo and interview (Poch isthis month's 19th Hole interview, page 44) with which to remember the moment.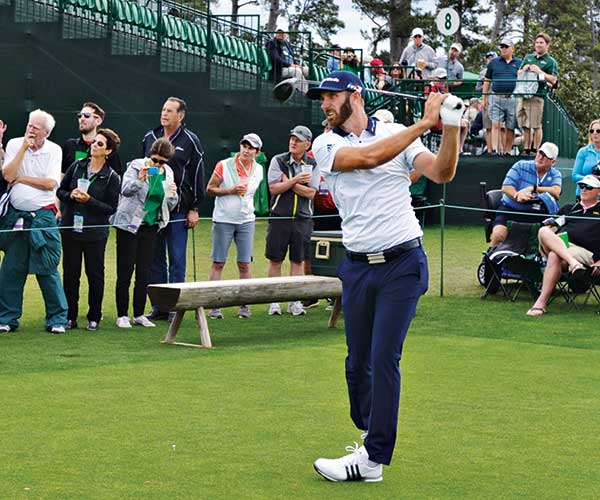 3. DJ drives The 2016 U.S. Open champion had to settle for a tie for 10th at the 2018 Masters, but Dustin Johnson still has the look of a player who will one day wear the green jacket.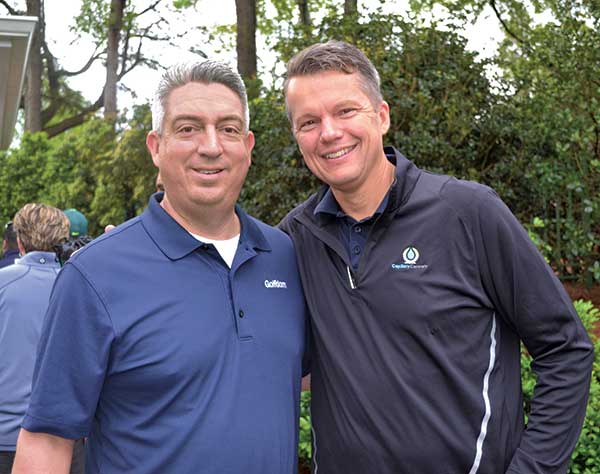 4. Jonesy and Mr. Capillary Concrete We hadn't yet gotten through the gates of Augusta National when we ran into Mr. Capillary Concrete himself, Martin Sternberg, CGCS (right), with Golfdom Editor-in-Chief Seth Jones.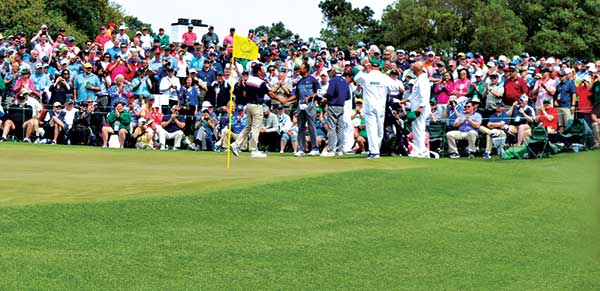 5. Tiger and the firefighter On Wednesday of the 2018 Masters, four-time Masters champion Tiger Woods (in blue) played golf with Matt Parziale (shaking hands with Woods), a Brockton, Mass., firefighter, drawing a huge gallery.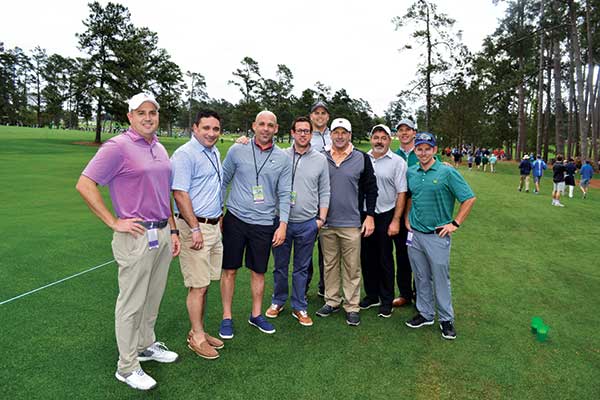 6. Foggy conditions at Augusta The first ever F.O.G. (Friends of Golfdom) meeting at No. 6 green was a huge success. We had about 25 people stop by to say hi. Left to right are Jim Rattigan, Plant Food Co.; Tyler Otero, North Jersey CC, Wayne, N.J.; Russ Harris, Galloping Hills GC, Kenilworth, N.J.; Rob Johnson, Fisher and Son Co.; Nate Watkin, Seagate CC, Delray Beach, Fla.; 2014 GCSAA National Championship winner Deron Zendt, Jupiter, Fla.; Steve Yager, Lost City GC, Atlantis, Fla.; Ryan Swilley, Gulf Stream GC, Delray Beach, Fla.; and Brian Birney, the Club at Admirals Cove, Jupiter, Fla.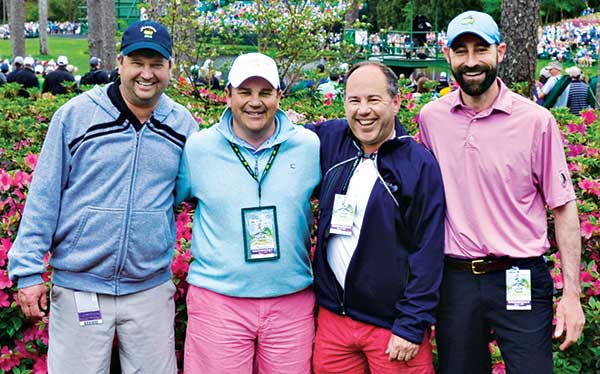 7. Connecticut connection From left to right, Kevin Collins, Tradition Golf Club at Oak Lane, Woodbridge, Conn.; current CAGCS President Marc Weston, CGCS, Indian Hill CC, Wethersfield, Conn.; Scott Ramsay, CGCS, The Course at Yale, New Haven, Conn.; Rich Duggan, Lake Waramaug CC, New Milford, Conn., take time for a photo at the 2018 Masters.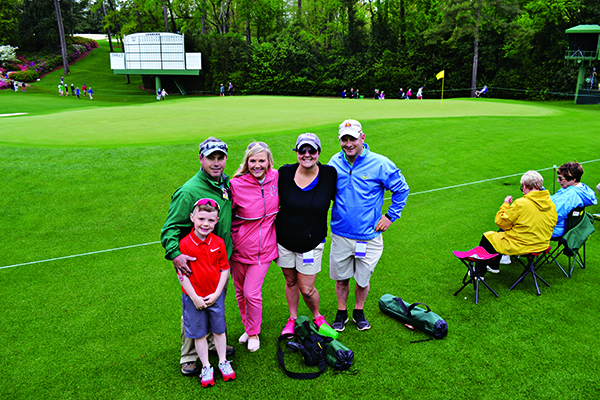 8. Family fun Lane Ferguson of Mirror Lake Golf Club, Villa Rica, Ga., (second from left) got to spend some time with the family during an otherwise busy week at Augusta National. Left to right, Sawyer Ferguson, Lane Ferguson, Erin Ferguson, Jen Dobosz and Ron Dobosz, park superintendent of Wilbraham, Mass.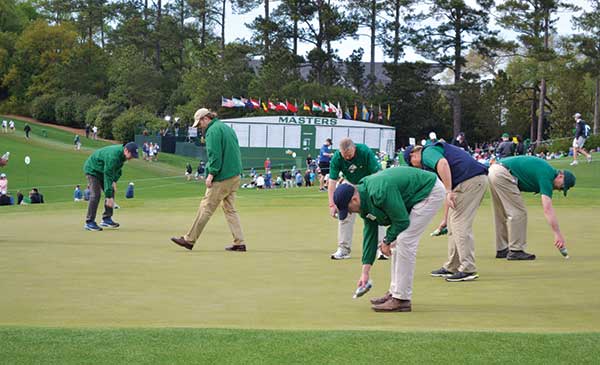 9. Ball mark detail No. 9 green gets some expert help, with a crew applying colored sand to ball marks on the green.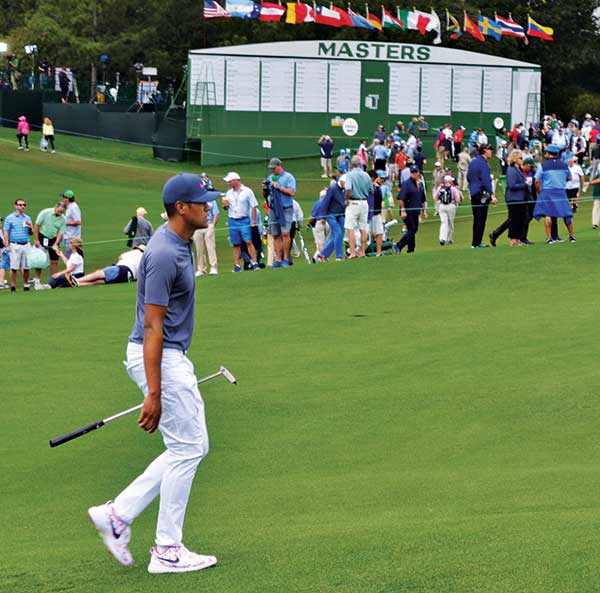 10. Tough break The lowlight of the 2018 Masters (aside from Sergio's 13 on No. 15) was Tony Finau dislocating his ankle during the Par Three Tournament. Painful to watch!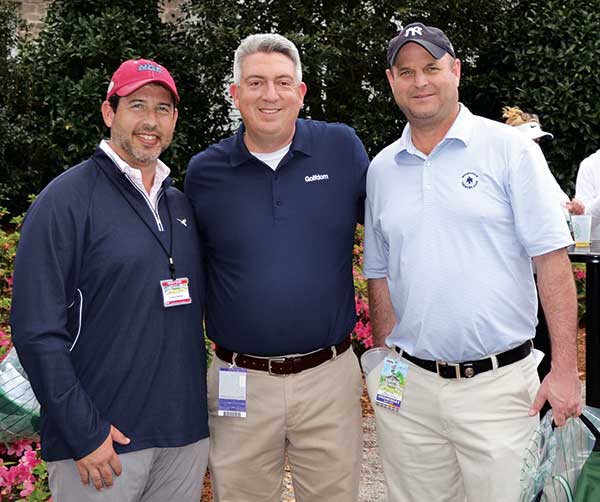 11. Put down the beverages, Jones Seth Jones (center) had the foresight to put down his stack of Masters cups in order to take this photo with Greg Nathan of the National Golf Foundation (left), and Paul Blodorn, Quali-Pro.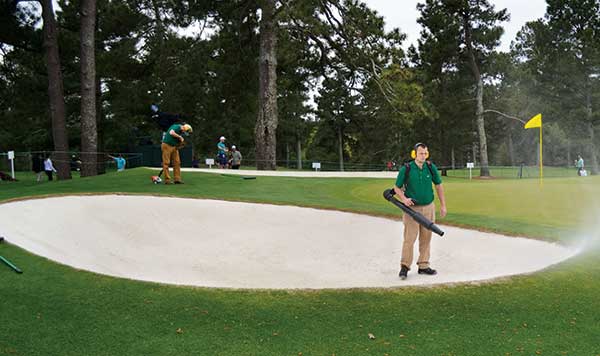 12. Blowing bunkers We started with a blowing photo, so we'll close with one. We'll see you all on Wednesday of the 2019 Masters, No. 6 green at 11 a.m. — start making plans now to be there!
Photos: Seth Jones (1-3, 5-10, 12); Craig MacGregor (11)