Well the year is wrapping up, and I always love looking back at my now-deceased 12-month wall calendar and remembering the best and worst of the year.
Sometimes I share this as a column in the magazine, but it's always a challenge because of the word count restriction. This year, no worries on how many words I have: I'm going to blog it and make it an epically long post! (Or at least I'll keep writing until this 6-pack of 90 Shilling runs out…)
As always, a disclaimer: if I came to visit you at your golf course, your corporate headquarters, if I came to speak at your chapter event… and it didn't make my highlight list? Well, rest assured it was No. 11, and just barely missed being in the top 10!
On to the list:
# 10: TOCA awards in Milwaukee
I'm a fan of Milwaukee. Great Midwestern, hard-working, blue collar, beer-drinking town. I can always find a good time there.
This year the annual Turf and Ornamental Communicators Association held their annual awards ceremony there. And I was hopeful it would be a good ceremony for us… turns out it was. An early sign that it would be good for Golfdom and sister publication Landscape Management magazine? There was a Chris Farley/Matt Foley "Down by the river!" impersonator as part of the evening's entertainment.
We took a bunch of awards home, more than any of our competitors… the one I was most proud of was the "best columnist, series" 1st place award I won — that's an honor.
Prediction: Golfdom columnist Matt Neff takes it from me in 2016. (I'd be fine with this… no, really.)
# 9: Ohh, barracuda!
I was invited down to Daytona Beach, Fla., to sit in on some training that CSI/Quali-Pro was putting on for their distributors for a new nematicide they're releasing in 2016; the event included a field trial tour; classroom education; and naturally, deep-sea fishing.
I caught the biggest fish of my life, a 15-minute fight with a 5-foot barracuda that would have made Dad proud. And I learned a ton on the trip and made some valuable new connections on the trek (you know who you are and I hope you're reading — see you in San Diego!)
# 8: 20 hours in Minneapolis
It's always fun writing the Herb Graffis Businessperson of the Year Award cover story… this year was no exception.
Visiting Bill Larson, CGCS, and his team at Town & Country Club in St. Paul, Minn., feels like forever ago… but it was really just 11 months ago. That story came together at the last second, included a bunch of great folks, and was pulled off in what has to be the shortest in-person visit of any cover story I've ever done.
That trip, shortened because I had to get to Denver and the Sports Turf Managers show the same week, could have been an epic failure. Instead, it was a huge win.
Wherever Bill Larson is at this moment, I hope he knows I wish he were closer so I could buy him lunch and just catch up!
# 7: Dinner with the Jersey Boys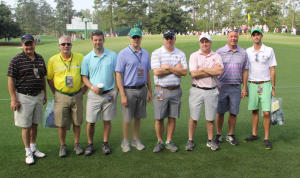 Masters week is fun every year, for various reasons: the corporate house parties, the Golf Writers Association of America annual dinner… Amen Corner and an egg salad sandwich.
But this year a large contingent of superintendents from New Jersey made the trek down to Augusta for the tournament, and they were kind enough to invite me to dinner one night.
Let's just say that I'm pretty sure all tweets from that evening have been deleted…
# 6: Lunch with Watson and Bohn
I've written about this before, so I'll keep my swooning over Tom Watson to a minimum here… and just say I look forward to the next time. (Tom, let me know if you want to catch the big Kansas/Kentucky game with me… and uh, no… I don't have tickets. Do you?)
# 5: West Coast Swing
I find myself in North Carolina about five times a year. Florida, Georgia… at least twice a year, each.
California, Oregon, Washington? Not nearly enough.
I made a commitment to explore the Left Coast more this year, and I did. I used the U.S. Open as my excuse. I started off in San Francisco and then drove, over two days, to Tacoma and Chambers Bay.
The Olympic Club, Half Moon Bay, Bandon Dunes… I'll be making that trip again. A lot of windshield time, but the golf, the connections made (and the burger dog!)… well worth it.
# 4: People actually talk like that
I got two similar, nice compliments on articles I wrote this year.
Not crazy compliments, but compliments that I did appreciate. The basic compliment: "You didn't misquote me!"
In my job, when you quote people, you have to be careful. Rarely do people feel like they "sound like that" or "actually said that" once they see their words in print. It's tough for the source, I get it… they want to sound like James Bond or Walt Whitman or the World's Most Interesting Man — I don't know. But my job is to get it accurate, get it down right and then get it in the magazine in a context in which it makes sense. And I take that job seriously.
This year, two people actually complimented me on doing a good job of getting their quotes in the magazine. One was for this story, which impressed my barber, because I quoted him from memory. The other was from this story on WOTUS, and that was a difficult story to write, so I'm happy at least one of the sources was happy with the results. The source told me, "That might be the first story I've ever been quoted in where I said to myself, 'You know, I actually did say all of that.'"
# 3: Buddy gets shot down by Mickelson
I took associate editor Grant "Buddy" Gannon with me to the PGA Championship at Whistling Straits so I could show him the ropes of the media center, the maintenance building, interviewing tour pros, etc. Starting in 2016, we'll split the Majors, saving me some travel time and getting the young blood some experience and opportunity to show his stuff.
I've told Buddy my story about my unpleasant attempt maybe 15 years ago trying to get an interview with Phil Mickelson. In social settings, over a few drinks, he usually asks me to tell the story to someone nearby and I almost always refuse, because he's oversold the story by then and I don't want to disappoint. (I'm sure this annoys Buddy, and I'm OK with that.)
We were on a roll getting interviews at Whistling Straits… Dustin Johnson, Jim Furyk, Gary Woodland… when I look over and see Grant trying to score the White Whale of an interview, Philly Mick himself.
Immediately I think, "Buddy, NOOOOO!!!" And then I see what looks like actual interaction with Buddy and the three-time Masters champion. And then, I see that same look I'm sure I've had myself… that feeling of an epic shoot-down from this fan-favorite golfer.
So why did this make my best-of list? Because it showed me that, in the moment, Buddy showed no hesitation going after what he knew was a tough interview. I'll say it: I was proud of the kid.
# 2: Best bogey ever at Whistling Straits
Everyone who has ever golfed with me knows I'm a lousy golfer. I've had some good days, but mostly bad days.
The situation: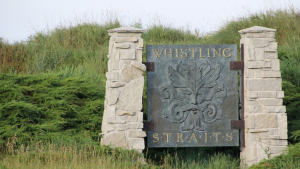 My CEO, my publisher, one client and I.
The Straits Course at Whistling Straits, site of the 2015 PGA Championship.
Only my second round of the year.
A level-three hangover.
I was somehow one-over through three holes. I was solid for most of the day, minus No. 17, that par three up the coast, where I blew up.
My team needed the last skin to break even on the day. I hit maybe the five-iron of my life (thus far), a neat chip, and a one-putt for bogey and the skin.
Hmmm, the first time I played Pinehurst No. 2 I was solid, too. I've been lousy there every time since.
Guess I better get back to Whistling Straits soon to see how I play it a second time…
# 1: The 2015 Golfdom Summit
We had a tremendous group. Tremendous meeting. Everything went off without a hitch.
This was the fifth year of the Summit, and the smoothest one yet. Fun group, too.
Next year will be the sixth one. I absolutely expect it to be a disaster. After these first five? We're due.
In five years, we've brought about 200 superintendents to this event. We can't bring everyone, this isn't the Golf Industry Show. But in the February issue, we're going to do our best to bring the Summit to our readers, so they can learn more about it. Consider it a virtual Golfdom Summit, in a print magazine.
I know, not as good as the real thing. So go ahead and get yourself on the guest list for 2016.
And not to dwell on any negativity, but there were a few times when things went sideways on me in 2015. So allow me to present my two…
Lowlights of 2015
Ants in rental car
I had a couple meetings in Raleigh, N.C. Picked up the rental car in the evening, a rainy night, and headed straight to a dinner.
The next morning, back to the airport to pick up Golfdom Publisher Pat Roberts. On the way there, I noticed an ant scurry across the dashboard. "Weird," I thought. By the time I got there, I saw two more ants crawling around the radio and dash. "I think this car might have an ant problem," I mentioned to Pat.
After our first morning meeting concluded, back to the rental. I opened the rear door to throw my sport coat back there… and saw 15 ants running all over. I looked at the front seat… 50 ants enjoying the Starbucks coffee that someone (I won't name names) left in the rental while we were in the meeting.
We drove that rental back to the airport as fast as we could. But the damage was done. The rest of the day, and the ensuing flight home, I felt like I had ants crawling all over me all day. Awful.
Buddy shot down by Mickelson
See # 3 above.
NOBODY PUTS BUDDY IN THE CORNER.
There you have it. My best and two worst, of 2015.
Looking forward to more good times in 2016!
Photos: Golfdom