Every drop counts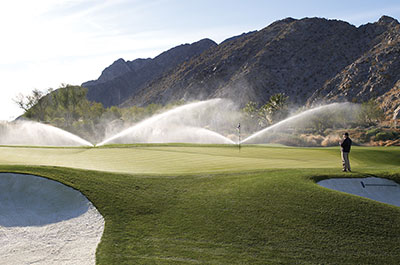 For the people who make a living in the irrigation industry, creating the next great innovation is a constant goal.
Superintendents thinking of autonomous technology related to their jobs may see images in their heads of driverless mowers or sprayers, but the most underrated "smart" technologies at their disposal might be the connection between their smart devices and the irrigation systems just below their feet.
"No one wants to waste water," says Steve Snow, director of sales for golf irrigation at Toro. "Efficient water use correlates with producing great turf conditions for golfers. Superintendents are (some) of the best water managers on the planet."
A professional water audit can estimate the water savings potential for a property. Reducing overuse can save some properties 50,000 to 500,000 gallons a night. But the specific savings are highly dependent on climate and pre-existing equipment.
Manufacturers such as Toro, Rain Bird and Hunter Industries provide various tools — sprinkler heads, valves, control systems, weather stations, pump stations and sensors — to allow irrigation systems to be increasingly more efficient. And there are a slew of companies constantly working to help superintendents get the turf itself to better use the water it receives.
Instant decision making
Toro's focus is geared toward developing products based on what users tell them. One thing they hear is that courses are looking for a way to update their irrigation systems, especially those built during the 1990s golf boom, without investing in a complete renovation.
For those customers, Toro offers its conversion assembly, which simply replaces older sprayer "engine," and includes a new set of nozzles. Toro's Snow equates the process to taking the engine out of your car and putting in a more efficient engine that gets twice the gas mileage.
"Pulling one nozzle out and replacing it with another is not a big deal. The conversion assembly can drop into an older Toro sprinkler going back to the '60s, and clubs can improve the sprinkler efficiency by 20 percent to 25 percent just by doing that," he says. "We have guys that have pulled out 1,000 old conversions and installed 1,000 new conversions, and they're saving water right off the bat."
Toro nozzles are threaded in, so superintendents don't need to remove many parts to make adjustments. They can take out a nozzle and put in a plug to irrigate a smaller area. The nozzles also feature built-in trajectory adjustment. Most of the sprinklers come with the ability to adjust by 1-degree increments down to 7 degrees — almost flat — up to 30 degrees.
Another way Toro is hearing from irrigation system users is from the Lynx Central Control System's smartphone application. Users have made around 2,500 suggestions in the Lynx app, a technology that Snow calls "probably the most relevant (irrigation innovation) for today's world."
"Lynx is primarily a productivity tool for superintendents, and the more productive they are, the more they are able to get out of the system," Snow adds. "With it, superintendents are able to make decisions instantly. They're out on the golf course, they see something and they want to make a note, they want to make a change, they want to start something, they do all of that stuff now from a smart device."
Because of the suggestions Toro receives, the company updates the technology twice each year to give superintendents more ways to manage their irrigation. Superintendents can access the full Lynx system on any internet-enabled device from home or on the road.
"If you're going to push a million gallons in the evening, you want to do it in the shortest amount of time, and Lynx will run all of the algorithms to make that happen," says Snow. "In the past, if this was something that was going to take superintendents hours to do, they weren't going to do it. Now with Lynx, it's going to take a matter of minutes and they're going to take advantage of that to save water, save time, save energy, (and have) better course conditions because the tools are that much easier to use."
The right hardware
Discussions on innovation center on control at Rain Bird, considering everything is in order with the irrigation system's hardware on the golf course.
"You can have the best sprinklers in the world, but if not in the right design or installation, you're not going to have maximum efficiency," says Stuart Hackwell, Rain Bird national sales manager. "Given the system is properly designed and installed, what we're talking about is sprinkler reliability and efficiency, and how do you control the sprinkler operation?"
Rain Bird offers four central control systems, but the most important feature in all of them, according to Hackwell, is ease of use.
"Easy-to-use software means that the superintendent can sit down and in five minutes set up the night watering cycles and with maximum system efficiency," says Hackwell. "Everybody is pressed for time. The internet and cell phone data transmission are both so much faster that superintendents are using their smartphones and tablets to update their nightly irrigation programs in the field."
With that increased performance in computing power, Rain Bird's central control systems can do more things. One function Hackwell brings up specifically is the "pause and resume" during an irrigation cycle. The function allows superintendents to set up a trigger so that the software will automatically pause the irrigation system when it starts to rain. After the rain has passed, the computer will recalculate how much irrigation water it still needs to apply, then complete its cycle.
"So, if it was supposed to irrigate for 20 minutes, but after seven minutes it starts to rain, pauses for a 3-hour rain shower, then it recalculates that time it needs to water, applying only the balance of what is needed. It will then water for that remaining time and then shut off," explains Hackwell. "The irrigation system didn't have to run the initial full cycle, and the course received the correct amount of water."
Hackwell and Rain Bird believe that software will drive the future of irrigation systems. If a course invests in the field, the pipe network, spinklers and control system, superintendents can just add newly available software to the existing system.
"It's like having a new app on your phone. It might tie into soil moisture sensors or your pump station, it ties into pressure sensing, and it becomes like one entire device to control the whole system. You're going to connect a wire, and you're rolling with the latest hardware or software. That's something that wasn't practical five years ago," says Hackwell. "That's where we see the future. It's kind of a fun thing because we are well along the path."
Water chemistry
Although they're not in the equipment business, Ecologel, a Florida-based chemistries manufacturer, designs products to help turf perform better overall with the water that is being applied.
For example, the company's Hydretain product coats roots and slows water loss by holding moisture in the surrounding soil particles, the company says.
"Hydretain allows plants to go with as little as 50 percent of the water they typically need to get along," says Jim Spindler, Ecologel's director of agronomy. "It'll help superintendent in situations like misses in irrigation systems or slopes that tend to dry out faster. Some of our innovations are starting to bring technologies together."
Ongoing research from Rutgers University has resulted in success from combining Ecologel's Hydretrain and a technology called Cytogro, an EPA-registered bio-stimulant that comes from seaweed.
"In a drought study at Rutgers, it seems like the combination product has done exceptionally well on bentgrass at fairway height, seeing a 40-percent reduction in water use," says Spindler. "The second part of the study should start in September."
Photos: Toro (1,2), Rain Bird (3,4)