The December edition of Golfdom is our annual review of the golf industry and will be sent to the printers very soon. While working on the final magazine of 2015 I am reminded this marks my first anniversary with Golfdom and North Coast Media (NCM).
I stepped into NCM's downtown Cleveland, Ohio, office as an employee for the first time on Nov. 24, 2014, and it has been a whirlwind of a year learning about the golf industry and B2B magazine business.
During the past 365 days I have been pushed out of my comfort zone as a person and a journalist but I can't express how much I appreciate those who have helped me along the way. I will remember this year for the amount I was able to travel and meet turf professionals out of the office.
My first trip as a member of Golfdom was to Lawrence, Kan. The trip was more of a chance for Golfdom Editor-in-Chief Seth Jones and me to get to know each other since we work more than 700 miles apart, but some education was thrown in there too. The highlights were getting to see a basketball game at the University of Kansas' Allen Fieldhouse and my introduction to a golf course maintenance facility from Lawrence (Kan.) Country Club's Superintendent Bill Irving.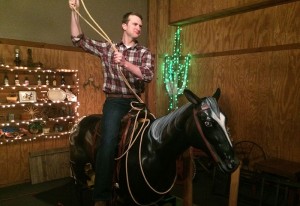 I followed up that "business" trip with an adventure to the 2015 Golf Industry Show in San Antonio, Texas. It was overwhelming at times but another great introduction, this time to trade shows and many golf industry professionals (not too mention this cool photo I got at the Jacobsen party.)
I took the next couple months off from traveling but when Golfdom was invited to Pursell Farms I was tapped to attend an event hosted by John Deere. Again I had a great time meeting more superintendents from around the country and Pursell Farms CEO, David Pursell.
As we rolled into August the heat really started to turn up when I attended my first major championship ever as a journalist at the 2015 PGA Championship.
Whistling Straits, Kohler, Wis., was the perfect place for my first PGA Championship because Superintendent Chris Zugel, Senior Assistant Superintendent Joe Sell and Second Assistant Derek Loda were all so welcoming and helped me navigate the massive course.
During the Tuesday practice rounds I saw Jason Day coming off the 9th hole and asked him if he had time for a quick interview to talk about turf (I had luck with Henrik Stenson, why not try Day too). He stopped for a second and cordially told me he was playing the back 9 as well but he would talk to me the next day.
Well I wouldn't be there the next day for that interview but I was still thankful because I wouldn't have blamed Day if he had ripped into me for interrupting him during his practice round. I'll never forget that moment. At the end of that weekend Day went onto win his first major tournament… I'm not saying I believe in karma but I do believe Jason Day is genuinely good person.
My 2015 travel concluded with an October full of the Green Start Academy and the GIE+Expo. Both were great events where the former allowed me to make connections with some assistant superintendents and the latter re-introduced me to large trade show coverage.
The only major event on the Golfdom schedule that I have not attended is the Golfdom Summit. I am excited to get to Orlando, Fla.'s Reunion Resort for the first time, meet a slew of great superintendents and catch up with some that I have met along the way.
There are 525,600 minutes in a year and I have been so lucky to spend them as a member of the Golfdom team. Here's to 2016 and hoping I see you out on the road.