Annika Sorenstam increases investment in Capillary Concrete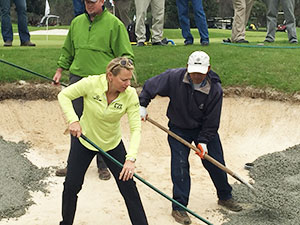 Annika Sorenstam a part-owner of Capillary Concrete bunker liner has increased her investment in the company and purchased a 50 percent stake.
Founded in 2012 by Martin Sternberg, CGCS, Capillary Concrete is a homogeneous and pervious bunker liner. The system's capillary properties keep bunker moisture levels consistent and playable, and promotes improved drainage to ensure sand remains in place after rain, to avoid washouts even on severely flashed bunker faces. Water savings of up to 90 percent and improved plant quality have been documented, according to the company.
"Capillary Concrete saves courses time and money when it comes to maintenance of bunkers and surrounding turf," says Sorenstam. "Even more impressively, it improves course conditioning in an environmentally-friendly manner, something that's especially important to the game's continued growth."
More than 2,000 bunkers worldwide have had Capillary Concrete's patented system installed. They include major championship venues like the Olympic Club, San Francisco, Atlanta (Ga.) Athletic Club and Riviera C.C., Pacific Palisades, Calif., as well as Ryder Cup hosts Gleneagles (Scotland) and Le Golf National (France).
"Capillary Concrete's applicability to turf is also extremely encouraging," says Sorenstam. "With water at an increasing premium, there's incredible potential for its reach beyond golf to sports fields, parks, residential and commercial landscaping, and more."
The strongest and most environmentally-sound system available, Capillary Concrete works in all climates and consists of a special Light Weight Aggregate which preserves and distributes moisture, according to the company.