A new way to wheel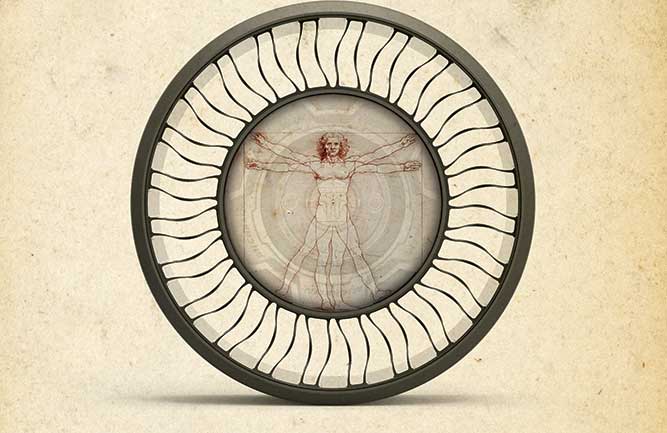 Updates to the pneumatic tire make the late 1880s invention look like an old blowhard.
The pneumatic tire became a commercial success after Irish inventor John Boyd Dunlop unveiled his creation in 1888. Many improvements have been made to the design since then, but one issue remains: flat tires.
A couple of companies are working on improving Dunlop's creation, mostly by taking the air right out of it. The non-pneumatic — or airless — tire is available for purchase thanks to a partnership between two major companies, and soon will be available from another.
A Deere approaches the Michelin Man
Michelin's X Tweel (a combination of the word tire and wheel) Turf non-pneumatic radial tire is a solution for superintendents tired of flat tires on their John Deere Z900 zero-turn mowers. The concept for the technology started as a lunch conversation between two Michelin engineers about alternatives to pneumatic tires.
That concept eventually developed into the Michelin X-Tweel SSL, a non-pneumatic tire for commercial skid steers in 2012. It was around that time when John Deere got involved.
While in the field doing market research, Chase Tew, group product manager of John Deere mowing solutions, watched a landscaping crew spend the first 45 minutes of its day fixing flat tires. He decided then and there that the problem was a big unmet need in the turf market and that it was time to explore introducing non-pneumatic tire technology into golf maintenance.
Tew brought the issue to the experts at John Deere's Mowing Technical Center of Excellence in Moline, Ill. About eight months of research indicated that Michelin's Tweel technology was an option that could meet customer needs.
"We met with Michelin to talk about the Tweel technology," Tew says. "Michelin coincidentally was looking for applications for this technology. So the timing from both perspectives was quite ideal."
The two companies started working together in 2012. The original Tweel-X SSL design was scrapped, and Michelin's engineers had to start on an idea from scratch with golf course terrain in mind.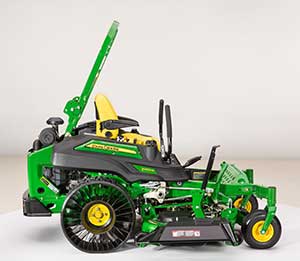 "Our engineers — who have been designing tires for years — were given a new set of performance criteria they had never considered before," says Jack Olney, director of sales for Michelin Tweel Technologies. "We had never before had to think about side-hill stability or turfing the tire's tread. They were excited for the opportunity."
The new Tweel X Turf was rolled out to the golf industry at John Deere's booth at the 2015 Golf Industry Show in San Antonio, Texas. After more than two years of research and development, the two teams were able to celebrate the wheel's inability to go flat, but also, its less obvious advantages.
"Typical tires show wearing, depending on how much they are used on concrete or asphalt, at 750 to 1,000 hours. These tires show barely any wear at 2,500 hours," Tew says. "You've got ride-quality improvements from the ability of the tire to flex over a given terrain. One of the big advantages that most people don't catch on to is a uniform cut height. There is no variance in tire pressure from the left side to the right side. If a tire gets a small leak or something goes wrong, all of a sudden your machine could be sitting lopsided. (The Tweel X Turf) stays perfectly uniform for the life of the tire."
The X Tweel Turf currently can be purchased only for use on the John Deere Z900 series mowers, but Michelin recently introduced a separate X Tweel Turf tire for golf carts that fits the same as the standard 18X8.5N10 tires.
From TV to the first tee
John Deere and Michelin are names most people easily can identify, but there's at least one other company working to break into the golf industry with a non-pneumatic wheel.
Shark Wheel, a company that fans of the TV show "Shark Tank" might be familiar with, started as an improved skateboard wheel. The first set of skateboard Shark Wheels was sold in 2013, but inventor David Patrick, a lifelong golfer, says he is excited to see his creation on the golf course.
The wheel design — somewhere between a sphere and a cube — looks like it would wobble, but performs like a new-and-improved regular wheel. They work so well that they raised $100,000 from crowdfunding websites, and received a $225,000 investment from three of the entrepreneurs on "Shark Tank" (Mark Cuban, Kevin O'Leary and guest Shark Nick Woodman). According to Patrick, a golf-specific wheel was almost the product presented to the entrepreneurs on "Shark Tank."
"We only enter markets that we know that we have a distinct competitive advantage, and golf was right there in the very, very beginning," Patrick says. "We thought to ourselves, 'Well it works great on grass, sand and concrete. Who deals with grass, sand and concrete? Freaking golfers, every day!'"
The company's plan is to convert the skateboarding wheel to versions for both golf bag pull cart wheels and a 13-inch non-pneumatic golf cart tire. Patrick clearly is excited about the pull cart tire, calling it the "most beautiful wheel you will ever see on a pull cart." The golf cart tire is an enlarged copy of the original.
He brings up two distinct advantages that set his Shark Wheel apart. The wheel travels along a sine-wave pattern that reduces the surface area touching the ground, and when it's on concrete there's low resistance and friction, which extends the cart's battery life.
Also, a traditional tire has only one edge on the outside, but the Shark Wheel's helix shape creates three separate edges on its outside that increases the grip. When the wheel starts to slip on a surface it has multiple edges to grip or "bite."
"When you're walking on something soft like grass or sand (the Shark Wheel) pulls itself on top of the grass or sand. It stays up on top just like a wide, big tire would," Patrick says. "But when you're on a hard surface it pulls like there's nothing behind you. It's like the skinniest 10-speed tire you've ever felt. It mimics a snake's movement through the grass. They're using the undulating pattern to pull themselves forward."
Designs are ready and the selling pitch to consumers is in place, but when will superintendents see the Shark Wheel on the golf course?
Patrick says the company is still looking for a strategic partner in the golf industry to work with to release the product. Once they find that partner, he hopes to have a manufactured product within six months. His goal is to have the Shark Wheel on golf courses this year.
Images courtesy of: Michelin, istock.com (EdnaM), John Deere