2017 PGA Championship preview
Quail Hollow Superintendent Keith Wood remembers one of his first experiences with celebrated architect Tom Fazio. It was during the 2015 Wells Fargo Championship, and the two were driving around the course during the Wednesday Pro-Am. They pulled up to No. 16 tee, a 506-yard par 4, the beginning of the famed "Green Mile" at the course, in time to see 2013 Masters champ Adam Scott saunter up.
"Scott is pretty big and he's standing there gripping his driver and wha-bow! He just smokes this drive," Wood recalls. "Mr. Fazio and I look at each other and then back to Scott. Fazio tells me, 'Let's go find out where he hit that ball.' So we drive down and we get to his ball… he's only 150 yards out. Mr. Fazio looks at me and says, 'I just can't do anything about that.'"
But that doesn't mean they can't try. Because at Charlotte, N.C.'s Quail Hollow, host course of the 2017 PGA Championship, the words "can't do" are meaningless.
"The one thing I have learned here at Quail Hollow is there's no such thing as 'scope.' Everything is within grasp," Wood says. "Because what started as just a greens conversion ended up turning into a world of work."
A greens renovation was set to begin upon the conclusion of the 2016 Wells Fargo Championship. When Fazio heard the course was going to close for 10 weeks, he saw an opportunity to complete a master plan that had been kicking around since the 1990s. Course President Johnny Harris asked Fazio if he thought he could get the project finished in 13 weeks, and he said he could. Then Harris asked Wood what he thought.
"My response," Wood says, "was, 'We will do whatever you ask us to do.'"
Fazio had no doubt in his mind that he, his team and the Quail Hollow maintenance team had the right stuff.
"You set high, high goals and you meet them and you exceed them — that's the all-American ideal," Fazio tells Golfdom. "Keith knows what his job is and he knows how to get the job done. That's the way it's supposed to be — it's not an accident, it's not a surprise. It's our job."
No greens for old men
The job of overseeing the project from the maintenance side would belong to Wood, who has been superintendent at Quail Hollow since May 2015. A highly educated turf pro (bachelors of science in biology from the University of South Carolina, associates of science degree in turf management from Rutgers), Wood didn't come to the profession because his father was a superintendent, or because he lived on a golf course, or because he had a passion for playing the game.
He came to the profession because he didn't have a ride.
"My college roommate was a bag boy at the local country club, and I didn't have a vehicle at the time," Wood recalls. "I needed a job where I could get a ride to work, and the superintendent was hiring. I got a job mowing greens and I loved it."
Wood looks back at his career path now and calls it "a little bit of luck, a lot of hard work." He followed his superintendent, Kevin Redfern, to Grandover Resort in Greensboro, N.C., working for him for five years until he got his first job as a superintendent, at Florence (S.C.) CC, which hosts a Qualifying School event. "That's how I got hooked on tournament golf and working for a private membership," he says. After five years at Florence, he took the superintendent job at Sedgefield CC back in Greensboro, which hosts the Wyndham Championship.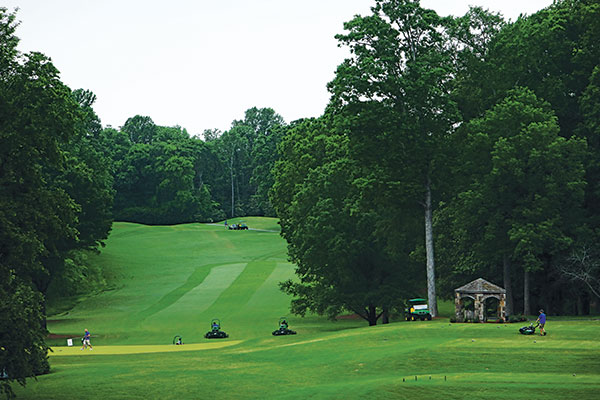 At Sedgefield, Wood oversaw a greens renovation, converting the greens to Champion bermudagrass. The success of that project drew some attention from the industry. When the job at Quail opened — which was staring down the same conversion on their greens — Wood was the person who got the call.
"I guess I interviewed well," Wood says, denying the idea that he is some Champion bermudagrass whisperer.
"I wouldn't say I'm an expert (on the grass), but I'll say that Champion suits me as a superintendent because I'm a hands-on superintendent," Wood says. "I like to think that I have a good grass intuition. I know what I'm looking at with grass. I know what I feel when I walk out the door with the weather. I know what to expect when I look at the forecast. Putting all three of those things together adds up to a good management program, which lends you to have good Champion greens.
"One of my best friends has Champion as well," Wood continues. "We always joke that Champion is not an old-timer's turfgrass because it changes throughout the day. You're always managing it. If you take your eye off the ball, then you're going to swing and miss and your greens aren't going to look so good."
89-day grind
Imagine this: Sunday at the 2016 Wells Fargo Championship. Then-leader Rickie Fowler and Roberto Castro are the final pairing of the day. They finish up on No. 9, and the gallery follows them to No. 10.
While all eyes were on Fowler and Castro (James Hahn would eventually win in a playoff) the crew was lurking on the front nine, prepared to start making changes while the tournament was still being played on the back.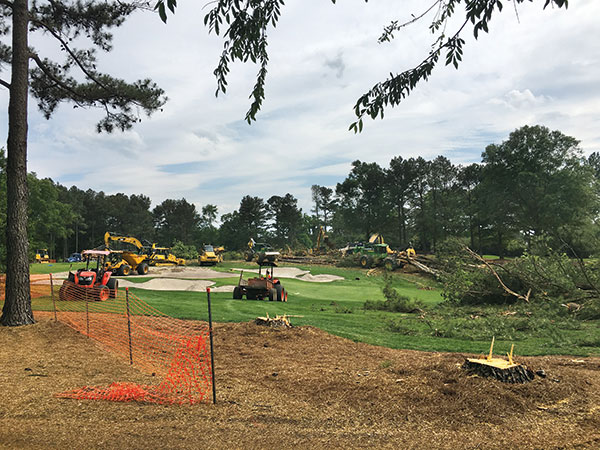 "We started shutting down irrigation on the front nine as soon as play moved to the back nine," says Brandon Hicks, one of the three assistant superintendents at Quail. "To start that grind right then and come out clean on the other side, it's pretty neat to sit back with your peers and say, 'Look what we did.'"
Among the work completed was a conversion of all 18 greens. Hole 1 was lengthened and Hole 2 was eliminated; a new No. 4, a par 3, was created where the old No. 5 tee was; and No. 5 was adjusted to fit in with its new neighbor. More than 80,000 man hours were worked over the 89 days. They laid more than 43 acres of sod, cleared and grated more than 20 acres of land and moved around 50,000 cubic yards of material.
Construction began May 9 and wrapped up Aug. 6 — a total of 89 days. It was an 89-day grind, but one not unfamiliar to the experienced crew at Quail Hollow, Wood says.
"A lot has gone on over the past five years. They've seen the Green Mile get rebuilt. They've seen changes on No. 13. They've been through a couple of renovations from bentgrass to bermudagrass. Now they've seen the completion of Mr. Fazio's master plan," Wood says. "These guys really embody what it takes to hunker down and do what it takes to get it done. I can't say enough about them."
So, Wood clearly gave everyone the day off on day 90, right? Anyone who works in this business knows that is never the case.
"Day 90 was the most stressful, because now everyone was coming out to play the course that had been closed for so long," says Assistant Superintendent Shane Omann, laughing. "But it was a sense of relief across the staff. You work so hard, you get instant gratification to see the outcome. That's a lot of blood, sweat and tears — the team was very excited."
Assistant Superintendent Basil Lowell has been at the course since 2012 and has worked at such courses as Jupiter Hills, Nantucket Golf Club and MacArthur prior to his time at Quail Hollow. A golf nut, he was concerned with how the changes would affect what he believed was a perfect test of golf. Now, seeing the end result, he's a believer.
"The new No. 1 is spot-on, it came out perfect," he says. "It fits the rest of the course. It's a nice dogleg par 5 for the members, a par 4 for the Tour. It's amazing how these architects can see this — move X amount of dirt and it comes out like this."
"Not everybody gets the opportunity to be involved with something like (the PGA Championship), and especially what we did last summer," Omann says. "I'm especially grateful for it, because now I know what great is."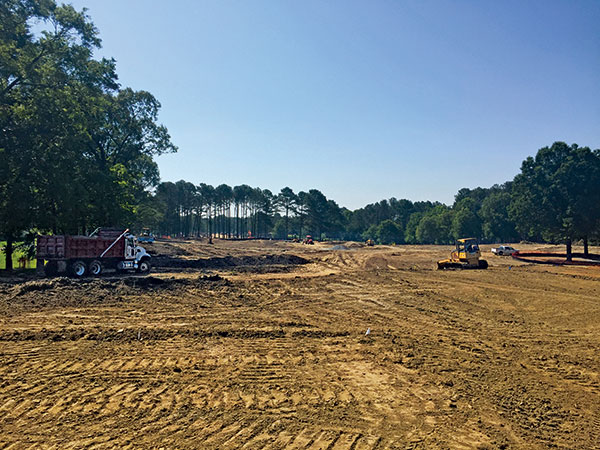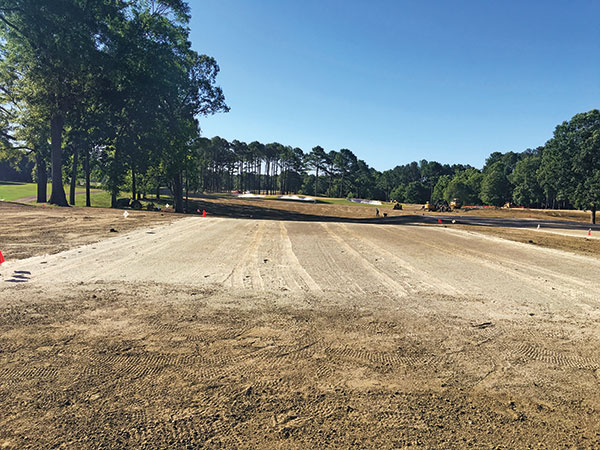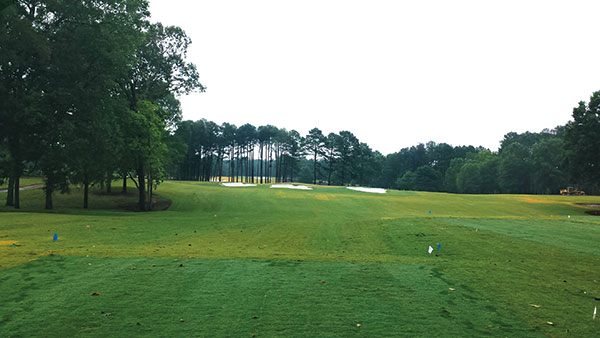 Once play from the 2016 Wells Fargo Championship moved to the back nine on Sunday, the crew started shutting down irrigation on the front. "To start that grind right then and come out clean on the other side, it's pretty neat," says Brandon Hicks.
Time on their side
The crew at Quail Hollow is used to having a PGA Tour event in May. The PGA Championship arrives in early August (Aug. 7-13.)
That means different weather, different grass and different preparations. With no tournament in May, the course wasn't overseeded this year, so it is fully growing in June. The crew sees the later calendar date as nothing but a positive.
"It's a breath of fresh air, we have a little more time to make sure everything is better," says Lowell. "The timing is better for bermudagrass. Everything has actually been more relaxed at Quail."
"The grass is licked, we've got that under control," Omann says. "Staying organized is the challenge, day in, day out. Overachieving is the goal."
It's rare to find a course that gets more relaxed when a major comes to town, but Quail Hollow seems to be that relaxed. Hicks says it's not because the crew is overconfident, but instead, they get their confidence from Wood, whom he calls "one of the smartest, most passionate, driven individuals" he has been around. Another part is experience. He and Lowell have worked together on four Wells Fargo Championships, Omann has done three. Plus, Wood has two under his belt, along with his years hosting the Wyndham Championship. And there are 13 turf degrees from seven different colleges on staff.
"A lot of our (crew) has a real practical understanding and knowledge of what we're trying to do," Hicks says. "We spend a lot of time discussing why we're doing what we're doing. It's challenging but rewarding. The cool thing is there are a thousand ways to do it right, and a guy who just graduated turf school might have a different idea or perspective. It's great that I can have a guy 15 years younger than me open my eyes to a different way of doing something."
Fazio sees Quail Hollow as a golf course that has evolved with time, and he's excited to see the new-and-improved course host its first major. But he agrees: In the end, it's about people.
"This is a case study on how to put a whole program together. Whether it's a member operations or a regular PGA Tour event or a major championship, this course has gone through multiple stages of testing," Fazio says. "It used to be that (projects) took a long time, but that's not the case now with the technology that's available and with sod and with the many intricate pieces that can be done with the talented people working at a property. It's all about supervision, good leadership and direction."
Photos: construction shots (Keith Wood), all others (Travis Dove)
Seth Jones, a 18-year veteran of the golf industry media, is Editor-in-Chief of
Golfdom
magazine and
Athletic Turf
. A graduate of the University of Kansas School of Journalism and Mass Communications, Jones began working for
Golf Course Management
in 1999 as an intern. In his professional career he has won numerous awards, including a Turf and Ornamental Communicators Association (TOCA) first place general feature writing award for his profile of World Golf Hall of Famer Greg Norman and a TOCA first place photography award for his work covering the aftermath of Hurricane Katrina. In his career, Jones has accumulated an impressive list of interviews, including such names as George H.W. Bush, Samuel L. Jackson, Lance Armstrong and Charles Barkley. Jones has also done in-depth interviews with such golfing luminaries as Norman, Gary Player, Nick Price and Lorena Ochoa, to name only a few. Jones is a member of both the Golf Writers Association of America and the Turf and Ornamental Communicators Association. Jones can be reached at
sjones@northcoastmedia.net
.