A look at how the crew at Winged Foot is keeping the course prepped for a September U.S. Open
Weston Neff, U.S. Superintendent, Winged Foot Golf Club in Mamaroneck, N.Y., views the postponement of the U.S. Open from June to September due to the coronavirus as a sort of Groundhog Day.
The 120th U.S. Open, which was scheduled to be held June 18-21 at The West Course of Winged Foot Golf Club in Mamaroneck, N.Y., has been rescheduled to Sept. 17-20.
"For so long, it was just waiting," Neff says. "Now, it's here, and even though it's going to be completely different with no fans, our jobs haven't changed. For us, it's just Groundhog Day, the same thing just three months later. Golfers expect the same conditions, and they expect the same outcome."
Down to business
While the motivation and mindsets of the crew at Winged Foot haven't changed, a few of the agronomic practices for the course have, especially when it comes to keeping the rough in tiptop shape.
"June is an easy time of the year to get the rough long and thick," Neff says. "For the U.S. Open, it's known to be long and gnarly. To go through the three-month stretch of June, July and August, especially in New York, the grass just wants to give up and go dormant, but we've had to revamp our whole agronomic look. We're spraying it more, watering it more. Every practice with the rough has changed to try to keep it where we want it in September."
In order to ensure Winged Foot meets the high standards expected of a U.S. Open course, the crew has turned to its trusty fleet of John Deere equipment: 2700 E-Cut hybrid triplex mowers, 2020A ProGator GPS PrecisionSprayers™, 9009A TerrainCut™ rough mowers and the 220 E-Cut™ hybrid greens mowers.
"Pretty much everything we use is John Deere," Neff says.
A Winged Foot crew member rides the 9009A TerrainCut™ rough mower. (Photo: John Deere)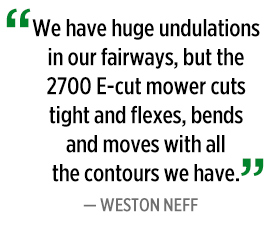 Neff says the 9009As have been helpful in ensuring the roughs are in tiptop form.
"We're at 3 inches right now, but for the Open, it's going to be closer to 5 inches," Neff says. "The mower stands the grass up and sucks it up so we have a better cut. If the rough is at 5 inches and you mat it down, without the function to suck it up straight enough, it won't cut it. So, it pulls the grass straight up and cuts it so it looks uniform, and we're not getting grass laid over at 7 or 8 inches with someone getting a bad lie on the 18th hole with millions of people watching on TV."
The 2700 E-Cut triplex mowers help keep the fairways smooth and uniform. "We have huge undulations in our fairways, but the mower cuts tight and flexes, bends and moves with all the contours we have," Neff says.
Neff adds that the GPS sprayers have added another layer of efficiency for his crews. Auto Trac with RTK allows the GPS sprayer to be guided down predetermined tracks to prevent overspray.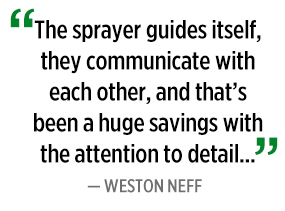 "The sprayer guides itself, they communicate with each other, and that's been a huge savings with the attention to detail, because every nozzle is individually controlled," Neff says.
The volunteer force
Another aspect that may be different this year is the size of the volunteer force. Due to coronavirus restrictions, the volunteer force dropped from around 140-150 people for June to about 70 for September. Around 80-90 percent of the volunteers will hail from the local metro New York area.
"We're just doing our due diligence to keep our numbers as low as possible but still have the same quality and not lack anything on the golf course," Neff says.
He adds that everyone working on the site will be tested, tents will be bigger for volunteers to be spread out and each volunteer will get their own cart.
To help fill any labor gaps, Winged Foot's local dealer, Finch Services, will supply extra rough and fairway mowers, people movers, three to four volunteers and a mechanic for the weeks before and after the U.S. Open.
To see what John Deere can do for your course, go to JohnDeere.com/Golf.
---
This page was produced by North Coast Media's content marketing staff in collaboration with John Deere. NCM Content Marketing connects marketers to audiences and delivers industry trends, business tips and product information. The Golfdom editorial staff did not create this content.
Header photo: John Deere