With a short season and remote location, the leadership at Whitetail Club need to get creative to provide the top conditions.
By Leon Gordon | Sponsored Content
Rick Mooney's business card is a mouthful: "vice president of maintenance and development, Shore Lodge and Whitetail Club."
A better title might simply be "Mayor of McCall."
That's because everyone in the beautiful mountain resort town of McCall, Idaho — population 3,351 — knows Mooney. He's a native Idahoan and lives just outside of the golf course where he used to be superintendent. His father, Dick Mooney, a retired rancher, lives just up the mountain.
But just because everyone knows Mayor Mooney doesn't mean the pressure isn't on to deliver arguably the best golf conditions in the state of Idaho. That's why Mooney promoted Adam Lott, another native Idahoan, to follow in his footsteps as superintendent of the course. Together the duo makes sure Whitetail Club can hold its own against the best clubs in the country. After all, the members there are also members at some of the other finest courses in America.
"(Whitetail members) expect the same quality conditions they would get in Palm Springs or Atlanta," Mooney says, "we just have a mountain environment and a short growing season, so we have to fit a lot in, in a very little time."
The short season and the remote location are two challenges Mooney and Lott often find themselves up against. That's why they depend on John Deere for their equipment.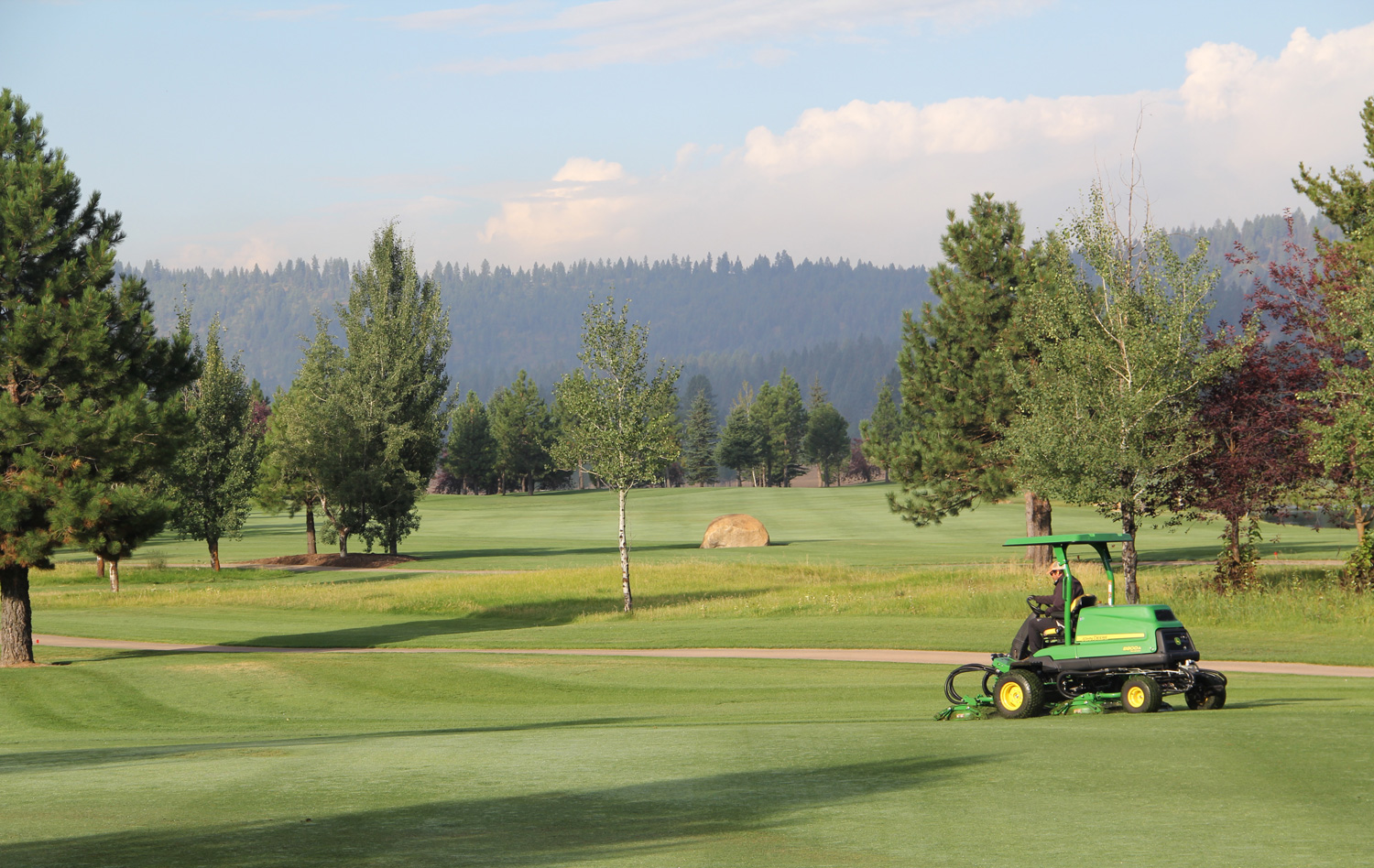 One of the grounds crew workers uses John Deere's 8800A TerrainCut rough mower. Photo: Golfdom Staff.
"One of the main reasons we go with Deere — their equipment is great, but their service is phenomenal," says Lott.
At Whitetail, the club operates an entire fleet of John Deere equipment to keep the course pristine. The crew utilizes Deere's 220E walk-behind mower on greens, 7500A fairway mowers, 260 walk-behinds for tees, 7400A for surrounds, 8800As for trim mowing and two 9009A mowers on roughs.
The 9009A has been a special addition to the fleet at Whitetail. After a short demo of the machine, Mooney and Lott decided to purchase two of the rough mowers to take advantage of its 9-foot mowing deck.
"It's been a game-changer for us from the rough standpoint, getting rough mowed faster and not with as many clippings as we were getting with the smaller machines," Lott says.
---
Whitetail Club Golf Course Superintendent Adam Lott offers a behind the scenes look at how he delivers excellent conditions to membership.
---
Another advantage the Whitetail team appreciates is if a machine needs a part, they can get it within a day, despite their remote location. And if they need it even sooner? That's also possible, with a little ingenuity.
"John Deere makes good quality equipment but one thing that is really nice is the versatility of parts that can be interchanged between different pieces of equipment," Mooney says. "Being in McCall, we're not close to a big city. Parts procurement can be a big challenge. We just don't have to stock a lot of parts because some of them can be switched intermittently between different equipment."
Mooney won't run for Mayor any time soon, despite the probability that he'd win. His reason is simple: when you've grown up appreciating the natural beauty of Idaho, it's not something easily given up with a desk job.
"Living in the mountain community of McCall, Idaho is heaven," Mooney says. "It's just a beautiful mountain resort town … you get all four seasons. I couldn't imagine doing anything different."
To see what John Deere can do for your course, go to JohnDeere.com/Golf.
---
This page was produced by North Coast Media's content marketing staff in collaboration with John Deere. NCM Content Marketing connects marketers to audiences and delivers industry trends, business tips and product information. The Golfdom editorial staff did not create this content.
Header photo: Shore Lodge and Whitetail Club