In 2017, Bryan Johnson, superintendent of Valley View Club in Cambridge, Ill., first began using Briskway, a broad-spectrum fungicide from Syngenta that controls and prevents more than 20 summertime turf diseases.
Featuring difenoconazole — a cooling demethylation inhibitor (DMI) active ingredient — along with azoxystrobin (the strobilurin active ingredient also available in Heritage fungicide), Briskway was developed primarily to perform in high temperatures. It has no heat restrictions, and superintendents can apply it at low use rates in extremely hot and humid climates.
Johnson, who also is the club's irrigation and spray technician, has used Briskway as a preventive fungicide and sprayed each of Valley View Club's Penncross greens himself. In doing so, he has seen first-hand how Briskway considerably improved the greens' conditioning and performance, as well as provided complete recovery from two diseases that previously were prevalent issues: anthracnose and brown patch.
A confidence builder
Using the lowest recommended rates for both diseases (0.3 fl. oz. per 1,000 square feet), he's never had to apply the fungicide more than twice a year. However, with its new amended label, Briskway can now be applied up to seven times per year if needed at an increased maximum rate up to 0.725 fl. oz. per 1,000 square feet for each disease.
"Late May and early June is the earliest I've used it," Johnson says. "The heat index has, at times, been close to 100 degrees F, while the coolest temperature was around 85 degrees F."
Since first applying Briskway, he hasn't had to worry about the club's greens turning brown. In particular, the fungicide's unique blend of azoxystrobin (1.67 pounds per gal.) and difenoconazole (1.05 pounds per gal.) has steadily enhanced each green's conditioning, performance and disease recovery — at any height of cut — without negative growth regulation effects, phytotoxicity or thinning.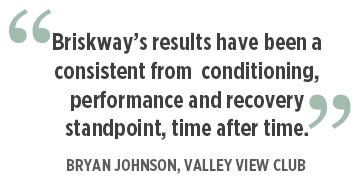 "My confidence level has been very high with Briskway," he states. "Its results have been consistent from a conditioning, performance and recovery standpoint, time after time. Nearly every course should consider having Briskway in their arsenal as an insurance policy. Personally, I'll never let it go to waste."
In addition to Briskway, Johnson uses a variety of Syngenta fungicides, including Posterity, Daconil Action, Heritage Action and Secure Action. He considers Posterity, which he uses specifically for dollar spot control, to be "the best thing since sliced bread." Since its release in 2018, he has applied 0.08 fl. oz. per 1,000 square feet of the fungicide up to four times annually.
An effective control
However, most superintendents apply Posterity at a rate of 0.08 fl. oz. per 1,000 square feet at 14-day intervals or 0.16 to 0.32 fl. oz. per 1,000 square feet at 21- to 28-day intervals, depending on their courses' climates.
"In spite of all the rain we had last year, dollar spot was controlled greatly," Johnson stresses. "You couldn't ask for Posterity to do more than it does."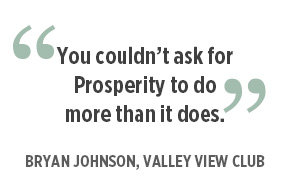 To control dollar spot even more effectively, Johnson currently rotates Posterity with Secure Action whenever he applies it to greens. During fairway applications, he rotates the fungicide with Heritage Action.
"It's great to have such flexibility," he states, "as my trust in each Syngenta product is so high."
This trust has been steadily increasing since 2003, when he first met Syngenta sales representative Jim Ellis. Within a few months of meeting Ellis, Valley View's course conditioning was once again pristine because of its turf's full recovery from various diseases. To this day, Ellis and Johnson stay in touch regularly to discuss the club's turf conditioning and performance.
"When you have full trust in someone, you'll buy from them," Johnson says. "Jim, along with other Syngenta staff members, has my back. They always take care of Valley View Club."
---

Tweet @SyngentaTurf and tell us how you #ConditionPerformRecover.
This page was produced by North Coast Media's content marketing staff in collaboration with Syngenta. NCM Content Marketing connects marketers to audiences and delivers industry trends, business tips and product information. The Golfdom editorial staff did not create this content.
Header photo: Valley View Club