Sam Wineinger understands the importance of listening to the customer. He's been talking to golf course superintendents for years, and now as Director of Marketing for Sipcam Agro USA, he's helping turn their biggest challenges into simplified solutions that work. Take Poa annua, for example.
With the introduction of Coastal™ Herbicide in 2019, superintendents in the southern states now have a comprehensive solution for control of broadleaf and grassy weeds, including Poa annua.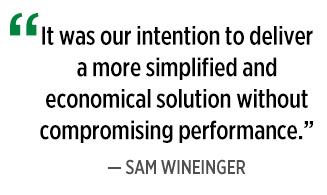 With three active ingredients, Coastal can be used on all four of the major southern turfgrasses without the need to tank mix. "It was our intention to deliver a more simplified and economical solution without compromising performance," Wineinger says.
In trials conducted by Mississippi State University, University of Florida, University of Georgia, University of Tennessee, North Carolina State University, Louisiana State University and Texas A&M University, Coastal was shown to provide exceptional control of broadleaf weeds like white clover and henbit, and grassy weeds including Poa annua and crabgrass.
Technology takes turf to the next level
Historically, turf professionals have relied on good growing conditions, properly timed product applications and sound cultural practices to take their turf to a certain point. For superintendents who want to elevate their turf to an even higher level, Sipcam Agro developed its exclusive Enhanced Turf Quality (ETQ™) technology.
These science-based solutions combine a proprietary complex blend with proven fungicides and other plant protectants to provide maximum protection against high temperature and drought stress events. More than just reflective surface activity, ETQ technology is absorbed into the plant, providing protection at the cell level all the way to the roots. The harmful effects of UVB and UVA are diminished on the surface, while inside the plant, chloroplasts are protected for optimal turf health, color, strength, density and consistency.
Wineinger offers a look at how the company is turning customer challenges into solutions with new products and a new program designed to save superintendents money.
In this video, Wineinger breaks down some of the benefits of Coastal, a new herbicide that provides broad-spectrum, pre- and post-emergent broadleaf and grass weed control.
2020 is certainly throwing some curve balls. Tune into this video to find out how the team at Sipcam Agro USA is running with these challenges and providing real time solutions for customers.
Wineinger explains how Sipcam Agro USA adapts to industry challenges. Tune in to hear what recent steps the company has taken to innovate.
Wineinger shares how the "Real Savings. Real Simple" program can save superintendents now through Sept. 15.
Sipcam Agro is a family-owned company, committed to providing not only products that make your job easier, but also a level of personalized service that builds trust and ultimately, strong relationships. Our team of experienced industry professionals has walked in your shoes and understands the value of finding solutions that are more simplified and more sustainable. Solutions that work for you.
Sipcam products are available from a nationwide distributor network. To locate the distributor nearest you, contact Specialty Services at 877-898-9514 or visit sipcamagrousa.com to learn more.
---
This page was produced by North Coast Media's content marketing staff in collaboration with Sipcam. NCM Content Marketing connects marketers to audiences and delivers industry trends, business tips and product information. The Golfdom editorial staff did not create this content.
Header photo: sturti/E+/Getty Images