How The Golf Club at Lansdowne maintains course integrity using fungicides from Syngenta

Over the last 12 years, Marc J. Muniz has been heavily entwined in the golf course industry. While he intended to work just summers at Ridgewood Country Club, he found his calling and decided to pursue a career in turf. When he graduated from the University of Massachusetts, Muniz asked a professor what area of the US had the most difficult time growing cool-season turf because that's what he wanted to master. The professor told him some of the most difficult turf to manage in the mid-Atlantic are cool season and warm-season turf, so he made its mastery his goal.
When Muniz began at The Golf Club at Lansdowne in Virginia, he noticed a plethora of Syngenta products available in the chemical shed. Admittedly, he said he was not familiar with the company's products and usage, but he had seen them in action on a peer's course and wanted to try them at The Golf Club.

Shortly after starting at The Golf Club, golfers started to complain about dollar spot patches on one of the greens. After some trial and error, Muniz found a winning solution: Posterity® XT from Syngenta.
"When I first got here, we had a bit of an issue with dollar spot very early in the season, actually in the middle of April. We did a generic application, and three days later the dollar spot was breaking through again," Muniz says. "After researching more, we suspected we had some DMI resistance. We knew we needed to revamp the program. We took all the other DMI products out except for Posterity XT and found that worked very well. We used 3 ounces for 21 days and had no dollar spot on any of the fairways."
Muniz says he relies heavily on Posterity XT for many different turf diseases, including brown spot, dollar spot, fairy ring and spring dead spot.
"The versatility of Posterity XT is outstanding because it covers so many different diseases," he says. "It's something I'm leaning on to cover a lot of different things. I feel like I could spray it whenever and get control over most things during any season."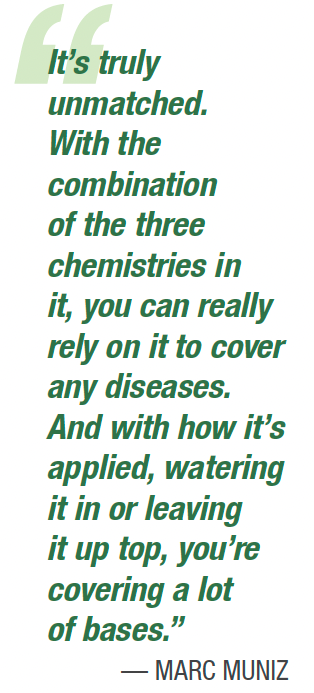 A while later, fairy ring became a larger problem for The Golf Club. Muniz reached out to his Syngenta territory manager, Sam Camuso, for advice. He recommended using Posterity XT to treat fairy ring patches. After gaining control, Muniz enrolled in the GreenTrust® 365 Fairy Ring Assurance program to ensure complete coverage yearround.

After the success he experienced with Posterity XT, Muniz wanted to continue with Syngenta products whenever he could. Camuso recommended he try Posterity Forte as well, and Muniz was hooked. Now, he relies on Posterity Forte to handle severe dollar spot, and Posterity XT for overall patch disease control.
"I felt so confident with Posterity XT that I made sure we had other Syngenta products including Posterity Forte since I was so impressed," Muniz says. "There are areas where the tee plaque covers were creating dollar spot, which showed the difference between the greens without Posterity products and those with. It was outstanding."
As Muniz maintains both warm and cool-season turf, he found using Posterity Forte and Posterity XT gives him the protection he needs, while keeping the integrity of his course intact.
"I would say my favorite thing about using Posterity is the versatility of the product," he explains. "It's truly unmatched. With the combination of the three chemistries in it, you can really rely on it to cover any diseases. And with how it's applied, watering it in or leaving it up top, you're covering a lot of bases."
Between the products from Syngenta, and the constant guidance from Syngenta experts, Muniz says Syngenta's portfolio makes the most sense to use at The Golf Club. After his promotion to director of agronomy, he saw the system in place and how much the course relied on Syngenta products.
"I've been happy with Syngenta since I got here, and I've been very pleased with Syngenta's support as I transitioned into director of agronomy," says Muniz. "There was an exchange of products and some other things like that, but Syngenta created a great support system for us. It's been an amazing relationship. From the versatility of the Posterity products to the contact I can have with our rep, I am constantly impressed with Syngenta."
Learn more at GreenCastOnline.com
Protect Your Turf Against Fairy Ring with Confidence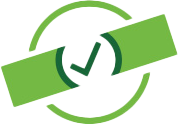 For the best fairy ring control, a preventive strategy should be used. When you follow the prescriptive fungicide program developed by Syngenta experts, tailored to your region, you are guaranteed season long fairy ring control. Visit GreenCastOnline.com/Assurance to learn more about this assurance program.

---
© 2022 Syngenta. Important: Always read and follow label instructions. Some products may not be registered for sale or use in all states or counties and/ or may have state-specific use requirements. Please check with your local extension service to ensure registration and proper use. GreenCast®, GreenTrust®, Posterity® and the Syngenta logo are trademarks of a Syngenta Group Company. All other trademarks are the property of their respective owners.
---
Header Image: The Golf Club at Lansdowne, Marc J. Muniz
This page was produced by North Coast Media's content marketing staff in collaboration with Syngenta. NCM Content Marketing connects marketers to audiences and delivers industry trends, business tips and product information. The Golfdom editorial staff did not create this content.