When Josh Christian first began working at Avon Park, Fla.'s Pinecrest Golf Club in October 2017, approximately 65% of the course was covered in bahiagrass, bull paspalum and tropical signalgrass.
To help reduce these grassy weeds, which had been prevalent at the club for more than 10 years, Christian used a variety of products and herbicides without much success.
The club was purchased by new owners in July 2018, who then held a meeting with Sean Klotzbach, Pinecrest's Harrell's representative. To better condition Pinecrest's turfgrass to ensure it performed at its best and fully recovers long term from the effects of grassy weeds, Klotzbach advised Christian to use Manuscript herbicide, which is packaged with Adigor, a custom-built surfactant to be used with Manuscript.
A highly active post-emergence herbicide, Manuscript controls mature grassy weeds — including the bahiagrass, bull paspalum and tropical signalgrass Pinecrest was experiencing — in warm-season grasses like bermudagrass and zoysiagrass. The herbicide also has been proven to provide control of crabgrass and dallisgrass. Featuring the active ingredient pinoxaden, which has been recently introduced to the turf market, Manuscript also features a built-in safener, cloquintocet-mexyl, that increases the metabolism of pinoxaden for quicker control.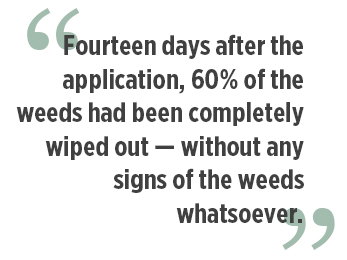 This spring, Christian applied Manuscript for the first time at a rate of 42 oz./acre and Adigor surfactant at a rate of 28 oz./acre, along with Harrell's SprayMAX pH Buffer at a rate of 8 oz./100 gallons of water. The herbicide, surfactant and pH Buffer were all applied between 5-10 a.m., and Christian avoided mowing treated areas for two days after the application.
"After applying Manuscript, I noticed the grassy weeds started to turn brown about seven days later," Christian says. "Fourteen days after the application, 60% of the weeds had been completely wiped out — without any signs of the weeds whatsoever."
The remaining 40% of the grassy weeds received a second application 14 days after the initial spraying, as they were much larger than the 60% that had already been removed.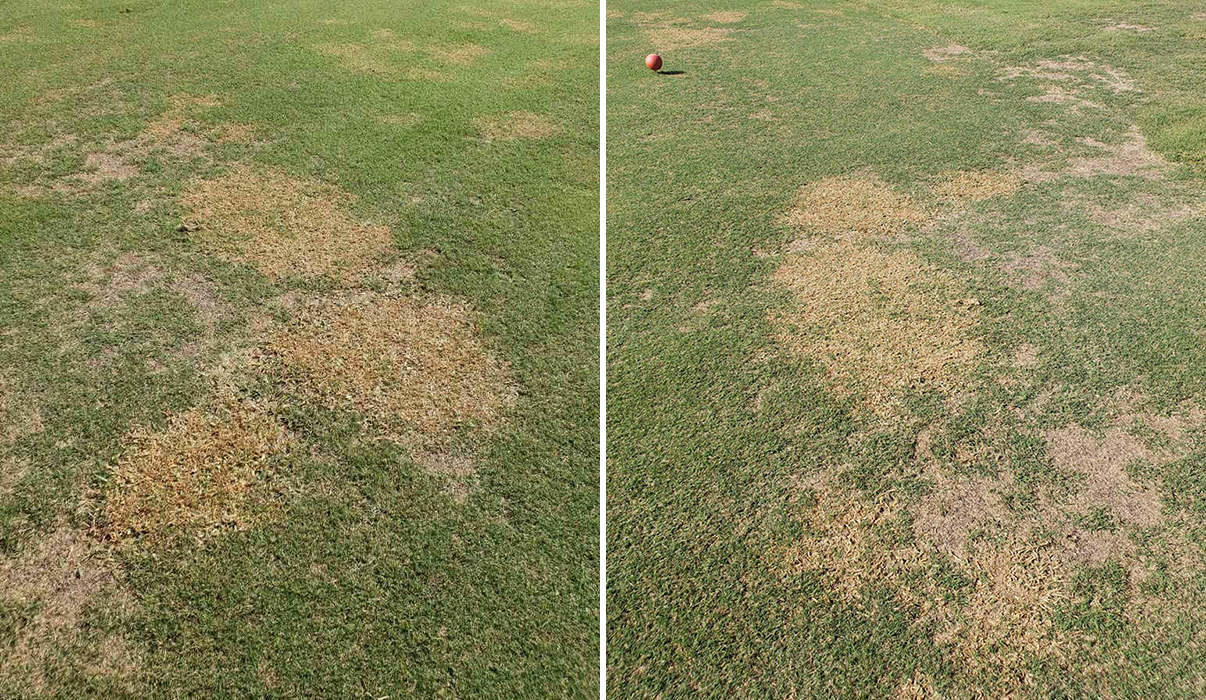 Left: Day 7 after first application. The fairway was covered with tropical signalgrass, but Manuscript controlled the weeds with excellent turf safety.
Right: Day 14 of large patches of tropical signalgrass, which required a second application. The surrounding area of small patches are already gone.
Visit GreenCastOnline.com/Manuscript for additional data and rates. Photos: Pinecrest Golf Club
A smooth recovery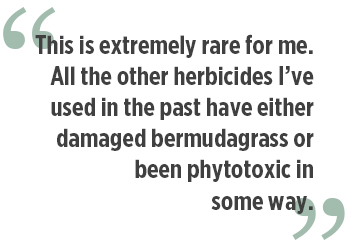 Simply put, the condition of Pinecrest Golf Club's fairways, tees and rough improved considerably. Within 21 days of the first application, the course's bermudagrass began to recover in each of the areas where the grassy weeds were once prevalent.
Additionally, Manuscript proved to be very safe to the bermudagrass at Pinecrest Country Club. Without any phytotoxicity to the healthy turf surrounding the grassy weeds, the bermudagrass continued to recover for months after the applications.
"This is extremely rare for me," Christian explains. "All of the other herbicides I've used in the past have either damaged bermudagrass or they've been phytotoxic in some way."
Affordable turf safety
Klotzbach has seen similar results throughout his entire territory of central Florida, as Manuscript has offered his clients a viable solution to grassy weed control without damaging surrounding and underlying bermudagrass populations.
"Manuscript is incredibly safe to the turf," he says. "And it's extremely affordable."
Christian is so pleased with the short- and long-term performance of Manuscript that he intends to apply it twice this summer and maintain a regular spring/summer application schedule for years to come.
"There's no other product on the market that kills target weeds with one application without harming bermudagrass," he adds. "Manuscript should be used on every golf course."
For a full list of weeds controlled by Manuscript, and for trial results, visit GreenCastOnline.com/Manuscript.

Tweet @SyngentaTurf and tell us how you #ConditionPerformRecover.
---
This page was produced by North Coast Media's content marketing staff in collaboration with Syngenta. NCM Content Marketing connects marketers to audiences and delivers industry trends, business tips and product information. The Golfdom editorial staff did not create this content.
Header photo: Pinecrest Golf Course