As nematodes become an increasing problem across the United States, Bayer has responded with a year-round solution.
By Chris Lewis | Sponsored Content
In 2005, Zac Reicher, Ph.D., then a Turfgrass Extension Specialist at Purdue and now with the Bayer Green Solutions Team, worked with a golf course in Indianapolis that had serious nematode issues. He had never seen such an advanced case before.
Struck by the severity of the issues, Reicher quickly conducted surveys with more than 50 other golf courses in Illinois, Indiana and Kentucky, and discovered that nematodes were prevalent in a wide variety of turfgrasses, but they weren't causing symptoms at that time. However, that has changed over the last 10-15 years with increased nematode populations and more frequent symptoms.
Nematode symptoms are slow to develop, so nematodes in cool-season golf greens can increase to the point where they become problematic without detection, especially if climate or maintenance practices change considerably.
Turf managers may not even know they have them until it's too late.
Enter Indemnify, a game-changer in the latest generation of nematicides from Bayer. The active ingredient fluopyram blocks nematodes' cellular respiration, which, in turn, considerably decreases their ability to produce energy. As a result, nematodes straighten out and become paralyzed, so they can no longer feed on roots, leading to their eventual elimination.
Additionally, turf managers don't have to worry about closing their courses during and after application or using additional PPE typically associated with restricted use products. They simply need to spray it and then water into the root zone within 24 hours.
Indemnify is a general use product that requires no unusual licensing or safety equipment, integrates well with any turf maintenance program and can be applied to any turfgrass species.
And the best part? Indemnify can work anywhere.
ARE YOU LOOKING FOR: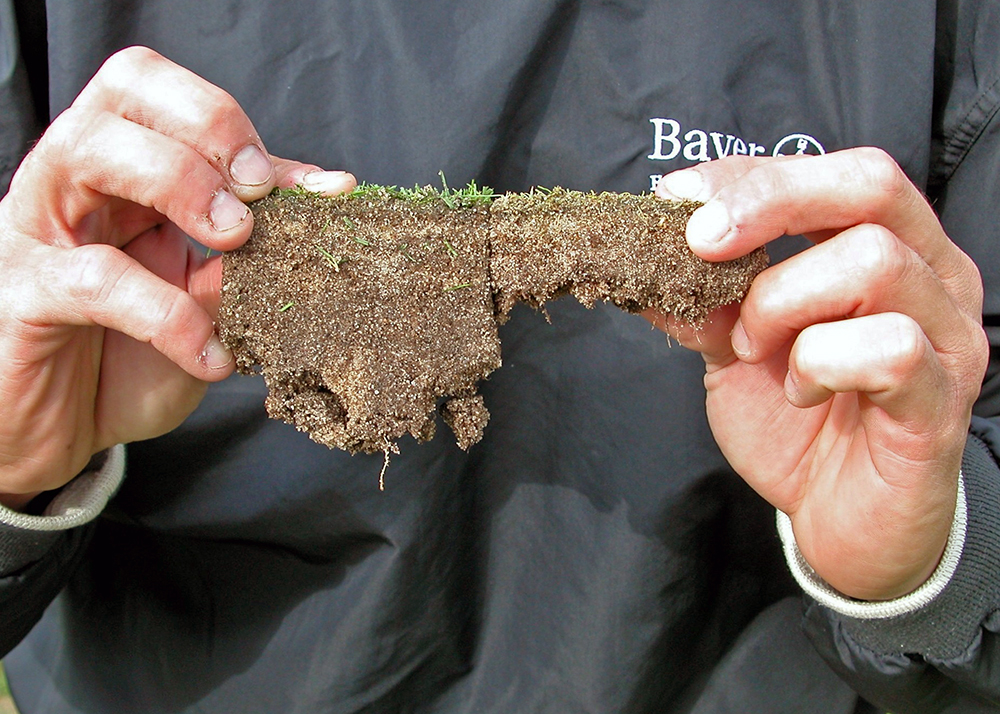 Symptoms of nematode damage can vary widely across a playing surface. This image shows root growth in an untreated healthy area of an untreated putting green (left), compared to an untreated area affected by nematodes, with shallow roots (right). (Photo: Bayer)
Long-lasting turf health
Indemnify is especially useful in controlling root-feeding nematodes, particularly root-knot, sting and stunt, along with foliar-feeding nematodes like Anguina pacificae, which has become an issue on California's Poa annua greens.
"After applying Indemnify, turf managers should see an improvement in rooting — and, therefore, turf health and performance — within seven to 14 days," says Todd Lowe, M.S., a Bayer Green Solutions Team Specialist who specializes in warm-season turfgrass. "At this time, they may also see an improved response from fertilizer applications and irrigation benefits such as less hand watering because of improved root function."
Indemnify offers long-lasting residual effect in the root zone, so that root health and length (along with turfgrass density and quality) continue to improve long after the treatment. Greens will also have better stress tolerance and playing conditions will improve.
Formulated with a proprietary soil penetrant, Indemnify reduces a turf manager's need for additional adjuvants as part of the application. This penetrant allows fluopyram to move into soil without need for aerification, fungicides or wetting agents.
---
Controlling California's Anguina pacificae
In coastal areas of California, where Anguina pacificae has become far too common, Indemnify should be spot-applied starting in the early fall, prior to fall aerification and expected symptoms.
A second spot application should occur four weeks later followed by two more spot applications in the spring for most effective control.
The application shouldn't be watered in, and nightly irrigation should only resume eight to 12 hours after Indemnify is applied.
---
Cool-season nematodes: Maximum control, long-term relief
As a former turfgrass specialist at Purdue University and University of Nebraska-Lincoln, Reicher is dedicated to helping superintendents manage their cool-season turfgrass.
"Nematodes are becoming a common problem in the northern United States," he says. "But one application of Indemnify can provide good control of nematodes in cool-season turf."
For maximum control, Reicher advises turf managers to apply Indemnify a second time, preferably two to four weeks after the first application. This second application is especially vital if the greens have high nematode populations and/or a very low tolerance for nematode damage.
As turf managers prepare to apply Indemnify on cool-season turf, they should keep the following in mind.
For courses discovering the problem for the first time, apply immediately once a nematode lab verifies symptoms are likely caused by nematodes. This is usually mid-summer when symptoms develop, but sometimes symptoms develop following a stress like aerification or vertical mowing in the early fall.
Once a course has a documented history of nematode damage, ensuing applications of Indemnify should be applied in the spring when soil temperature (at a two-inch depth) has reached 55 degrees F to 60 degrees F for a day. This will help reduce any potential major damage from upcoming summer stress, while also helping to maximize superintendents' control of nematodes in greens.
To ensure turf root systems are protected, an application of Indemnify at 0.39 fl. oz. per 1,000 sq. ft. is recommended.
Watering should be light during the first 24 hours of an application (0.10 inches or less).
Full irrigation cycles should be restricted for 48 hours.

"To make the most of an Indemnify application, turf managers should avoid applying ahead of heavy rainfall. It's also best to apply Indemnify alone — without a wetting agent or soil surfactant," Reicher adds. "There's also no need to aerify prior to application or include an additional fungicide in the tank mix."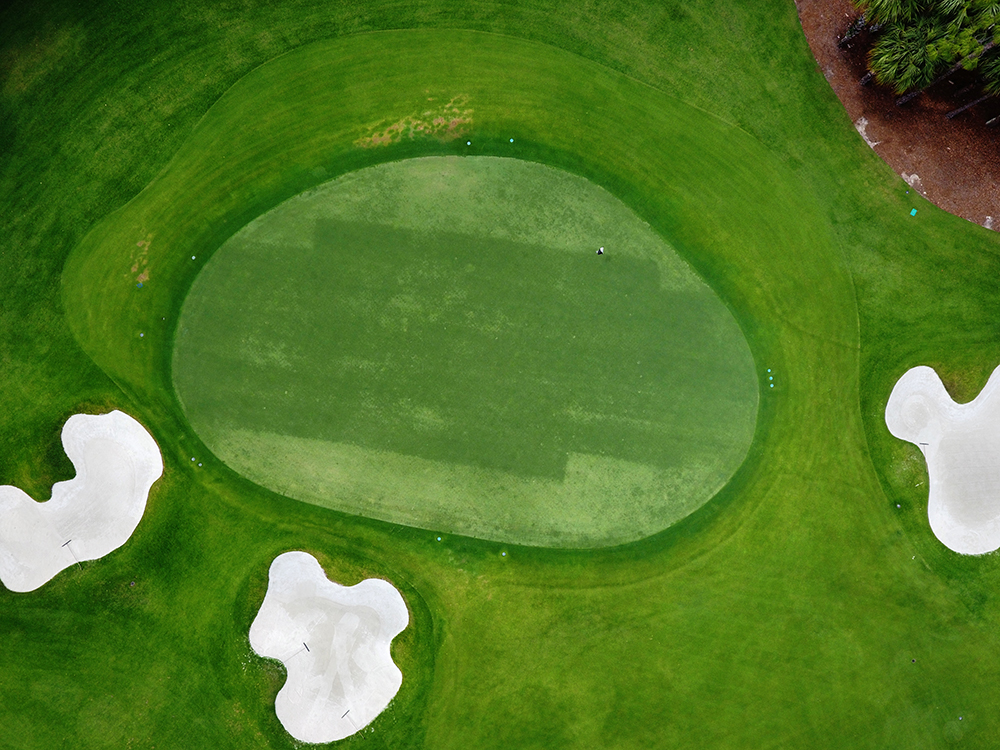 Spring results from a fall application of Indemnify on ultradwarf bermudagrass (Photo: Tim Heirs, The Club at Mediterra)
Say goodbye to warm-season nematodes
An alumnus of Clemson University and the University of Florida and having served 18 years with the USGA Green Section, Lowe currently provides technical expertise to turfgrass managers in Florida as a member of the Bayer Green Solutions Team.
He advises superintendents to apply Indemnify to warm-season turf in fall, as golf courses enter the busy play season and then again in late winter or early spring, when nematode populations normally begin to build up in the soil. In addition, he offers the following recommendations.
Apply Indemnify at 0.39 fl. oz. per 1,000 sq. ft.
For turf that has a history of sting nematode damage, applying two spot treatments of 0.39 fl. oz. per 1,000 sq. ft. each, spaced 14 to 28 days apart, is ideal.
A spot treatment can be applied up to four times a year.
Watering should be light during the first 24 hours of an application (1/8 inch or less).
A full irrigation cycle should be restricted for 48 hours after the application.
If an agronomic need arises, an additional fungicide can be included in the tank mix.
"In the southern United States, we're quickly approaching the application period for nematode control," Lowe says. "So this is the best time to prepare an Indemnify application."

---
ALWAYS READ AND FOLLOW LABEL INSTRUCTIONS.
Bayer Environmental Science, a Division of Bayer CropScience LP, 5000 CentreGreen Way, Suite 400, Cary, NC 27513. For additional product information, call toll-free 1-800-331-2867. environmentalscience.bayer.us. Not all products are registered in all states. Bayer, the Bayer Cross and Indemnify are registered trademarks of Bayer. © 2019 Bayer CropScience LP. ES-219-IND-39-A-R1
This page was produced by North Coast Media's content marketing staff in collaboration with Bayer. NCM Content Marketing connects marketers to audiences and delivers industry trends, business tips and product information. The Golfdom editorial staff did not create this content.
Header photo: Tim Heirs, The Club at Mediterra