Foley Grinders help two courses establish pristine fairways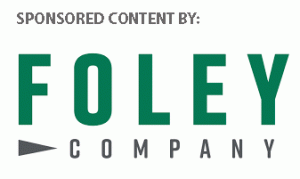 For equipment managers and technicians alike, having the top-of-the-line equipment is imperative. Golfers and superintendents expect excellence when it comes to course preservation, and this can only be achieved with the best mowers, which includes a lot of maintenance. Foley offered a solution: superior grinders to keep blades sharp.
Chad Braun and JR Wilson have both been in the industry for over 20 years, and each have had very particular problems at their respective courses.
"At our course, we top dress quite frequently," Braun, Equipment Manager at Town and Country Club in St. Paul Minn., says. "We put sand onto the greens and this ends up dulling the reels. Certain times of the year, we have worm castings on our fairways, which also dulls the reels. It's really important that we have shop equipment that can allow us to get our job done accurately and efficiently."
Braun has relied on Foley grinders since 1997, and has only had positive experiences since. When he began at Town and Country in March of 2020, he was excited to find that they had also been using Foley grinders, but had not replaced them since the 80s and were tapering the reel cylinders. After replacing the old grinders and installing new Bedknife and Reel Grinders, Braun has seen a considerable difference in the course.
"In the past we've had issues with funny looking cuts on the golf course, a lot of uneven cuts," says Braun. "The ability to sharpen the cutting unit with the old grinder was a large investment of time and didn't get them as sharp as it should have. Now that we have the new grinders, we're able to maintain them to OEM specifications and keep them peak sharp all the time . The relief grinding process is very simple to set up, and really allows us to put that relief grind on in a matter of five to 10 minutes, which really the benefits outweigh the minimal investment in time."
JR Wilson, Head Equipment Technician for Noyac Golf Club in Sag Harbor, N.Y., has a drive to continually have the course be better to allow for a better overall course experience, which included finding the best technology possible. Four years ago, Wilson started employing Foley's Reel grinder and Bedknife grinder and has been incredibly impressed.
"We were having some issues with our fairway mowers, trying to get them exactly perfect," Wilson says. "There was a bit of a cone in one of them, causing the cut to be off. Using the Foley grinder, I was able to get it back to being perfect and we didn't have to replace the reel. It definitely made a huge difference."
Photo: Foley Grinder
For Wilson, a few of the biggest aspects that sets Foley grinder apart is the ease of use, the cleanliness, and the noise level. As someone who works in a shop fairly frequently, keeping his shop pristine is important to Wilson. Thanks to the Foley grinders, he no longer has to worry about excessive noise or fine dust particles being everywhere.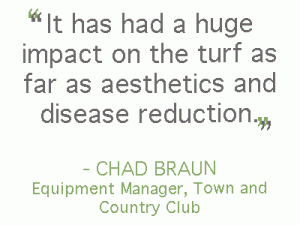 "Across the board, the Foley grinders are more user friendly and cleaner, plus much quieter than anything I've had in my shop. Those things all add up to make this grinder so much better."
For both men, Foley grinders helped change their courses drastically, allowing for not only a cleaner look, but also gives golfers a better play.
"It has had a huge impact on the turf as far as aesthetics and disease reduction," Braun says. "It's been a night and day difference on the course for us and for our members."
---
Header Image: Foley
This page was produced by North Coast Media's content marketing staff in collaboration with Foley. NCM Content Marketing connects marketers to audiences and delivers industry trends, business tips and product information.