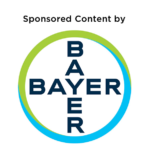 Bayer's new online platform allows superintendents to purchase only the products they need.
By Chris Lewis | Sponsored Content
An online platform designed specifically for superintendents, one that allows them to easily choose and purchase only the products they want, seemed like a work of fiction — until now, that is. Launched Oct. 1, Bayer's Flex Solutions platform takes all pre-packaged bundles out of the equation and lets superintendents create their own product bundles. As a result, superintendents are no longer bound to certain solutions. Bayer Product Manager Mark Clodfelter advises superintendents to first choose the products they need for the upcoming season by conducting searches for certain diseases and pests as they decide which products are the best fit for their courses.
This results in a list of recommended products specifically by Bayer chosen for those issues. Superintendents can even import their previous sales history and receive calculations regarding costs and savings directly from the platform. "It's all very dynamic," Clodfelter says. "The system calculates everything for them." This simplicity, flexibility and personal touch, each of which allows superintendents to have the freedom of choice they've been seeking for years, are the platform's three most significant benefits. In fact, they're the main objectives Bayer has been striving to fulfill for its customers.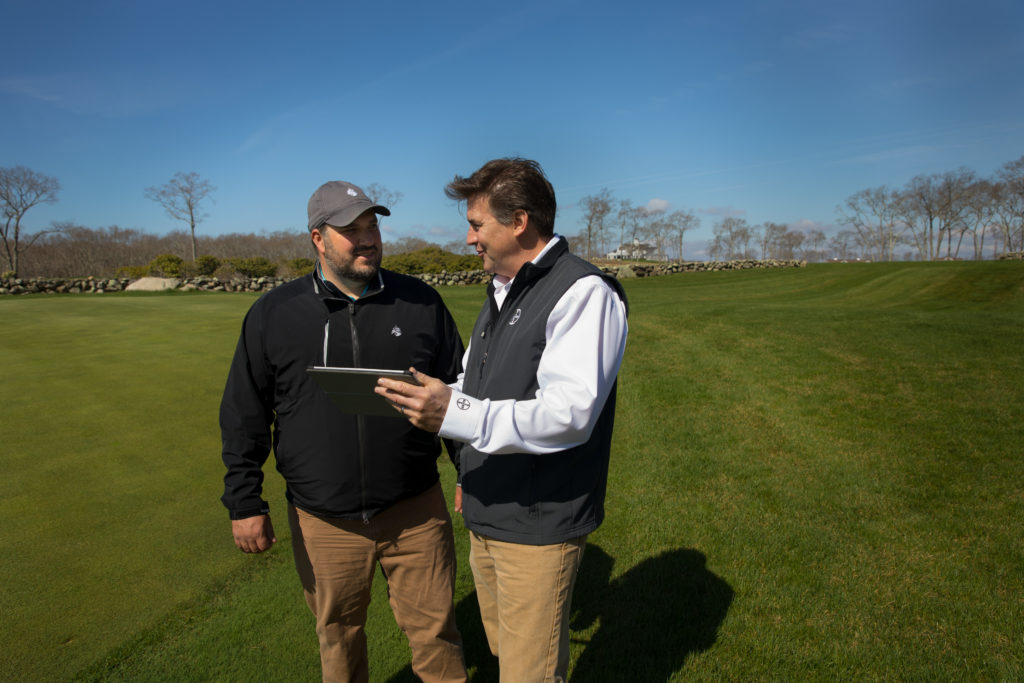 Brian Giblin, Bayer Area Sales Manager, works alongside Mike Dachowski, Golf Course Superintendent at Shelter Harbor Golf Club, providing recommendations on the products best-suited for his turf and exploring the additional ways he can save as he places his early order purchase. (Photo: Courtesy of Bayer)
Benefits for end users and distributors alike
"Through the Flex Solutions program, end users and distributors alike will benefit," says Sean McNerney, Bayer area sales manager. Aside from viewing rates and recommendations based on searches for their courses' acreage, growing area and turfgrass species, superintendents also can discover discounts via a rebate finder that features blue tags for promotional products.
Of equal importance, they can easily access product information, pest solutions (through a pest finder) and customer support. This support — offered by a team of Bayer experts — is available throughout the ordering process. At the same time, distributor representatives now have the flexibility and freedom they need to build economic solutions for clients because they're no longer tied to specific products, bundles and rates. They can adapt unlike ever before, which is critical for them to meet clients' unique needs based on climate, diseases and pests that are common in (or specific to) their regions and turfgrasses. "Distributor representatives used to have various logistical challenges as they sought to provide solutions to their clients, from finances to inventory (as end users often received products they didn't need, while also lacking products they did)," Clodfelter explains. "But, thanks to the Flex Solutions platform, that's no longer the case."
The way of the future
As noted by McNerney, there has been a massive shift to digital in recent years; virtually everything can be found now online. Through Flex Solutions, Bayer — and with it, ordering of turf products — has joined the digital shift.
"Flex Solutions shouldn't be thought of as an EOP system," he stresses. "Rather, it's a tool, the first we're going to be able to use in this digital shift, and one that will have a lot to offer to people moving forward."
In the past, the golf course maintenance industry had a large group of distributors (thousands, really) who were extremely knowledgeable but had to put all of their eggs in one basket, so to speak, because they were limited on the types of products they could sell to end users. The lack of a digital tool prevented them and their clients from reaching their full potential concerning the unique bundle of products they could use to target course-specific diseases and pests, improve turfgrass vitality and enhance customer experiences.
"Of equal importance, as younger superintendents rise up in the industry, they'll want this flexibility to collaborate — with their distributors and vice versa — via a digital platform," McNerney adds. "This digital shift is really exciting."
To participate in the Flex Solutions platform and experience the radical difference firsthand, superintendents must register for a My Bayer Rewards account. Through this account they can earn points on eligible purchases. These points then can be redeemed for online catalog items. In addition, users must create Flex Solutions credentials to search for products, view detailed product information, choose the products that are the best fit for their courses' diseases and pests, and finalize their purchases. If superintendents already have a My Bayer Rewards account, they need only to update their information prior to creating their credentials. Once an account has been finalized or revised and credentials created, a superintendent can use the platform on laptops, PCs or phones – yes, Flex Solutions is mobile friendly, too.
"Superintendents are determined to be more efficient with labor and become better stewards of the environment," McNerney says. "Now is the time to achieve these goals, simplify the ordering process and enjoy EOPs again.
"As a result of the Flex Solutions platform," he says, "the digital shift for end users and their distributors has begun."
---
ALWAYS READ AND FOLLOW LABEL INSTRUCTIONS.
Bayer Environmental Science, a Division of Bayer CropScience LP, 5000 CentreGreen Way, Suite 400, Cary, NC 27513. For additional product information, call toll-free 1-800-331-2867. environmentalscience.bayer.us. Not all products are registered in all states. Bayer, the Bayer Cross and Indemnify are registered trademarks of Bayer. © 2019 Bayer CropScience LP. ES-219-IND-39-A-R1
This page was produced by North Coast Media's content marketing staff in collaboration with Bayer. NCM Content Marketing connects marketers to audiences and delivers industry trends, business tips and product information. The Golfdom editorial staff did not create this content.

Header photo: iStock.com/RonTech2000