The updated Quali-Pro Academy training program helps superintendents navigate Quali-Pro's expansive portfolio.
The Quali-Pro team prides themselves on their ability to take industry challenges and develop new products to help superintendents overcome them. That's how they have built one of the largest product portfolios in the turf industry.
With so many options available, Quali-Pro wanted to find a way to improve customers' overall knowledge of the products best suited for their needs. That's when the company launched the Quali-Pro Academy.
Now in its fourth year, Quali-Pro Academy is a web-based training course that lets superintendents get a closer look at the company's various products, learning about key features, benefits, application use and much more along the way.
"This program gives superintendents a chance to know what we're about and how we go about developing products they can potentially use to not only be more successful in managing their turf, but to do it in an economical way," says Ian Rodriguez, Ph.D., technical services manager for Quali-Pro.
Hear Quali-Pro's Ian Rodriguez, Ph.D., and alumni Ian Daniels, superintendent at Teugega CC in Rome, N.Y., explain why Quali-Pro Academy is a win-win. (Video: Golfdom Staff)
The 2021 program received a refresh with a brand-new slate of videos focusing on new combination chemistries as well as some of the company's most popular offerings. Even better, the program will take less than 45 minutes to complete, making it easier to fit into busy schedules.
Whether a superintendent in the South is looking to learn more about Doxem IG against mole crickets or a director of agronomy in the Transition Zone wants to learn more about Enclave for dollar spot, Quali-Pro Academy has something for everyone.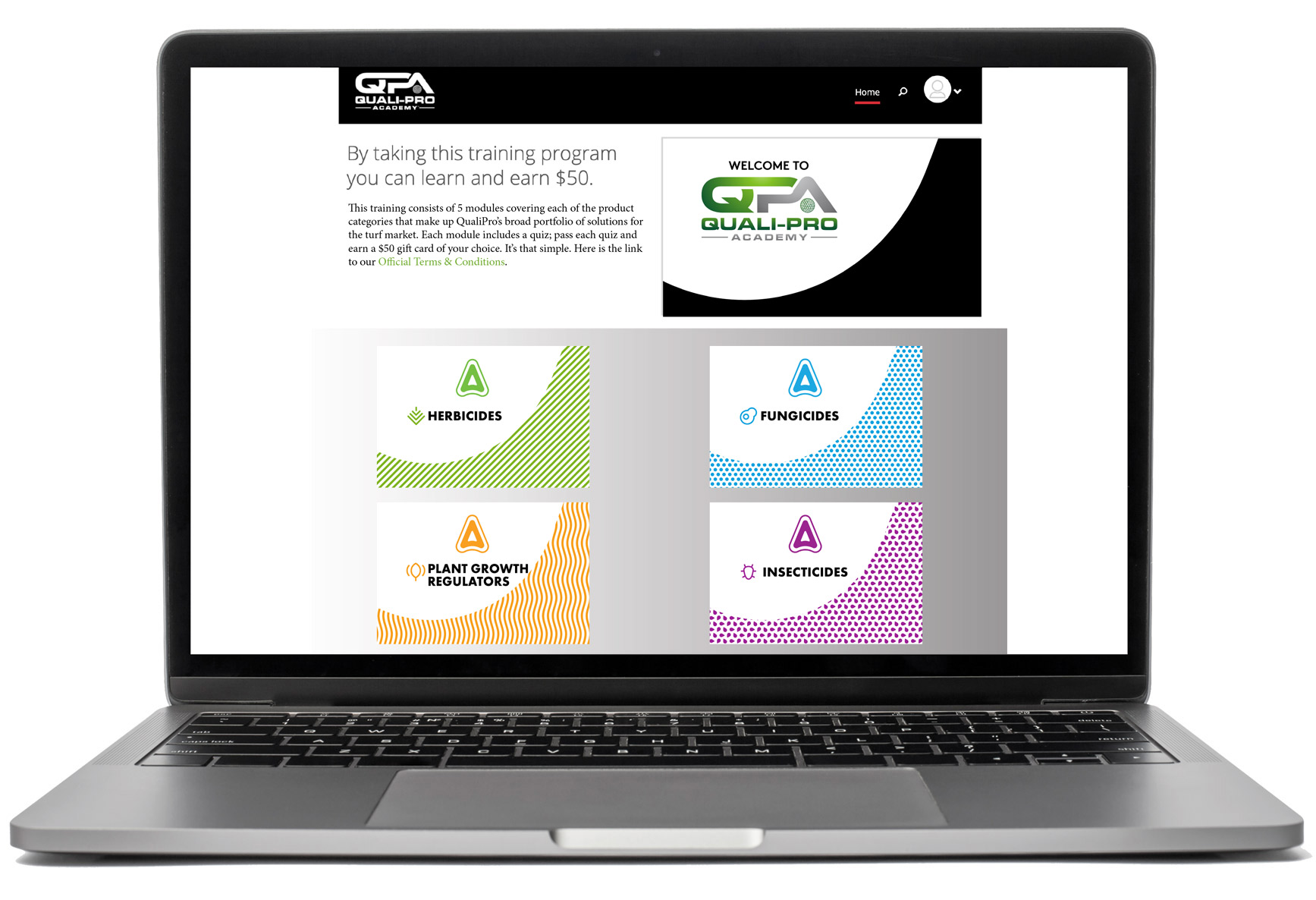 The 2021 program has been refreshed to feature brand-new videos.
Making the most of downtime
For Ian Daniels, superintendent at Teugega CC in Rome, N.Y., no one is going to learn too much in the turf industry. That's why he's always seeking out new educational opportunities and resources. When he found Quali-Pro Academy, it seemed like a win-win.
"Quali-Pro Academy is at a good time of year, and you can get it done pretty quickly," says Daniels, adding that the $50 gift card superintendents receive for the completing the course is a nice perk. Daniels uses several Quali-Pro products already — including Enclave, T-NEX and Tebuconazole — so he knew what he was on the lookout for. However, he thinks this isn't just for those already familiar with the brand.
"If you weren't already using Quali-Pro products, this gives you a bit of education on the products to see whether you want to try them out or not," he says.
More than the products
At the end of the day, this program is another way Quali-Pro displays its commitment to superintendents. Quali-Pro Academy goes beyond the science of simply creating herbicides and fungicides to partnering with superintendents and getting them the tools and resources necessary to maintain high-quality turf.
"We hope this will give superintendents a better feel for our company and the way that we operate," Rodriguez says. "We help them by standing behind our products and developing new products to meet their needs."
To register for Quali-Pro Academy, visit qualiproacademy.com.
---
This page was produced by North Coast Media's content marketing staff in collaboration with Quali-Pro. NCM Content Marketing connects marketers to audiences and delivers industry trends, business tips and product information. The Golfdom editorial staff did not create this content.
Header photo: Golfdom Staff; Screenshots: Quali-Pro; Laptop Framework: Ovsiankastudio/Istock / Getty Images Plus/Getty Images