New Golfdom app for iPad released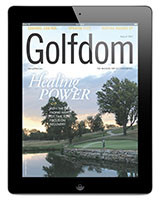 Golfdom has long had a captive audience in print and on the Web, and now we're extending our reach even more—with the launch of our new iPad app! That means we now have one more way to connect with our readers. The same valuable information you find in the magazine each month is now right at your fingertips, with one tap of a button.
Now iPad users can stay up to date on Golfdom's latest turf news and features from anywhere—whether it be on the course, in the office or at home. Look for Golfdom staples such as Turfgrass Trends, the 19th Hole and insights from all your favorite columnists, including Mark Woodward, Clark Throssell, Karl Danneberger and Golfdom EIC Seth Jones.
"The launch of our iPad app is exciting for many reasons," Jones said, "especially because it gives us yet one more way to connect with our readers."
Download the app at https://itunes.apple.com/gb/app/golfdom-hd/id571962386?mt=8.