Dow: Dimension specialty herbicide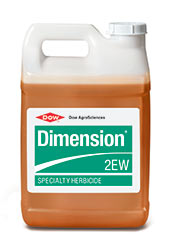 Dimension® specialty herbicide is the leading turf and ornamental product for crabgrass control. When treated prior to tillering (up to five leaves), Dimension will control crabgrass preemergence and postemergence. This longer window gives you more application flexibility during your busy spring season, and you don't have to worry about switching products. It also is effective on more than 45 other tough-to-control grassy and broadleaf weeds found in turf and ornamental settings, making it an ideal border-to-border solution. Available in multiple formulations, Dimension won't leave turf, equipment or surroundings stained yellow.
For more information, visit DimensionHerbicide.com.